Loading CPR Website Widgets...
Classical Music
It's Carnegie Hall Live Tonight at 6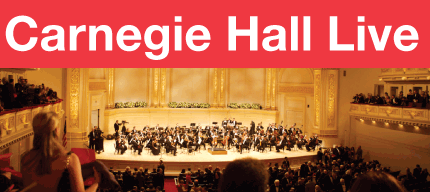 He's arguably the reigning classical superstar. Join us tonight at 6 as Gustavo Dudamel leads his energetic group of young Venezuelans in works by some of Latin America's finest 20th-century composers, including a suite of music by Silvestre Revueltas.
CARLOS CHÁVEZ - Sinfonía india
JULIÁN ORBÓN - Tres versiones sinfónicas
- intermission -
SILVESTRE REVUELTAS - La noche de los Mayas
And keep listening to hear broadcasts from all three stages of New York's premier concert hall throughout the 2012–2013 season:
January 19th, The Philadelphia Orchestra
February 2nd, Renée Fleming | Susan Graham | Bradley Moore
February 9th, West-Eastern Divan Orchestra
March 9th, Ensemble Matheus
March 16th, La Pasión Según San Marcos: A Creative Learning Project
March 23rd, San Francisco Symphony
April 6th, Jonathan Biss | Elias String Quartet
April 20th, Staatskapelle Dresden