Loading CPR Website Widgets...
Classical Music
It's SummerFest on Colorado Public Radio!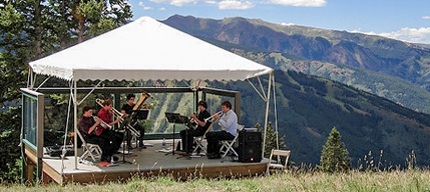 Photo credit: Flickr user memeticfield.
Colorado Public Radio's SummerFest 2013

Colorado is home to more classical music summer festivals than nearly any other state. From Boulder to Steamboat, Aspen, and Vail the air is filled with glorious sounds from the world class musicians who call Colorado home in the summer. While it would be great to be able to go see all of these wonderful performances, it's just not possible. So Colorado Public Radio is bringing the excitement to you! Music comes alive on Colorado Public Radio with "SummerFest.

View the Classical Events Calendar or use the links below for more information on just some of Colorado's Summer Music Festivals.
Alpenglow Chamber Music Festival
Bravo Vail Valley Music Festival
Colorado College Summer Festival
NRO – National Repertory Orchestra
Rocky Ridge Music Center/Music in the Mountains Series
Telluride Chamber Music Festival