Loading CPR Website Widgets...
Matt Weesner, Classical Music Host and Music Assistant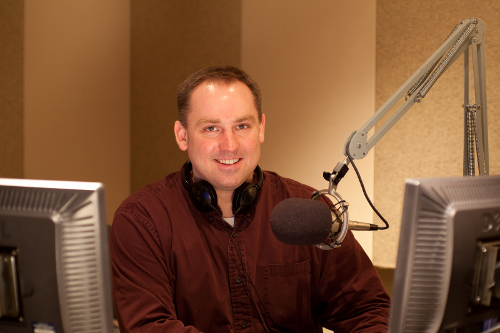 Education:
Matt studied music at Morningside College in Sioux City, Iowa.

Professional background:
Matt joined Colorado Public Radio in October 2004 as manager of the Technical Operations Center. Since 2005, he has served as senior technical operations manager, a position dedicated to maintaining the exceptional on-air performance of CPR's networks. Matt has a unique background in radio that includes extensive work in technical operations to ensure everything runs smoothly on the air, in addition to nearly two decades of experience hosting news and music programs. Since 2010 he has served as a host for CPR's classical music station and also filled in as backup traffic director when needed.

Before coming to CPR, Matt was radio program director at South Dakota Public Broadcasting (SDPB). In this position he managed the station's programming and filled in for classical, jazz and news hosts. Matt also narrated the Emmy Award-winning television series "Dakota Pathways" while working at SDPB. Before that, he spent six years working as a part-time announcer, a program host and eventually a program director at Clear Channel Radio in Sioux City, Iowa.

Outside of his career in radio, Matt is a professional pianist. He performed at the inaugurations of Gov. John Hickenlooper and Mayor Michael Hancock. He also performs regularly with The Hazel Miller Band.

In his own words …

How I got into classical radio:
Working in radio has been a lifelong dream. Growing up there was a lot of music around our house and public radio was on a lot (we'd listen to WOI out of Ames, Iowa on weekends). I can remember my elementary school music teacher once loaning me an album that included Brahms' Academic Festival Overture. As I was listening, watching the record spin at 33 & 1/3, I remember thinking how much I'd love to play this music on the radio someday. And, today, I'm thankful for the chance to do exactly that.

Best moment in classical music:
One of many: Back in 2009, CPR held an on-air fundraiser for the Colorado Symphony Orchestra. Cellist Yo-Yo Ma was in town to play Dvorak's Cello Concerto in b minor with the orchestra and he joined us on the air to ask for support. The producer started to play the Dvorak concerto underneath the break and Mr. Ma quit fund raising to give us a "personal tour" through the piece. Hearing this unplanned moment unfold live on the air was magical.

Favorite composer and piece:
Like most people, it's hard for me to choose favorites when it comes to music. That said, Beethoven is at the top of my list, especially his late string quartets and piano sonatas. A favorite of mine: "Nimrod", from Elgar's Enigma Variations (especially the video of Daniel Barenboim conducting this with the Chicago Symphony Orchestra).

[ Previous ] [ Back to List ]