Loading CPR Website Widgets...
Colorado Spotlight
The Beethoven Cycle Continues
On tonight's show:
Friends of Chamber Music
The Pacifica Quartet returns for their Beethoven cycle tomorrow. We hear music from last season.
Ludwig van Beethoven: String Quartet No. 1 in F Major, Op. 18, No. 1
Pacifica Quartet
Simin Ganatra, Sibbi Bernhardsson violins
Masumi Per Rostad viola
Brandon Vamos cello
recorded 5/6/12

St. Martin's Chamber Choir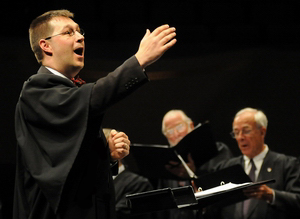 Artistic Director Timothy Krueger talks about their season opener.
Giuseppe Pitoni: Cantate Domino
St. Martin's Chamber Choir
Timothy J. Krueger, conductor
Cygnus 012