Loading CPR Website Widgets...
Member Card Page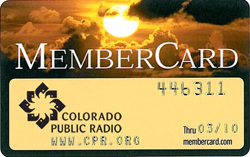 Colorado Public Radio MemberCard

The Colorado Public Radio MemberCard is a benefit exclusive to public broadcasting stations that offers contributing members 2-for-1 entrees at more than 100 area restaurants, and more than 8,600 restaurants across the country.

Additional benefits include 2-for-1 opportunities at performances and exhibits, as well as discounts at select retail merchants and area bed and breakfasts. A list of frequently asked questions is available.

Become a member with a gift of $120 or more and get your MemberCard today!

View a list of all of the Colorado Public Radio MemberCard benefits.