photo credits: Ofer Ben-Amots / Bill Hill
August 25: Ofer Ben-Amots and William Hill
Ofer-Ben Amots was born in Israel and is currently the head of the Department of Music at Colorado College in Colorado Springs.
Listen to Ben-Amots describe his early life and inspirations and his opera The Dybbuk, music from which also appears in his Klezmer Concerto.
Bill Hill is Principal Timpanist with the Colorado Symphony and teaches composition at the University of Denver's Lamont School of Music.
Listen to Hill describe two of his works: his second symphony and a smaller piece called Two Minstrels Jammin' on a Slip Jig.
---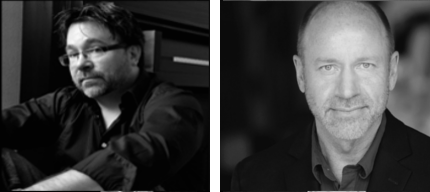 photo credits: Charles Denler / Terry Schlenker
August 18: Charles Denler and Terry Schlenker
 Charles Denler is a pianist, trumpet player and composer in Highlands Rach.
Listen to Denler describe his work in film and television and one movement from the new symphony he's writing: A Portrait of the Rocky Mountains.
Terry Schlenker is an embryologist by day, and a composer and member of local choral ensembles by night.
Listen to Schlenker describe his musical beginnings and two of the inspriations of his Mass for Double Choir: St. Martin's Chamber Choir and his parents.
---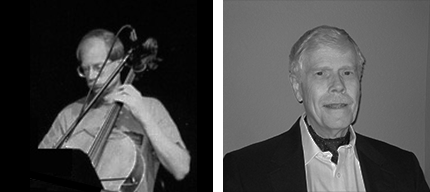 photo credits: David Mullikin / Richard Toensing
August 11: David Mullikin and Richard Toensing
David Mullikin is a cellist with the Colorado Symphony and a composer of music for all ages.
Listen to Mullikin describe his approach and early successes and what may be his best known work, his Oboe Concerto.
Richard Toensing taught at CU-Boulder and doesn't consider himself a religious composer, although theology inspires his work.
Listen to Toensing describe the genesis of his choral work Magnificat and references to two different religious traditions in his Fantasia of Angels and Shepherds.
---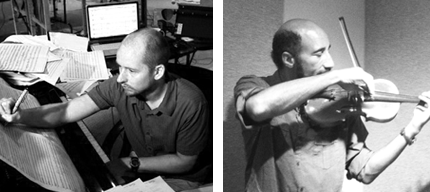 photo credits: danielkellog.com / Jon Pinnow
August 4: Daniel Kellogg and Gregory T. S. Walker
Daniel Kellogg teaches at CU-Boulder and has had premiers with a number of ensembles around the world.
Listen to Kellogg describe his compositional process and his collaboration with his wife, pianist Hsing-ay Hsu.
Gregory T. S. Walker teaches at CU-Denver and has performed widely as a violinist--both plugged and unplugged.
Listen to Walker describe his background and music and a recent NPR story about the premier of his father's Violin Concerto.