Once again we celebrate the Classical Summer Music Festival Season by featuring performances from summer festivals throughout Colorado and the West all summer long.  
Colorado Public Radio heads to the Roaring Fork Valley to bring you the sounds of the Aspen Music Festival!  Monika Vischer will be broadcasting her show from the festival this Friday through Sunday.  We're talking to musicians, students, and faculty during our "residency" and you can hear these conversations on air and some right here.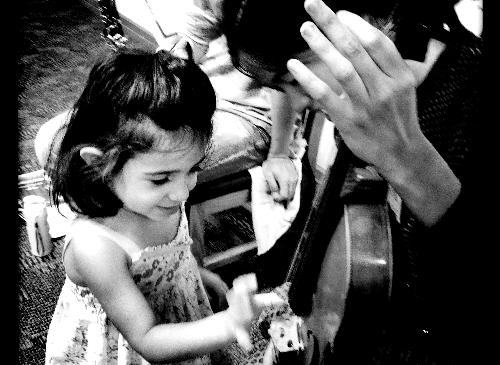 Tracy Wu with a young fan during Tunes and Tales at the Pitkin County Library.  Photo by Jon Pinnow
We top off our visit with a live broadcast from the Benedict Music Tent on Sunday at 4pm featuring Music Director Designate Robert Spano conducting Mahler's 5th Symphony and Barber's Violin Concerto featuring Robert McDuffie.
About Colorado Public Radio's Summerfest.
 Colorado is home to more classical music summer festivals than nearly any other state.  From Boulder to Steamboat, Aspen and Vail - our state is filled with some of the most glorious sounds created by world class musicians who call Colorado home in the summer. While it would be great to be able to go and see all of this wonderful music, it's just not possible. So Colorado Public Radio is bringing it to you! Music comes alive on Colorado Public Radio this summer with "SummerFest!"
This year we're including a new program on Saturdays and Sundays at 4pm, America's Music Festivals hosted by Marin Alsop.
And if you can attend any live performances this summer, click here for the Classical Calendar and here are links to some of Colorado and the West's finest summer music festivals.
Rocky Ridge Music Center/Music in the Mountains Series - http://www.rockyridge.org/concerts11/C_concerts.htm
Sunday June 12 – Sunday August 21
NRO – National Repertory Orchestra - http://nromusic.com
Saturday June 18 – Friday August 5
Colorado Music Festival - http://www.coloradomusicfest.org/default.asp
Saturday June 25 – Friday August 5
Central City Opera - http://www.centralcityopera.org
Saturday June 25 – Sunday August 7
Bravo Vail Valley Music Festival - http://www.vailmusicfestival.org
Sunday June 26 – Wednesday August 3
Aspen Music Festival - http://aspenmusicfestival.com
Wednesday June 29 – Sunday August 21
Crested Butte Music Festival - http://www.crestedbuttemusicfestival.com
Sunday July 3 – Friday August 12
Strings Music Festival - http://www.stringsmusicfestival.com
Wednesday July 6 – Saturday August 13
Music in the Mountains - http://www.musicinthemountains.com
Saturday July 9 – Sunday July 31
Breckenridge Music Festival - http://www.breckenridgemusicfestival.com
Sunday July 17 – Sunday August 14
Aspen-Salida Concerts - http://www.salidaaspenconcerts.org
Aspen Music Festival sends membes to perform in Salida; no dates yet, but mid-July through mid-August
Telluride Chamber Music Festival - http://www.telluridechambermusic.org
Music from Angel Fire—4 locations in northern New Mexico - http://www.musicfromangelfire.org
Friday August 19 – Sunday September 4
Concerts held in Angel Fire, Taos, Raton & Las Vegas, New Mexico
Moab Music Festival—Moab, Utah - http://www.moabmusicfest.org
Thursday September 1 – Monday September 12
Alpenglow Chamber Music Festival - http://www.alpenglowchambermusic.org/
Sunday September 11 – Friday September 16