August 6, 2010
One Glourious Last Day...
I have one last chance to give you a little snapshot of what makes the Aspen Music Festival singular.  Two people I talked to yesterday put it pretty simply. Superstar, globe-trotting violinist Sarah Chang, who's been coming to Aspen since she was a baby (on stage here when she was six!), says "There is no other place in the world like Aspen." Or take it from Aspen's head piano tuner, Steve Brady: "Everyone's focused on the music. You get the best of everything. It's just a magical place."
Aspen is a magical place. After Jean-Yves Thibaudet's spunky debut with a Gershwin program last night, what I'm most jazzed about is that we get to wrap up our residency tonight with a wonderfully varied live broadcast: Brahms' Variations on a Theme of Haydn; Mozart's Piano Concerto No. 19 with Scottish pianist Steven Osborne; and Colorado clarinetist extraordinaire Bil Jackson playing a concerto written for him by American composer Kevin Puts (who is also here).
After tonight, we'll pack up our gear and head back down the mountain to our studios in Denver. But the best thing about this particular earthly paradise, as Colorado music lovers, we all have a home here.
Remember, we're live from the Tent this evening at 6:00 pm. Hope you can tune in! See here for more information.
--Monika
August 5, 2010 | Aspen Music Festival
Day two...someone pinch me.
What a fantastic place to start your 21st birthday. I could spend all day here in the lush aspen meadow outside the Benedict Music Tent. But it's not my 21st birthday (although... Asadour Santourian, AMF artistic adviser and administrator, mistook me for a student from across the lobby in Harris Hall earlier. Made my day.). No, it's the big birthday of tubist Mike Blair of North Adams, Massachusetts. Still, I'll bet he'll show up early again today for orchestra rehearsal in the Tent, long before the other students begin ambling in, instruments strapped to their backs as they finish their coffee. Maybe Blair will go salsa dancing tonight. It's a hit among students here.
The clouds moved in last night. We found Larry Rosenfield standing outside the Wheeler Opera House in the rain, waiting for the student production of Mozart's Marriage of Figaro to begin. Another loyal fan.
Due on the air with me from Harris Concert Hall today is guitarist Sharon Isbin, who first came here some 30 years ago as a student. And this afternoon, internationally renowned pianist, Jean-Yves Thibaudet, who conversely (and astonishingly), makes his Aspen debut this very evening in a program of Gershwin.
This is what's so fabulous about Aspen. The world's top musicians, mixing with passionate students and devoted fans, many of whom make the happy pilgrimage to Aspen each summer.
I've been watching the Aspen Chamber Symphony rehearsing downstairs through our studio window here in Harris for tomorrow's big concert. We'll broadcast it live, 6pm from the Tent. Hope you join us.  See here for details.
~Monika
August 4, 2010 | Aspen Music Festival
Day one in heaven. Just as it's been every summer.
The honey scent from The Meadows, the towering mountains in each direction, and crystalline blue skies dotted with billowy white clouds. Is that a harpist I see floating high atop one of them?
Might as well be. There are plenty of them here at the Aspen Music Festival. Master harpist Nancy Allen and her six pupils are just a few of the 650 students and faculty filling the quaint streets of this historic town with what must be the greatest concentration of young talent on earth each summer.
I've been asked to broadcast my show in-residence at the festival this week. A profound honor. But I'm not just hosting classical middays in the four walls of a traditional radio studio. I'm in that little slice of heaven known here simply as The Meadows. The surreal green. The proud aspen trees, their leaves shimmering in the breeze. And that pervasive sweet fragrance that could have inspired a 10th Symphony from Beethoven.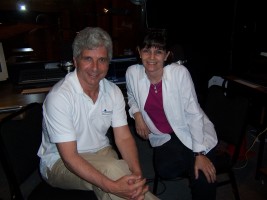 Conductor Peter Oundjian and harpist Nancy Allen
Hard to believe it's real. But it must be. Nancy Allen joins me on my show today along with conductor Peter Oundjian before their performance tonight at the Tent. Beforehand, it's dinner at one of my favorite Aspen eateries, The Hickory House. Their pork comes from - wait for it - tulip-fed hogs from Denmark. Have you ever heard of such a thing?
I'll have more sights and sounds from Aspen for you tomorrow.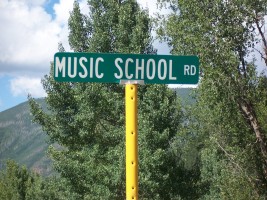 ~ Monika
Monika will be hosting a live concert broadcast Friday Night at 6:00 pm from the Benedict Music Tent. See  here for details.