Opera Colorado opened its 2010-2011 season to a packed house with many thousands more enjoying the production of Puccini's La Bohème on the radio and on the internet, as Colorado Public Radio broadcast the opera live.
Classical Music Hosts Charley Samson and Monika Vischer anchored the live broadcast from the Ellie Caulkins Opera House with on-air help from Ellie Caulkins herself and Opera Colorado General Director Greg Carpenter. Before the start of the opera and at intermissions, listeners heard comments from the singers as well as Director Andrew Sinclair and Conductor Sebastian Lang-Lessing.
Our broadcast of La Bohème was just part of Colorado Public Radio's expanded live broadcast season.  Learn more and see the full schedule of live broadcasts here.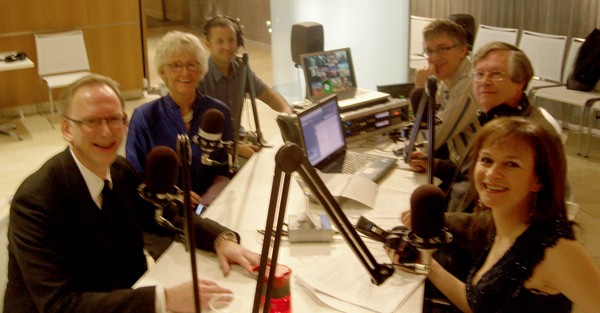 From left to right:  Opera Colorado General Director Greg Carpenter, Ellie Caulkins, engineer Justin Peacock, engineer Martin Skavish, host Charley Samson, host Monika Vischer