Friday evening Charley Samson and Monika Vischer were the hosts as Colorado Public Radio broadcast the Colorado Symphony live from Boettcher Concert Hall in Denver.  Guest Conductor Matthew Halls lead the Symphony and guest soloist, violinist Jennifer Koh, in a program featuring Vivaldi's Four Seasons interspersed with a collection of Bach suites including movements from the Easter Oratorio and the Orchestral Suite No. 4. 
                                                                                                              Jennifer Koh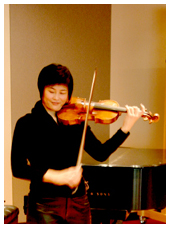 Thursday, Maestro Halls and Ms. Koh stopped by the Colorado Public Radio studios for interviews.  Ms. Koh performed several works for solo violin in the Colorado Public Radio Performance Studio and those pieces plus interview segments were featured throughout the live broadcast.      
Before the start of the concert Scott O'Neil of the Colorado Symphony stopped by our broadcast booth to talk with us live about his new appointment as Resident Conductor.  And at intermission, Monika interviewed Assistant Principal Double Bass of The Colorado Symphony Nicholas Recuber about his being chosen to be a member of the YouTube Symphony Orchestra 2011 for a performance in March at the Sydney Opera House.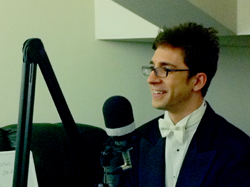 Nicholas Recuber - photo by Martin Skavish
This was the third of five live Colorado Symphony concerts we will broadcast.  For more information, click here.