1:45 - 2:00 p.m.
Colorado Symphony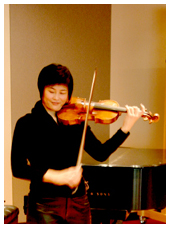 Violinist Jennifer Koh talks about Vivaldi's The Four Seasons, which she plays with the Orchestra under Matthew Halls tonight and tomorrow.
Johann Sebastian Bach: "Preludio" (1st Movement) & "Loure" (2nd movement) from
Solo Violin Partita No. 3 in E major, BWV 1006
  
   Jennifer Koh, violin
    CPR Performance Studio: recorded 1/13/11

   Produced by Martin Skavish
Conductor Matthew Halls talks about the Vivaldi-Bach pairing.