The Morning Show airs Monday through Friday (6am-10am) on Indie 102.3, hosted by Jeremy Petersen. This is its blog, to be updated sporadically. Questions, comments, reactions, etc.? Email Jeremy, or find him on Twitter.
Mar. 1, 2021
Songs for Your Waking Life
My latest Waking Life playlist is up and streaming! It's 35 fresh cuts I've been digging for the past month or so, including Madlib, Flock of Dimes, Dinosaur Jr., UNKLE, tUnE-yArDs, Black Pumas, and more! Best enjoyed on SHUFFLE – go, get!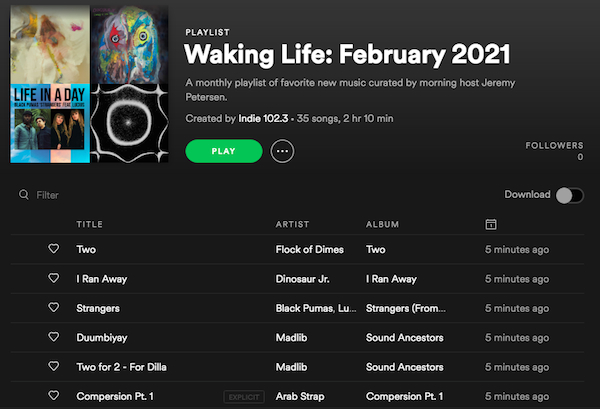 ---
Feb. 17, 2021
RIP, Françoise Cactus
Françoise Cactus, one half of the Berlin-based duo Stereo Total, has died following a battle with breast cancer, according to a statement from the band. She was 57.
Cactus formed Stereo Total with Brezel Göring in 1993 and they went on to release twelve albums of kaleidoscopic sound, employing an energetic style that drew on a multitude of genres. Their latest, Ah! Quel Cinéma!, was released in 2019.
---
Feb. 10, 2021
Phoebe Calling
As you may have heard by now, Phoebe Bridgers played Saturday Night Live this past weekend (see it below). There's for some reason been more than a little debate concerning the AGD (Attempted Guitar Destruction) that occurred, at least some of it using the "Why would someone do that to a perfectly good instrument?" angle as a starting point. Generally speaking, that's before they get to hand-wringing over the part that the would-be instrument-basher is female.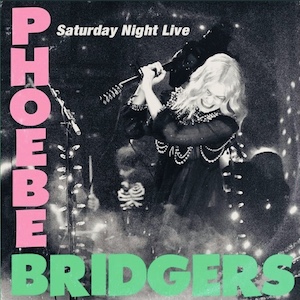 Taken outside of the context of Phoebe Bridgers, I understand the comments about the trite-ness of this rock & roll cliche (the "shame about that perfectly good instrument" part, I suppose, has always been present). But this was not really that. I can't claim to know what her ultimate intention was, but one only need to read her Twitter feed to know that Bridgers isn't angsty or attention-starved. The personality she presents often could not be more different than that her songs suggest. A winking, smiling bashing with an ironic nod to the history of guitar destruction (an almost exclusively male occupation, no accident) is much more her thing. It was a send up, in other words, all pre-planned, right down to the fake monitor and the pyrotechnics and the fairly indestructible Danelectro (the company themselves told her good luck with that). The amount of online self-owning it's spawned has been hilarious and breath-taking, though.
---
Jan. 31, 2021
Songs for Your Waking Life
My latest Waking Life playlist is up and streaming! It's 44 fresh cuts moving 2020 into 2021, including Teenage Fanclub, SZA, Viagra Boys, The Notwist with Juana Molina, Jenny Lewis & Serengeti, and more! Best enjoyed on SHUFFLE – go, get!
---
Jan. 10, 2021
A Last Wrap on 2020
We finally said goodbye to 2020 recently (although technically, we're still trying) and I think I speak for just about everyone when I say, "Yep, pretty good to see it go."
But the music of 2020 is perhaps the one exception to that sentiment, and I don't know about you but I haven't even come close to getting caught up with it all. As you may know, we've rounded up some of those 2020 faves here on the site, both ours and yours. As for me, I listed my favorite cover songs of the year (for obvious reasons), and here's a slightly expanded version of my favorite albums. No order intended, except for the first 10 and the next 10.