Happy Monday, Lookout readers. And what a Monday it is. Avalanche danger is still high and more storms appear to be on their way later in the week for some parts of the state. And yet, yesterday was almost T-shirt weather on the Front Range, and today into tomorrow could be even nicer.
Katy and had one of those really productive weekends where it feels like things are taking a long time and you're not getting many items checked off your to-do list, but when you look back at the end of the day you realize you've actually accomplished a bunch. In the end, though, wedding invitations were ordered, our short honeymoon was booked, and at least one possible vendor of sweet baked goods for our reception has been eliminated.
In other wedding news, today is reported by many to be the "true" date of Romeo and Juliet's wedding, or at least perhaps of a real couple with similar names married in Italy in 1302, though I can't find any truly solid evidence of that. The wedding in Shakespeare's play was likely in July, though (see the notes on Act I, Scene iii here).
In non-wedding news, we have everything else below!
Top of the Hour
Bite-sized updates from today's radio newscasts:
Healthier Colorado, a nonprofit health advocacy group, has launched a new online voter guide in advance of the Denver city election with the aim of holding officials accountable for prioritizing health. (healthierdenver.org)
A new ACLU report shows public schools in Colorado employ more law enforcement and security guards than school psychologists.
El Paso County Commissioners plan to vote Tuesday on whether to join a growing list of so-called "Second Amendment Preservation Counties" in Colorado.
After closures yesterday for avalanche mitigation, I-70 is open again today. Red Mountain Pass in southwestern Colorado is still buried under snow from mitigation efforts. Avalanche danger is still high in some parts of the Colorado mountains.
The Big Stuff
Activists in Broomfield have opened another front in the battle between residents and drillers in Colorado
A storage tank stands near a well pad located in a field near a housing development in Broomfield, Colo., Feb. 28, 2019. (David Zalubowski/AP)
A microcosm of the broader battle between homeowners and drillers, a group of Broomfield residents has a federal judge's backing now. In a legal challenger that could have significant ramifications throughout the industry, they homeowners will get to ask state regulators to block wells planned to be about 1,300 feet from homes in the city.
Special Report
Vic Vela returns from Spring Training with interviews and reader poll results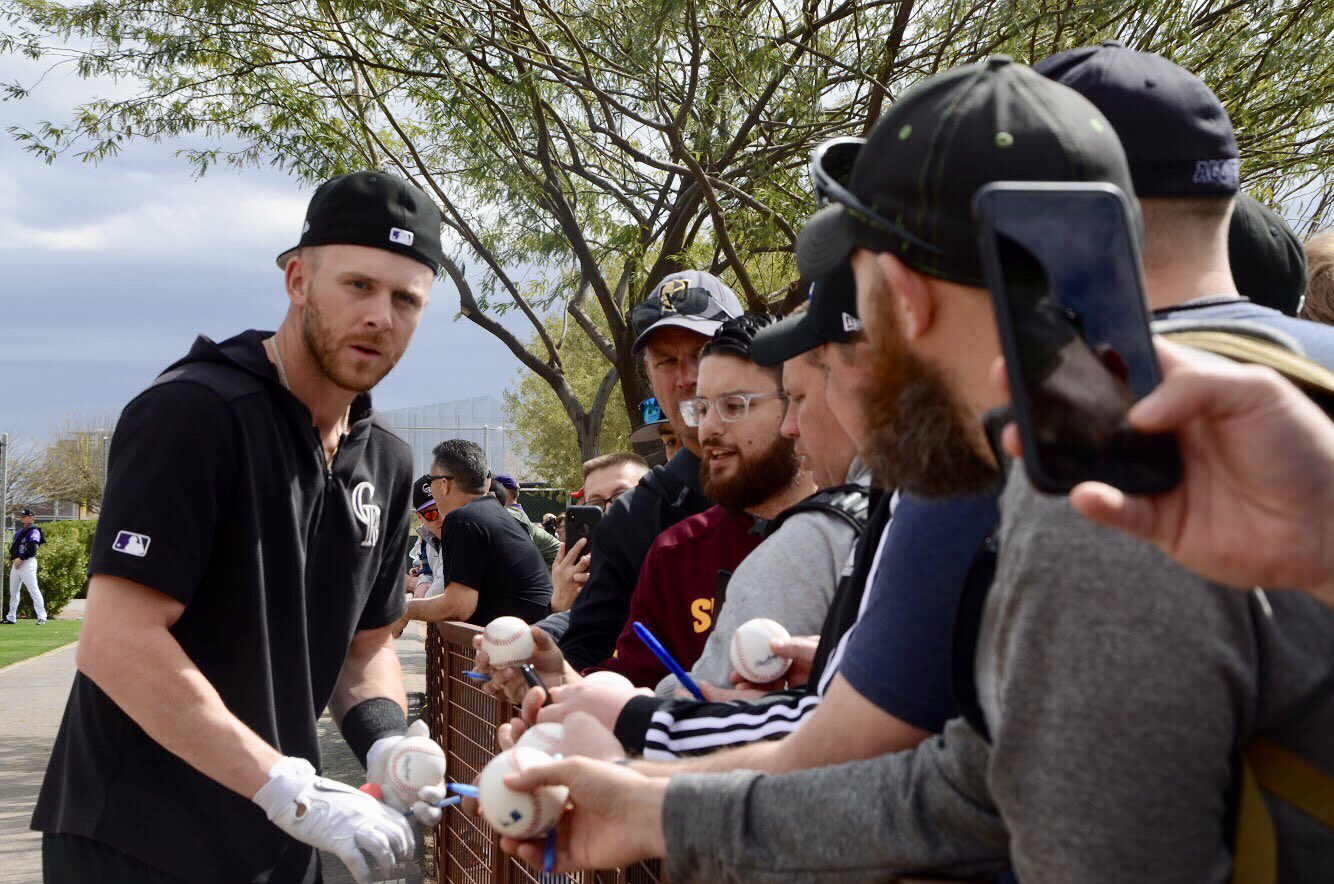 Colorado Rockies shortstop Trevor Story signs autographs for fans at Spring Training. (Vic Vela/CPR News)
CPR News host and reporter Vic Vela is back from Arizona, where he got the scoop from the Colorado Rockies at Spring Training. Here's a final note from his trip:
Well, I must say I had a super time in the desert!
It was great talking to Bud Black, Nolan Arenado and several other members of the Rockies organization during my three-day Spring Training trip. I had a few great conversations with some of the Rockies' lesser-known young players, too. I'll have a fun story on them in the coming weeks.
And with all precincts reporting, the majority of the folks who responded to my Twitter poll on whether games move too slow say that baseball is just fine the way it is! Thanks to everyone who took the time to make your voice heard.
I'll have some cool and exciting Rockies coverage for ya as we get closer to Opening Day. In the meantime, thanks for following — and thanks for being a CPR supporter! —Vic
Colorado Wonders
Any time you find yourself asking, "What's the deal with...?" odds are you're not the only one. In walks Colorado Wonders, where CPR News will dig up the answers to your burning questions about the Centennial State.
CDOT tackles a bunch of your questions about traffic and roadways in Colorado
C-470 looking south from Hayden-Green Mountain Park near I-70 on Sunday, March 10, 2019. (Hart Van Denburg/CPR News)
Everybody has a story to tell about that time on I-70, and Coloradans on average spend something like 200 hours per year stuck in traffic. Colorado Matters host Ryan Warner took on a bunch of seemingly random and fairly specific questions about roadways in Colorado and found answers from CDOT.
Got a Colorado question of your own? Fire away.
More CPR News
Around Colorado
Worth a Read
Get The Lookout
Subscribe to The Lookout to get this handy note sent straight to your inbox each weekday!
Thanks for sticking with me. A reminder: if you've got suggestions or comments on The Lookout, you can email me any time.
Our newsletter's name, The Lookout, refers not only to our transmitters high atop Lookout Mountain near Golden, but to our ongoing watch for news around Colorado and the West.