In GOP-Dominated Mesa County, The Immigration Debate Strikes A Chord
Deborah Erbisch, the secretary for the Mesa County Republican Party, was helping to decorate the party's float ahead of Grand Junction's July 4 parade when she took time to explain her views on immigration and border security.
President Trump's immigration policies -- especially the past practice of separating thousands of migrant children from their parents at the border -- have divided the country in recent months. Despite the uproar, Erbisch has stood by the president.
"We feel for those kids. We feel for those people. We know they want to come to a better place. But they've got to do it the right way," she said. "What they are doing is wrong and that they are putting their kids in harm's way."
Her husband, Bob Erbisch, offered a more pointed take. He rode in the truck bed as the parade proceeded down Main St, playing patriotic songs over a loudspeaker. Erbisch is headed toward retirement, but still works some as a truck driver. He worries immigration could lead to a less cohesive country.
"Are people coming here to be part of this society, or are they coming to colonize it and just make another small country?"  he said. "Does it affect me? Yeah, it affects me when I can't understand people at the next table to me" at a restaurant.
Erbisch said border security is a critical concern for him ahead of the midterm elections. That fits with a recent Reuters poll, which found that immigration has become the top issue for Republican voters since early June. That's while apprehensions at the U.S.-Mexico Border have been at historic lows, despite what the president says.
Mesa County, which contains Grand Junction, is an overwhelmingly Republican part of Colorado. The last time a Democratic presidential candidate won it was Harry Truman in 1948. Republican active voters outnumber Democrats by more than two to one, according to the Colorado Secretary State's Office.
But a hard-line stance on immigration was not the top issue for every Republican at the parade. 
Take Kevin McCarney. He works for a local insurance company and suggests that while the immigration debate is loud and divisive, it lacks perspective.
"My real concern is that while we are arguing over 2,000 kids, that's what it comes to, about 2,000 kids separated from their parents, we have 40,000 veterans who aren't getting proper care because we won't solve the Veterans Administration problem," he said. The second statistic refers to the number of homeless veterans in a recent point-in-time survey.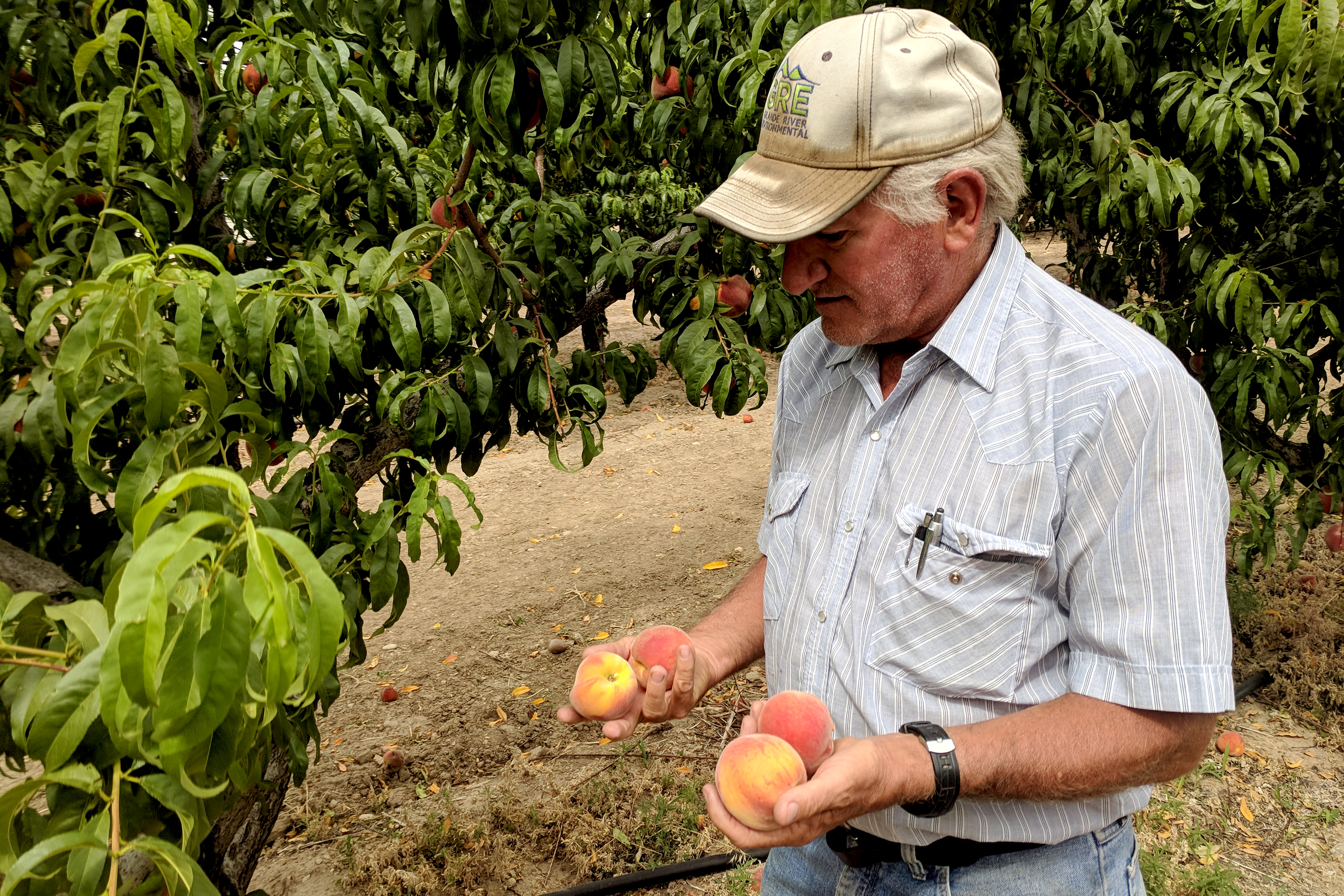 Just east on I-70, there's a Republican who relies on migrant labor for his business. Brad Brophy grows peaches, nectarines and cherries at B2 Orchards in Palisade. The lines of fruit trees sit at the foot of the sandy mesa that towers over the town. Each spring, he hires migrant workers from bigger orchards to thin his trees.
"They're important people to have," he said. "Pretty tough to find anyone you can rely on locally. It's a job most people don't want to do."
Those workers are brought in on temporary visas, he said. Fruit growers have long complained it's a huge bureaucratic pain to get them into the U.S. But Brophy said that's a separate issue from border enforcement. And he supports the president's zero-tolerance approach.
"What they are doing now, flooding the borders like they are doing, that's just costing the U.S. a lot more money. Where the workers who come here, they do their jobs and they go back home," he said.
Then there are Republicans who've fallen away from the president. Michael Lentz used to be a first vice-chair in the Mesa County Republican Party, but he resigned after Trump won the Republican nomination.
"The issue was calling people from an entire country rapists," he said. "When you go to the level of dehumanizing an entire people just for the sake of gaining power, that for me is a line that cannot be crossed.
Lentz has since moved to the Front Range for work. He thinks the core issue for many Republicans isn't really the immigration system. It's the future of the country.
"Often times we get stuck into this idea of the fear of a changing America. And fear can lead people to take a position they otherwise would not take," he said.
Lentz said he's now wondering if he still has a place within the Republican Party. That feeling probably is not going to go away any time soon. The uproar over family separation has not caused President Trump to back off his heated rhetoric on immigration. In fact, he is already using it to help turn out his base this November.