OpenAir's concert picks for May: Morrissey, Haim, Dana Falconberry and more
Exhausted from all the superb concerts that went down in Colorado last month? Neither are we.
The month of May continues to bring standout live acts into Denver and beyond. We've highlighted 15 of our top concert picks, ordered chronologically. Keep it in the OpenAir all next month, when a few of our selections will be performing in the CPR Performance Studio as well. 
Check out our list below, and head over to our OpenAir Event Calendar for even more great shows.
The Dodos @ Larimer Lounge (5/2)
(Photo: courtesy of the artist)OpenAir presents San Francisco indie duo The Dodos to kick off the first weekend of May. On their latest album "Carrier," the band has invigorated their indie folk sound with a fuller, more polished rock style, evident on excellent single "Confidence." A Band in Pictures opens.
Tellerpalooza 2014 @ Bluebird Theater (5/3)
Conceived in 2004 by music-loving parents at Denver's Teller Elementary, Tellerpalooza raises funds for the school by hosting great local music each year, including performances by the young Teller musicians. This year's lineup boasts OpenAir favorites Dragondeer, Ark Life, Chimney Choir, Safe Boating Is No Accident and The Other Black.
Dana Falconberry @ Leon Gallery (5/7)
(Photo: courtesy of the artist)Recently highlighted by NPR Music's Heavy Rotation feature, Austin singer-songwriter Dana Falconberry is quickly gaining attention for her ventures into a more electronic-based sound than her previous folk work, assisted by Spoon drummer Jim Eno. Keep an eye out for Falconberry's upcoming studio session at OpenAir as well.
You Me & Apollo @ Bluebird Theater (5/9)
Fort Collins band You Me & Apollo celebrate the release of new album "Sweet Honey" with a performance at the Bluebird Theater. Based on their recent studio session at OpenAir, the album's title is an apt description for their new songs. Desert Noises and Patrick Dethlefs will also perform.
Greater Than Social Club @ Lannie's Clocktower Cabaret (5/13)
If you have yet to attend any monthly edition of Greater Than Social Club, produced by Illegal Pete's and OpenAir, May provides the perfect opportunity to start. The lineup features two powerhouse musical acts, Ark Life and Kyle James Hauser, along with comedians Ben Kronberg and Mara Wiles.
The Pains of Being Pure at Heart @ Larimer Lounge (5/13)
It's been a few years since we heard from indie pop dreamers The Pains of Being Pure at Heart, but they'll arrive back on the scene this year with "Days of Abandon." The record's release date coincides with their Denver show at Larimer Lounge, so expect the band to be in high spirits.
Cage the Elephant / Foals with J. Roddy Walston & the Business @ Ogden Theatre (5/17)
May 17 features a triple bill of guitar-driven rock at the Ogden, with any act astutely capable of bringing down the house. It's plain to see how the show is sold out already, as Foals and J. Roddy Walston & the Business both rocked out Colorado recently. Look for the latter band's upcoming performance in our CPR Performance Studio as well.
Morrissey @ Ellie Caulkins Opera House (5/17)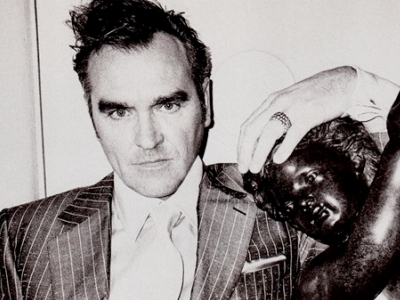 (Photo: courtesy of the artist)After countless setbacks in his recent tours, including a cancelled Denver date in late 2012, the former Smiths singer finally returns to Colorado. Look for Moz to return in style and preview new tracks from upcoming record "World Peace is None of Your Business."
Lana Del Rey @ Red Rocks (5/19)
It's a testament to the large crossover appeal of Lana Del Rey that her first ever Colorado show is at Red Rocks Amphitheatre; it's another that the show is already sold out. The singer's upcoming third album "Ultraviolence" was produced by the Black Keys' Dan Auerbach, so it's possible Del Rey's music might be taking a more rock-driven route.
The music of Scottish band Mogwai seems downright extraterrestrial when locked into a hypnotic instrumental groove. In their nearly 20-year existence, our world has certainly taken notice: this year's "Rave Tapes" is the top selling vinyl record in the U.K. so far in 2014.   
Eels w/ Chelsea Wolfe @ Gothic Theatre (5/21)
After nearly two decades of alternative rock, Eels show they've still got their eccentricity intact on this year's "The Cautionary Tales of Mark Oliver Everett" (single "Mistakes of My Youth" is currently available as our Download of the Week if you need a preview). They play at Denver's Gothic Theatre in support of the album with gothic folk artist Chelsea Wolfe.
Haim w/ Tennis @ Ogden Theatre (5/21)
(Photo: Bella Lieberberg/courtesy of the artist)Haim quickly sold out the Gothic, and then the Ogden Theatre after a venue change. So, it's safe to say the hype is substantial for the debut Colorado appearance from the Alana, Este and Danielle Haim. In Denver husband-wife duo Tennis, they've picked an opener akin to their summery indie pop vibes.
Little Green Cars @ Larimer Lounge (5/21)
OpenAir presents Little Green Cars on the night of May 21 at the Larimer Lounge. The rock quintet from Dublin grabbed our attention with debut full-length "Absolute Zero" last year, a heartfelt collection of indie rock tunes like "The John Wayne."
Kishi Bashi @ Gothic Theatre (5/24)
Electronic twee-pop group Kishi Bashi remain one of our favorite acts to play in the CPR Performance Studio sessions (check out a video here). "Lighght" is their upcoming new studio album, available now via NPR First Listen. Get acquainted with it before checking them out live at the Gothic Theatre with Tall Tall Trees. 
tUnE-yArDs w/ Sylvan Esso @ Gothic Theatre (5/28)
(Photo: Holly Andres/courtesy of the artist)The experimental pop project of Merrill Garbus returns to Denver just over a month after opening for Arcade Fire at the Pepsi Center. Though the venue might be smaller, expect Garbus' energy to be nothing short of prodigious when she performs songs from her fabulous third album "Nikki Nack." Openers Sylvan Esso will play in our performance studio before the concert as well.
You made it!
You love learning about new music and the Denver music scene. We have a weekly newsletter for you -- Inside Track. Sign up here to stay in the know about the hottest Colorado concerts and how you can score tickets!