Remembering the '60s ride of Paul Revere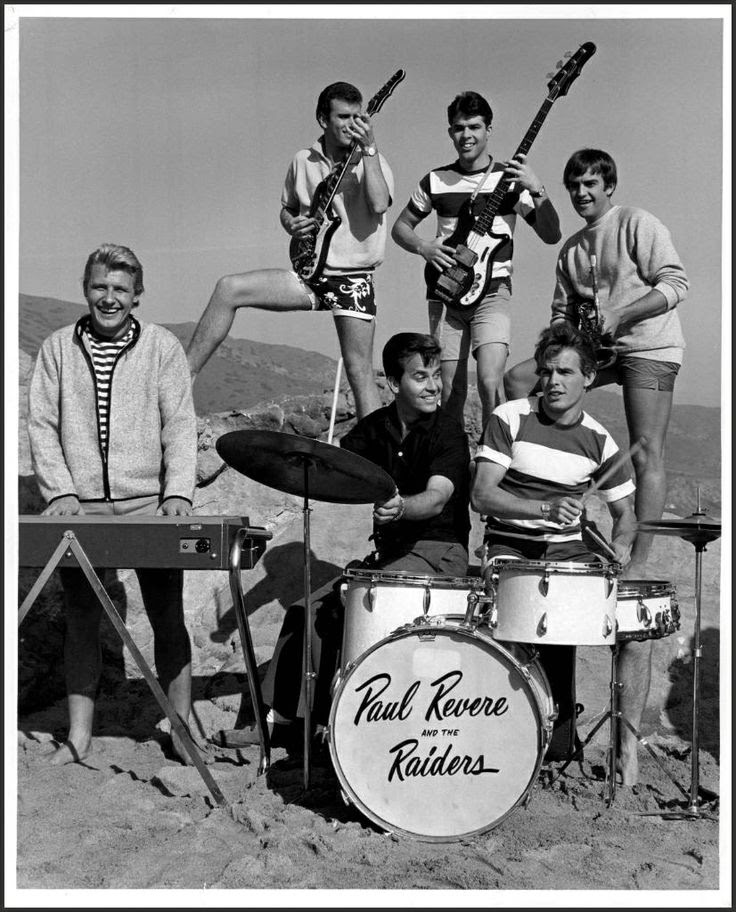 The Downbeats became Paul Revere and the Raiders in 1960 and by 1961 had begun their invasion of the Pacific Northwest.  Revere got drafted, became a conscientious objector, and was ordered to be a cook in a mental institution for his deferred service.
By 1962 they were focusing on Oregon more, ready to take the world by storm with a cover of "Louie Louie." In 1965 they caught the eye of producer Terry Melcher and moved to LA. "Just Like Me" went to No. 11 in 1965.
They donned the Patrick Henry outfits, put their John Hancocks on the dotted lines, and started raking in pictures Benjamin Franklin. The revolution would be televised.
The British were coming, and Paul Revere and the Raiders were in the saddle for a playful American response. Here's some fabulous spots along the way, solid hits in Lexington, Concord, and well beyond:
"Just Like Me": The shot heard round the world...from the album Just Like Us!  PS I keep wishing they'd bring back Hullabaloo!
"Kicks": The follow up goes to #4 on the charts. There's a serious tone in the lyrics.  You don't need kicks girl! FromMidnight Ride. Screaming Ed Sullivan Show.
"Hungry": Raiders go as sexy as you can go on The Spirit of '67.
"The Great Airplane Strike": I love any song that begins with an explosion. Fang and Harpo have the moves, never mind the redcoats!
"Good Thing": Enough of this experimentation! Back to basics!
"Ups and Downs": The songs are starting to sound the same, but who cares? Mark's ponytail is out of control.
"Him Or Me, What's It Gonna Be": Part "Hungry," part "Ups and Downs," it's about a love triangle that borrows from at least three previous songs.
"Indian Reservation: The Lament of the Cherokee": Quite serious, and it takes them to number 1, their last big hit from 1971. They lost the revolutionary costumes, Mark looks like he could be auditioning for Deep Purple. But it's pretty different from the rest.
You made it!
You love learning about new music and the Denver music scene. We have a weekly newsletter for you -- Inside Track. Sign up here to stay in the know about the hottest Colorado concerts and how you can score tickets!