Denver nonprofit Youth On Record hosts Sleater-Kinney for music panel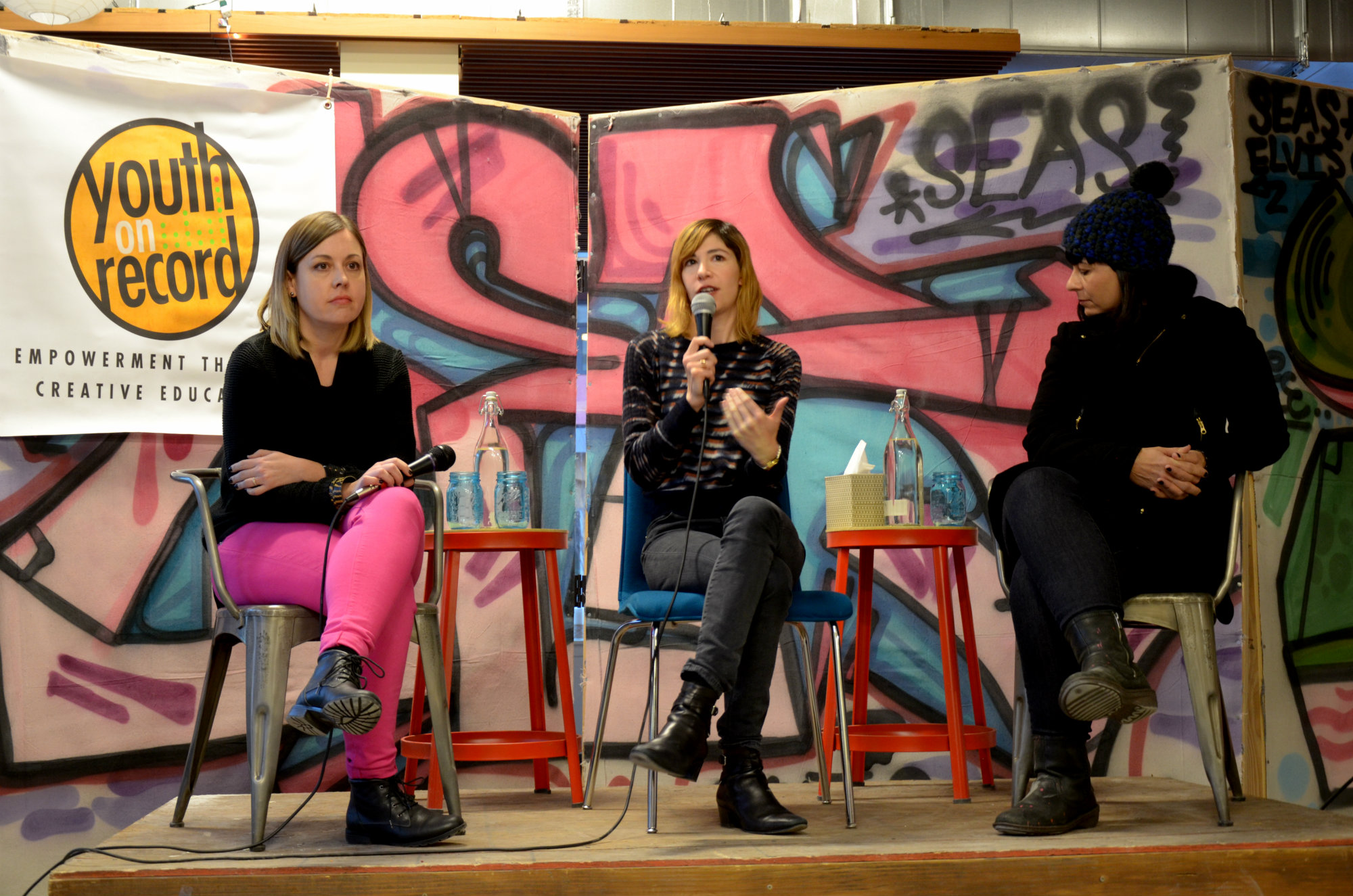 Youth On Record, a Denver nonprofit that employs professional musicians to mentor at-risk Denver Public Schools students in music and arts, hosted the members of Sleater-Kinney for a panel discussion last night at its Youth Media Studio.
The renowned indie rock band, featuring Corin Tucker, Carrie Brownstein (of TV show "Portlandia" fame) and Janet Weiss, was in Denver for a Feb. 12 performance at the Ogden Theatre in support of "No Cities to Love," its first new album in 10 years.
The panel discussion was the first of its kind for Youth On Record. Executive Director Jami Duffy organized it as an educational experience for some of the 700 students the organization mentors.
"We know they're going to get something from these artists' stories,"  Duffy said. "They're going to relate and hear struggle in their own journeys to become professional musicians."  
Tucker, Brownstein and Weiss fielded questions from moderators Kalyn Heffernan (of the Colorado indie band Wheelchair Sports Camp) and Youth on Record instructor Bianca Mikahn, along with those from students in the audience.
Topics included musical inspiration (Brownstein listed Michael Jackson and The Ramones as two major sources), dealing with criticism and the future of the feminist "riot grrrl" rock movement, of which Sleater-Kinney was a key force in the 1990s.
"That question is up to you," Tucker said of the latter, which elicited cheers from the young people in attendance. "'Riot grrrl' could be anything. It could be a show. It could be a science lecture. The idea is that the door is always open."
corin_tucker_advice_on_perseverance_in_music-150212-135315
"The students we work with don't have access to the same things as some of their peers," Duffy said. "It's our job at Youth On Record to give them access to the absolute best. We aim for the best because we believe our students deserve the best."
In the future, Duffy aims to host similar salon-style discussions with influential artists like Sleater-Kinney on a monthly basis.  
carrie_brownstein_on_her_pop_and_punk_influences-150212-135345
Following the event, the members of Sleater-Kinney said they have noticed young fans in attendance at the first few shows of their tour. They think some of their fans may even be younger than the band itself, which formed in 1994.
"We want the young people who see Sleater-Kinney speak or perform to see that it is possible to have a career as professional musicians," Weiss said.
You made it!
You love learning about new music and the Denver music scene. We have a weekly newsletter for you -- Inside Track. Sign up here to stay in the know about the hottest Colorado concerts and how you can score tickets!