Colorado Music Party at SXSW announces 2015 lineup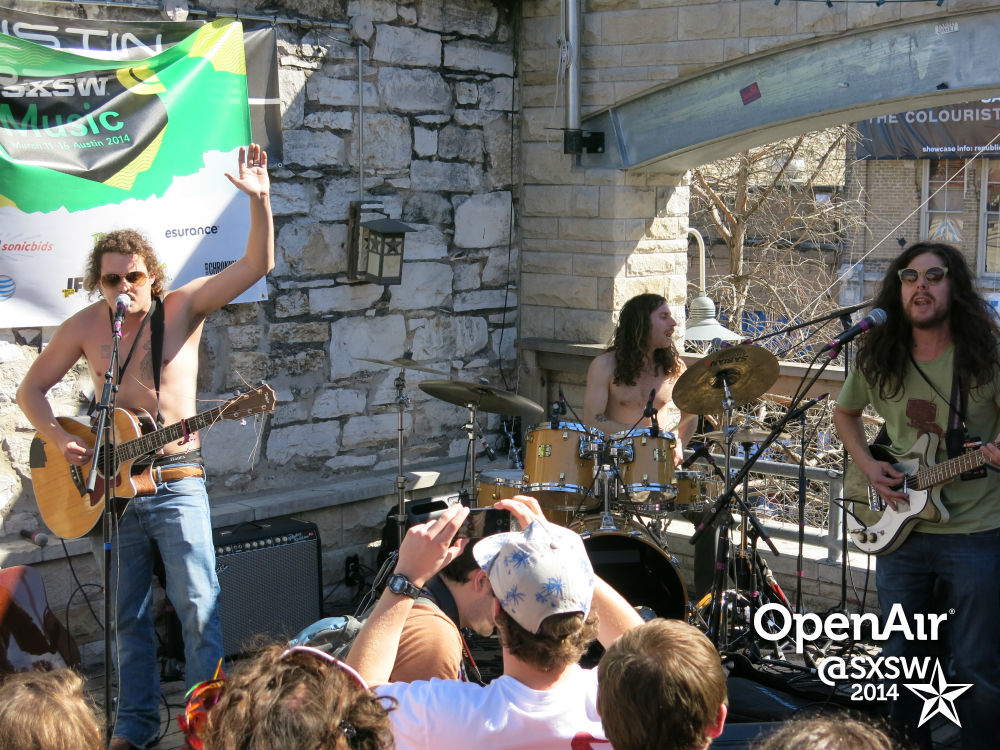 The Colorado Music Party is back for its third year in Austin, Texas, serving as an unofficial event happening alongside the South By Southwest (SXSW) music festival next month. This year the event and lineup has expanded from two days and 30 bands to five days (March 17-21) with over 120 bands! 
The first round of artists performing at this year's Colorado Music Party was announced today, with set times and additional performers still to come.
There are many Colorado artists returning to the party this year including The Yawpers, Dragondeer and Rob Drabkin. The lineup also includes newcomers In the Whale, Blake Brown & The American Dust Choir, Dirty Few, Kitty Crimes and Bonnie & the Beard.  
As the Colorado Music Party takes place during SXSW, there is some cross-over with local acts that will also play the official showcase, namely: Wheelchair Sports Camp, Inner Oceans, Publicist UK and SPELLS. 
Similarly to last year when Austin's Shakey Graves performed, a few national acts with Colorado music industry connections have joined this year's roster, including teenage rockers Residual Kid, who frequent Colorado thanks in part to their Denver-based manager Bart Dahl. 
"While the overall lineup remains heavily centered on Colorado bands, that's only part of the story when it comes to Colorado music," said Dani Grant, executive director of SpokesBUZZ and Colorado Music Party organizer. 
"The Colorado Music Party gives us an unparalleled opportunity to show off the incredible musical talent found across the state -- especially this year, with five days and nights of highly visible performances," said Grant. "But what it also allows us to showcase is the experienced, well-connected creative professionals that represent the Colorado music industry. Our partners include venues, management and marketing agencies, festival organizers, event producers and other industry experts that support national and international talent. The expertise on display at the Colorado Music Party isn't just limited to the musicians onstage."
The Colorado Music Party is presented by Colorado Creative Industries, the Colorado Tourism Office and SpokesBUZZ, along with media and music industry partners from throughout the state including OpenAir. The multi-day event returns to Austin's The 512, a two-stage venue in the heart of Sixth Street, from March 17-21. 
Check out the lineup below: 
3Two
Albny 
Altas 
AMZY
Andy Sydow
Aspen Hourglass
Babah Fly
Ben Marshal
Better Than Bacon
Birch Street
Branded Bandits
Brett Jarnagin
Bud Bronson & The Good Timers
Calder's Revolvers 
Caramel Carmela
Carson Block
Cobary Jam
Cold River City
C  ōvergeist
CRL CRRLL
Disguise the Silence
DOUBLEWIDE
Dr. Death + Mr. Vile
Edison
Eldren
Elise Wunder
Facing West
Filthy T
From Thin Air
Grim&Darling
High Five Hip Hop
Indigenous Robot
iZCALLi
Jack+Jill
Jesse Manley and His Band
Jilly.fm
JiM ChieF
Jordan Igoe
Kind Dub
Lisa Bell Band
Lissa Hanner
Matt Mahern and Constitution
Maxwell Hughes (formerly of The Lumineers)
Montoneros
No Fair Fights
OKO TYGRA
Open Space
Palace Brands
Poor Me
Post Paradise
Professor Fox's One Man Band
Qbala, Red Fox Run
RipRats
Robert Cline Jr.
Rocktin Grove
Rootbeer & Mermentau
Rumours Follow
Ryan Chrys & The Rough Cuts
Rubedo
Sarah & the Meanies
SarCa$t*
Sexy Ester
Shaley Scott Band
Shatterproof
Shelby Britton
Sister Sparrow & The Dirty Birds
Slow Caves
Sound of Ceres
Steele & Colfax
Stella Luce
Stephen Langstaff
Strawberry Runners
The 14ers
the B.A.B.E.S.
The Covz
The Cumberland Collective
The Echo Chamber
The FAMM
The Left Ready
The Lindsey Saunders Band
The LoLos
The Patti Fiasco
The Railsplitters
The Rayo Brothers
The Robby Wicks Band
The Royal
The Seers
The Sweet Lillies
The Wendy Woo Band
Thunderthief
Tight Thump
Tommy Metz
Travellers Music
Von Stomper
Wandering Monks
Wasteland Hop
We Are Not a Glum Lot
Wild Wombat
Wiredogs
Write Minded
Band announcements, showcase RSVP, lineup details, set times and more information is available via: www.coloradomusicparty.com/lineup