Dearly Departed 2016: Colorado Musicians Celebrate Legends We Lost This Year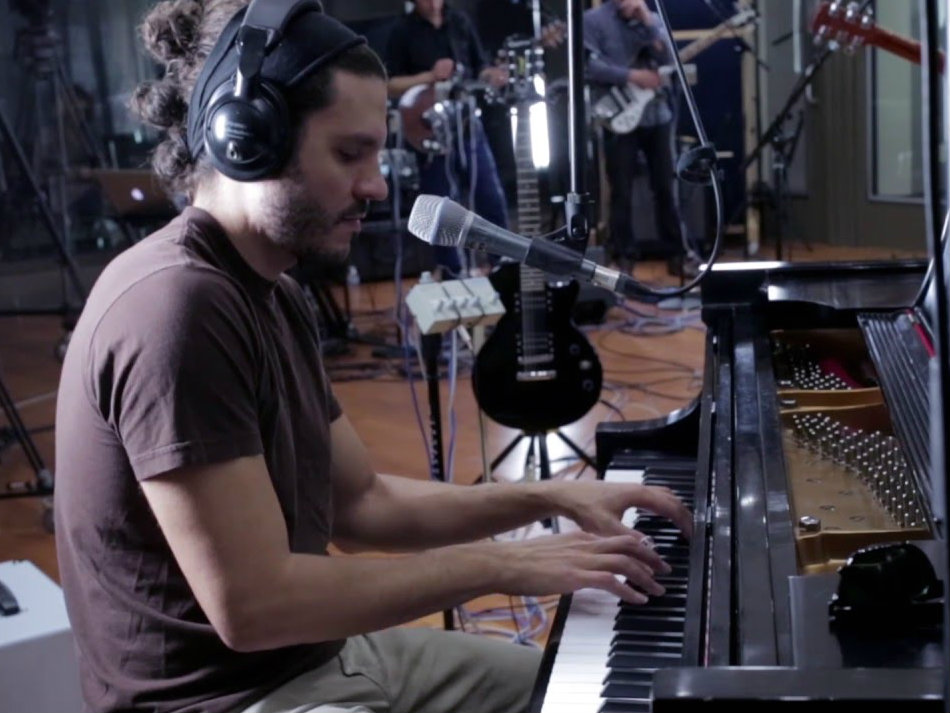 (Photo: CPR/Irvin Coffee)2016 was a year of loss for millions of music fans. We mourned what feels like an unusually high number of musical icons -- not because we knew them personally, but because they helped us know ourselves.  
CPR's OpenAir recently put out a call to our musician friends throughout Colorado to perform cover songs by artists who influenced them who passed away this year. The response amazed us.
We're calling the results Dearly Departed: Colorado Remembers 2016. It's a two-hour special featuring a couple dozen acts covering songs from many of the musicians who died this year.
Hear these exclusive performances, recorded in the CPR Performance Studio:
Tonight from 4 to 6 p.m.
Wednesday, from 11 a.m. to 1 p.m. during Mile High Noon
Here's a list of the artists who participated and the musical legends they celebrated. The roster includes several supergroups of Colorado musicians:
Celebrating David Bowie
Ian Cooke and Chimney Choir
Pan Astral
A Colorado Bowie supergroup: 

Taylor Gonda - Vocals (These Things Matter Podcast)    
Chella Negro - Vocals (Chella & The Charm)
Nathan D Brazil - Guitar & Vocals (Salads and Sunbeams / Fingers Of The Sun)
Leighton Peterson - Guitar  (Safe Boating is No Accident)
Nathan Wright - Guitar (The Kevin Costner Suicide Pact)
Michael Ditto - Keys (Safe Boating is No Accident)
Justin Couch - Bass (Quantum Creep)
Fez Garcia - Drums (Tjutjuna)
Yuzo Nieto - Ashiko Drum (Pink Hawks)
Celebrating Glenn Frey of The Eagles
Celebrating Maurice White of Earth, Wind & Fire
Wes Watkins of The Other Black
Celebrating Beatles producer George Martin
​Celebrating Guy Clark
Celebrating Bernie Worrell of Funkadelic
Dandu featuring Brittany Williams
Celebrating Prince
Bluebook
Julia LaBassi of The Raven and the Writing Desk
Shady Elders
Celebrating Steve Holloway
Celebrating Merle Haggard
Lee Avenue
A Colorado Haggard supergroup:

Larry Nix - Lead Vocals 
Eugene Merne Moles - Electric guitar
Wayne Moss - Acoustic guitar
Lloyd Green - Steel guitar
Pig Robbins - Piano
Lauren Michaels - background vocals 
Jeff Martin - Bass (The Burning Angels) 
Kevin Finn - Drums (The Burning Angels)
John Macy - producer
Celebrating Lonnie Mack
A Colorado Lonnie Mack supergroup:

Eddie Turner - Guitars and Vocal
Kenny Pasarelli - Bass (Elton John, Joe Walsh)
John Magnie - Keys (The Subdudes)
Steve Amadee - Drums and percussion (The Subdudes)
John Macy - producer
Celebrating Gene Wilder
A Colorado Wilder supergroup:

 Amanda Gonulsen - Vocals (Automatic Iris)
 Scott McCormick - Piano (Lee Avenue)
 Guy Stapleton - Guitar (Poet's Row)
 Joshua Trinidad - Trumpet (Go Star, Wheelchair Sports Camp)
 Neil McCormick - Bass (Safe Boating is No Accident, Kid Reverie)
Celebrating Sharon Jones
Celebrating Leonard Cohen
Covenhoven
Plume Varia
Gabrielle Louise with David Kaye
Paul DeHaven (Paper Bird, Eye and the Arrow)
Celebrating Keith Emerson and Greg Lake of Emerson, Lake & Palmer
Celebrating Leon Russell
Kris Drickey of Chimney Choir
Celebrating Tyler Despres
Hear and see many of these artists performing their original songs: Check out more sessions from the CPR Performance Studio.
You made it!
You love learning about new music and the Denver music scene. We have a weekly newsletter for you -- Inside Track. Sign up here to stay in the know about the hottest Colorado concerts and how you can score tickets!