Abby Jones Tried To Quit Her Phone. She Got Famous For It
In a circle of light, Abby Jones, a seventh-grader from Denver, stood in front of a group of adults, on the stage of a dark auditorium. To applause, she told them about her moment of triumph: when she gave up her phone.
"It felt like a burden had been lifted from my shoulders," Jones told the crowd at the TedxCherryCreekWomen event last December. "It was hard for me to admit that maybe life without a phone was a better life for me."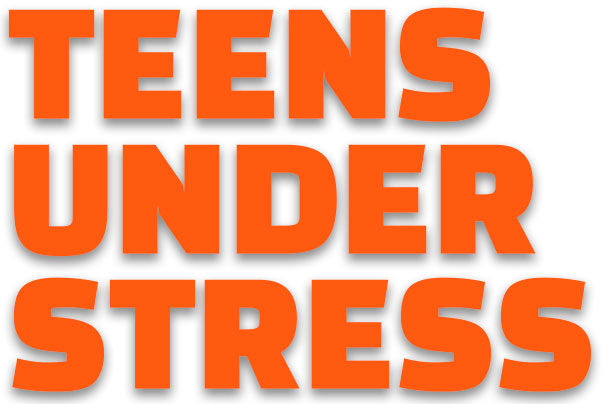 More than half of teens say they spend too much time on their cellphones, according to a recent study, and recent research suggests teens who use social media may be more likely to develop mental health problems like depression and anxiety. Some advocates and parents push hard to get teens off their phones or at least limit their time.
Abby Jones was the poster child for doing just that. Her Tedx Talk about breaking up with social media even went viral and she appeared on the Today Show to offer advice on ditching the phone.
But the reality of her journey is far more complicated. When she walked off the stage at TedEx, Abby immediately got back on her phone. Her mother, Brooke, has a picture of her scrolling Instagram moments after giving her speech. Her struggles to get off a device harmed her mental health, and demonstrated the difficulty teens and parents face when counteracting the phone's pervasive influence.
Her troubles had a quiet start. Abby got her first smartphone in middle school.
She felt great listening to her favorite bands, like the Beatles, Billy Joel, Elton John. But at other times social media made her "really depressed."
"'Cause I was like, 'Oh, I have like two friends and they have like 1,000 followers,'" Abby said. "Comparing myself to them was definitely a mistake. But I couldn't help it."
Abby is now an eighth grader. She said she lost some friends, and when Abby followed them on social media, she would see them all doing things together. 
"I would get really sad that I wasn't invited," she said.
She said she suffered from FOMO, fear of missing out.
"That would also cause a lot of depression and anxiety, cause I would get really anxious. What if somebody invited me to something that I missed? But nobody ever did," Abby said.
---
If you need help, dial 988 to reach the Suicide and Crisis Lifeline. You can also reach the Colorado Crisis Services hotline at 1-844-493-8255 or text "TALK" to 38255 to speak with a trained counselor or professional. Counselors are also available at walk-in locations or online to chat.
---
That troubled Abby's mom Brooke. Abby was using her phone four or five hours a day, and Brooke found some things on it she didn't like. So she took Abby's phone away.
"And that was when she had a meltdown and says, 'I hate you,'" Brooke said.
But over time, Abby changed her mind, to see her relationship with her phone as an addiction.
"It's toxic and unhealthy," Abby said. "Like, I'll be just sitting in the lunchroom talking with my friends, and you can see some of the girls sitting next to each other, literally messaging each other on their phones."
That's when she decided to tell her tale in a very public way, educating the audience on being a teen in today's hyper-connected world.
"Real life disappeared and was replaced by the fake life of Instagram," she told the crowd. Then, "my phone, my everything, was taken away for a whole month."
Abby said it was weird at first, she even got the sensation of a phone vibrating in her pocket, a phenomenon known as "Phantom Vibration Syndrome."
But by the end of the month without her phone, Abby said she felt liberated. She said more parents need to do what hers did: Take control, monitor phone usage, app downloads, chats and text conversations, and tell the kids they're doing it. 
"I need the parents and guardians out there to start being parents to their kids, not friends," she told the audience. 
Her speech seemed like a huge step forward.
Abby's Tedx Talk was a hit. Since being posted to YouTube, it's been viewed nearly 23,000 times. In the Today Show interview, the hosts lauded the family's embrace of a lower-tech lifestyle.
The principal at her middle school even sent a link of her Tedx Talk to the parents of all of her classmates. Some parents started to crack down on their kids' phone access.
"I think a lot of kids got impacted by it, which felt good, when they weren't all really mad at me," Abby said.
Brooke Jones, Abby's mom, said after the Tedx Talk they thought "everything was going to be great." They'd put this vital message out there.
"She solved this problem," Brooke said.
But Abby herself was still struggling.
"Everything just sort of like went downhill from there," she said. "Which was surprising because I wouldn't say that I was super addicted to my phone at that point, but I think it's all tied in."
During a trip with her grandparents over the summer, Abby got free rein over the phone. So she got lost in it again. Brooke got mad and put on strict restrictions.
"I didn't allow her to have access to the internet or texting. And you turn around and she's on the internet or texting," Brooke said.
"I've had these restrictions on my phone for quite awhile, so I've found a lot of ways to get around them," Abby said.
For parents, the decision is a hard one.
While Abby's relationship with her phone troubles Brooke, severing it troubles her too.
"For kids now it's really their lifeline," Brooke said. "And so taking that away makes me feel awful, it makes me feel like a terrible parent, that I would disconnect her on purpose from her friends."
Brooke understands how critical the device can be to social relations -- and how limited her own understanding is.
"She will look at her Instagram, say, 'Mom, I can't believe she just put this picture up two minutes ago and she already has 35 likes,'" Brooke said. Brooke doesn't get it. "But I'm 45 years old, I don't care. I'm not 13."
A Pew Research Center study found a growing share of teens say they use the internet "almost constantly." A 2019 study by the education non-profit Common Sense Media reported that on any given day, U.S. teens average about seven and a half hours of entertainment media use, not including time spent at school or for homework. Patterns of media use vary widely among teens, the study found. Boys played video games a lot and girls spent more time on social media. 
For Abby the cost of all that phone-based media consumption was too high.
"I know my kid and I know that she is struggling when she is on that device," Brooke said. 
The anxiety and insecurity were too much, even though Abby does sometimes feel isolated.
Abby couldn't have given up her phone all by herself.
"Honestly, I think the only reason that I'm still not addicted to my phone is because of my parents putting restrictions on it," she said. "Even after doing my Ted Talk and going on the Today Show, I would say I would still be addicted if it weren't for my parents."
Still, she can really see the upside. 
"I've definitely come to accept that it's not a big deal if somebody has more followers than you or more likes than you," Abby said. "It was freeing that I just didn't have to worry about it anymore."
In the end, Brooke Jones said there are no easy answers.
"I do struggle with it and she still struggles with it and I don't know what the answer is," Brooke said. "The answer of taking away the phone completely is not going to work for everybody and letting them have free rein of it doesn't really work either."
Each family will have to figure out the right answer for themselves, she said.
She may one day return her daughter's phone.
In the meantime, Abby seems to relish her newfound time, time she used to devote to screens. "I have so many untouched books that I have to catch up on," Abby said. "I've gotten back into reading. That's a major passion of mine."
She said she'll keep pushing parents and young people to take charge and set limits.
"So many teens struggle with mental health, and if they can have just one more thing that would make it a little bit better, I think they need to let that happen."
Editor's note: This story has been updated with 2019 figures on device use.
---
We want to know more, and we hope you do, too.
CPR News will spend the next few months investigating the factors that have created the ultimate pressure cooker for some teens. We'll go into their world through audio diaries, interviews, reflection and analysis. Most importantly, we'll examine what teens, families and schools can do to let some of the pressure loose.
_
You care.
You want to know what is really going on these days, especially in Colorado. We can help you keep up.  The Lookout is a free, daily email newsletter with news and happenings from all over Colorado. Sign up here and we will see you in the morning!