The Local 303: Colorado Artists We're Featuring For August 2021
The Underground Music Showcase is back this summer on South Broadway from August 27-29, and for this month's spotlight on Colorado artists here's a round-up of notable local acts at the festival.

We'll be at the UMS with our first in-person Local 303 Meetup in over a year! Stop by Stoney's Cantina on Saturday night for performances and interviews with artists. Get all the details here.

Meet August's picks:
Glass Cases
Hometown: Colorado Springs, Colo.

Formed: 2017

Latest Release: "Chemicals" (single), Self-Released, Jan. 31, 2021

Pronouns: They/them

About: "All three bring a professional attitude to music and have international ambitions, carefully dropping new songs, music videos and building their image. Most of their music is driven by synths, ukulele parts and drums, and their sound spans Modest Mouse-style indie rock and OneRepublic pop, occasionally flirting with hip-hop swagger." -Denver Westword

Glass Cases brings a whole new energy to the pop / synth-rock genre. The acrobatic vocals of bassist Alex Van Keulen are paired with the spoken word stylings of Austin Seifert, bouncing between ukulele and piano, giving the group an attention-grabbing sound underpinned by the dynamic rhythms of drummer Cameron Greene. The trio has been making their presence heard in their native state of Colorado,  including winning the popular vote to play Taste of Fort Collins music festival in 2020, and gaining significant features and radio play from Colorado Public Radio's Indie 102.3, USAFA's 97.7 KAFA, 103.9 RXP, 93.3 KTCL, and 94.3 the X.

They continue to assertively expand their listening base through a friendly and confident grassroots campaign, both in person and on social media. On the surface, the group's latest single "Chemicals" is upbeat and makes for easy listening. A deeper lyrical dive uncovers themes of inner conflict and mental health, tied together by Christian undertones. The internal conflict is made strikingly apparent in the track's accompanying music video, set at an abandoned gas station somewhere in Colorado.

UMS Memory: This is our first year playing UMS, and we are so excited to share our music and live show antics with the amazing UMS fan base. For us, it's time to make some memories for us and others with an engaging live performance.

As the community opens up, what's next?: We will continue to release new singles and music videos, play shows in the state and the surrounding region, and enjoy every moment of it. We also need to return to Red Rocks to play our Local Set that was unfortunately cancelled due to COVID-19 last March. 

Band Website: glass-cases.com

Get Social: Instagram, Facebook, Twitter

---
The Grand Alliance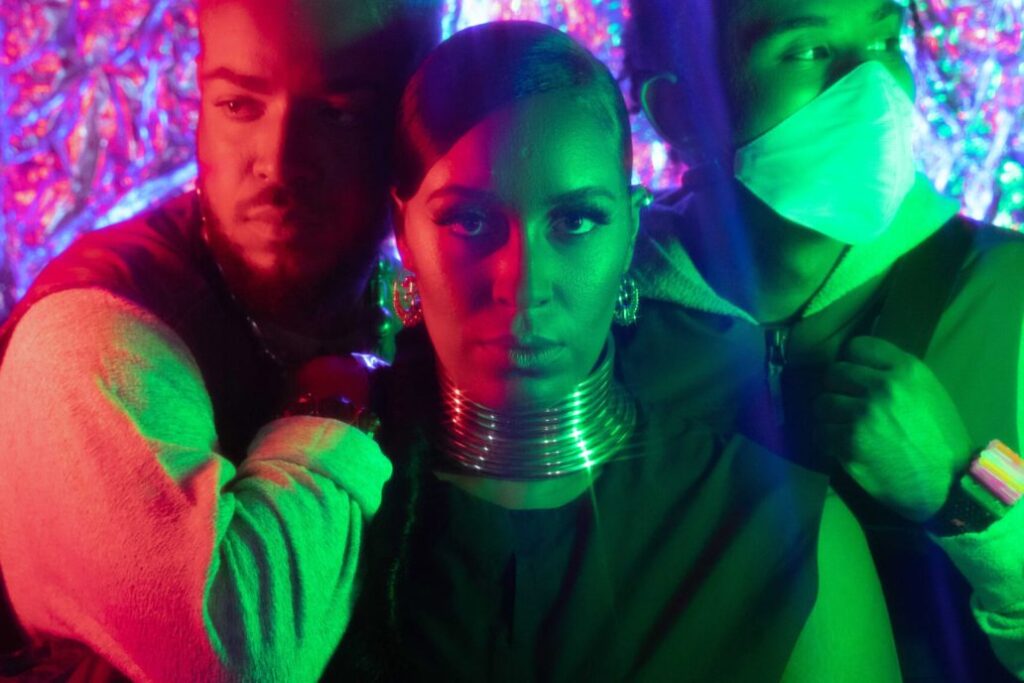 Hometown: Denver

Formed: 2019

Latest Release: The Grand Alliance, Fasor Records, Jan. 22, 2021

Pronouns: They/them

About: The future-funk prodigy dubbed The Grand Alliance, featuring Denver-based artists Kayla Marque, SUR ELLZ, and Carl Carrell, recently released their highly-anticipated self-titled debut album via FASOR Records.

In late 2019, the musicians came together, each from their respective successful solo-careers, to form an alliance – a grand alliance of sorts.

Quickly, the trio's working relationship transformed from admiring musical acquaintances into a tight-knit creative family. Together, The Grand Alliance has produced a stunning debut, chock full of tales steeped in old-school cosmic funk yet fine-tuned to the soul. Afro-futuristic vibes mix the perfect amount of hazy existential science fiction alongside stories of social justice, forging a sound like no other. It's a testament to each member's maturation, respectively, and a tribute to a new type of beat dubbed future-funk by the trio.

Carl Carrell, the producing captain behind the project, explains the unique bond they discovered, "It's a very special thing when a producer finds an artist who they really click with, where it just makes sense. When you find that good energy - it's rare, and it's something we found we have as The Grand Alliance. The more Kayla Marque, SUR ELLZ, and I have done together as The Grand Alliance. It's only gotten better. The connection and the sound we've made has really become something special." Carrell continues, "We have a story to tell, and there's some magic behind it."

Website: Legrandalliance.com

Get Social: Instagram, Twitter, Facebook, Spotify
---
Griffith James
Hometown: Los Angeles via Denver

Formed: 2021

Latest Release: "Market and Black Ft. Tennis" (Single), Self-Released, Jun. 16, 2021

Pronouns: He/they

About: A rumination on separation and loss, a melancholy flashback to childhood fevers and full-blown hallucinations, melodies beautifully stitched together from fragmented memories of dissolute afternoons on the needle-strewn blocks of San Francisco's Tenderloin district. This is Griffith James' "Market and Black," an elegiac prayer for stability, buoyed by Tennis' Alaina Moore, whose guest vocals offer a transcendent grace (Moore and her partner in Tennis, Patrick Riley produce the entire album).

The sound is somewhere between the beatific and fragile hymns of Elliott Smith crossed with the shaky-handed whimsy of Harry Nilsson. The sad psychedelic pop of The Zombies alchemized with the nostalgic sunshine reveries of The Kinks. It results in a feeling both hauntingly dislocating and achingly familiar. James' musical epiphanies are hard-fought: the culmination of a decade's worth of writing and many lives lived. Raised everywhere between Dallas and Seoul, he moved 17 times in his first 18 years under the direction of a sectarian Christian culture that informed every aspect of his family's life. A rift between the church and his family led him to become a teenage runaway on the streets of San Francisco, sleeping in parks until a Buddhist monk took him in. A love of music substituted for the religious fervor of his youth. It is a form of healing, a ceremony of rituals and bloodletting. Wounds slowly starting to close.

UMS Memory: I've been going to UMS since 2009. Its hard to sum up in one memory. Basically has been the music new year in Denver and its just gotten better and better each time…. oh, Blonde Redhead was amazing.

As the community opens up, what's next?: Make sure these fools get vaxed so we can all get to it! Will never take live music and hanging in public spaces for granted ever again omggg. 

Get Social: Instagram, YouTube, Facebook, TikTok
---
Kiltro
Hometown: Denver

Formed: 2018

Latest Release: Creatures of Habit, Self-Released, Jul. 6, 2019

Pronouns: They/them

About: Kiltro is the project of Chilean-American singer songwriter Chris Bowers Castillo. Conceived in the lively, bohemian port city of Valparaiso, Chile, Kiltro draws much of its thematic energy from Latin-American folk artists like Victor Jara, Atahualpa Yupanqui, and Inti-Illimani, making for an emotive and stylistically unique merging of older genres with contemporary ones.

UMS Memory: UMS is always one of my favorite events of the year.  It's in our hometown, our friends are there and we get to meet a bunch of really amazing acts.  My stand-out memory would have to be during UMS 2019 when we had the opportunity to play a filmed secret show at Haute Mess on Broadway for Indie 102.3.  We were absolutely exhausted, hot, and, truth be told, not exactly camera-ready.  About 5 minutes into the show, we collectively dropped our gripes and leaned into what turned out to be perhaps my favorite performance that we've given.  I think it was the heat and exhaustion that contributed to some kind of transcendent, "to hell with it" energy that blended perfectly with the mood of the audience.  I remember looking over at our bassist Will and seeing him rhythmically hi five-ing someone in the front row instead of clapping. It was just this lovely mix of intimacy and elation and abandon that I don't think any of us will ever forget. 

As the community opens up, what's next?: After a long 16 months in quarantine, we're excited to be on the books for a variety of shows and festivals and will soon be announcing more dates.  We're also deep in the recording process, having just tracked drums for a handful songs, and are ready to get out there and adapt them for the stage.  I'm proud of what we're working on, as it has been an interchangeably challenging and cathartic process this time around given the pandemic.  

Band Website: https://kiltromusic.com/

Get Social: Instagram, Spotify, Twitter, Facebook
---
The Milk Blossoms
Hometown: Denver, CO

Formed: 2009

Latest Release: Dry Heave the Heavenly, Self-Released, 2018

Pronouns: Harmony Rose (she/her), Michelle Rocqet (she/her), Blair Larson (she/her)

About: The Milk Blossoms are an experimental pop band who currently combine ukulele, expressive beat boxing and piano. They have been featured on Colorado Public Radio's OpenAir, Indie 102.3, Film on the Rocks, Colorado Public TV's 'Sounds on 29th' and has won "Best Pop Band" for the 2018 Westword Music Awards and "Best Experimental" band for the 2016 Westword Music Awards. Tom Murphy of Queen City Sounds writes of their work, "(It's an) amalgam of outsider pop, lo-fi R&B and vivid emotional recreations with songs that deftly and thoughtfully navigate the vagaries of one's own mind, illuminate nuanced perspectives on relationships with others and society in general and explore evolving concepts of identity."

UMS Memory:  A favorite UMS memory is being invigorated by Leikeli47's performance of "Girl Blunt" and singing it down the street together afterwards but with new lyrics including couplets about Groupons and croutons. 

As the community opens up, what's next?: We are looking forward to recording our third album and performing in several upcoming festivals in Colorado.

Website: themilkblossoms.com

Get Social: Instagram, Spotify, Twitter, Bandcamp
---
Neoma
Hometown: Cuenca, Ecuador / Denver

Formed: 2017

Latest Release: "FIXXION" (Single), Soundbreaker Records, Jul. 9, 2021

Pronouns: She/her

About: Neoma has captivated music lovers all over the world with her dreamy yet energetic "Lunar Pop" hits. In 2017, Neoma hit the top of the Ecuadorian charts with her infectious single "Real." Since then, she's played concerts to thousands of fans throughout the Americas. In 2018, Neoma (Carla Huiracocha) relocated from Cuenca, Ecuador to Denver, along with producer/bassist Danny Pauta to focus on her music career. In June 2019, Neoma released "Young," her first single as a resident of Denver. Her debut album, "Real," was released in November 2019.

After the album release, Carla and Danny teamed up with local Denver musicians to form a live band. Levi Double U took over drumming duties while Aaron Wey of Civil Engineer joined on guitar. During the pandemic year of 2020, Neoma collaborated virtually with Ecuadorian musicians and released five collaborative singles including "Cuando Quieres Jugar Conmigo (with Lolabum)" and "Superstar (with La Madre Tirana)."

In 2021, Neoma released her latest single "FIXXION," the first with contributions from her current bandmates.

UMS Memory: 2019 was my first UMS. We played the Irish Rover right after the main stages were shut down for the night. To that point, that was the largest crowd I've played to in the US! It was so much fun to play in such a packed venue, The energy of the crowd was tremendous, I remember being a bit nervous at the beginning of the set because of the amount of people crammed in the bar! It's still one of my most memorable shows of all time. I'm so honored that I get to perform at UMS again this year!

As the community opens up, what's next?: We've been playing a good amount of local shows already. In early June, I headlined at the Levitt Pavilion. After the show, I went out to talk to the audience and sign autographs. It was amazing to hear from people that my show was the first one they've been to since quarantine! It was truly beautiful to see people from all walks of life enjoy my performance. I received a touching email after the show from a fan thanking me for creating a space safe for queer and Latinx folks. It honestly made me cry!

Website: https://soundbreakerrecords.com/artist/neoma/

Get Social: Twitter, Instagram, Spotify, Facebook
---
Schama Noel
Hometown: Orlando, Fla. based in Denver, Colo.

Formed: 2013

Latest Release: "The Last Dragons feat. Masta Ace" (Single), Lonerz Club, Dec. 18, 2020 

Pronouns: He/his

About: Born in Port Au Prince, Haiti to two conservative Christian parents, Noel's rap aspirations were nearly dead on arrival. Despite his adamancy on not cursing and staying away from sexually explicit material, Noel still couldn't get his parent's blessing nor their blind eye. Yet Noel continued onward in secret, filling his teenage years with poetry that evolved into voracious flows that have established him as the artist he is today. Only when he received an invite to perform in Dubai in 2015 did his parents change their tune and finally begin to see his merits. 

Noel initially gained a viral profile on Twitter with RapLike, an account dedicated to emulating some of the biggest rappers in the world. He then moved from Orlando, Fla., to Denver, where his own music has rapidly tapped into a large audience. Through it all, Schama Noel has hit his stride.

UMS Memory: I hope to leave an incredible impression on everyone in the crowd and make fans out of people who aren't necessarily big on hip hop.

As the community opens up, what's next?: As things open up I'll definitely be doing more shows, hopefully opening up for bigger artists and increasing my fanbase.

Website: twitter.com/raplike

Get Social: Instagram, Twitter
---
Slow Caves
Hometown: Fort Collins, Colo.

Formed: 2014

Latest Release: "Before I Leave" (Single), Self-Released, Jun. 18, 2021

Pronouns: They/them

About: Consisting of Danish-American brothers Jakob and Oliver Mueller and their childhood friend David Dugan, the band solidified in 2014 after a decade of high school bands came to an end. After signing with Old Flame Records in 2016, the band released the EP, Desert Minded, in 2017 and a full length, Falling, in 2019. The band has spent most of the previous 4 years touring extensively, highlighted by performances at SXSW and Treefort Music Festival. They have opened for national acts such as Third Eye Blind, Cake, Rooney, DIIV, Cold War Kids, The Kills, and Modest Mouse. In 2020, they self-released the single, "Walk in the Park," followed by 2021's release of, "Before I Leave."

UMS Memory: Ah there's too many! But my favorite has to be during our first ever UMS set back in 2015, we were playing the Irish Rover during a Spokesbuzz day party. They had built a little stage in the back corner of the bar that was raised up about two feet on a temporary platform. Back then we were real rowdy on stage, always jumping around and throwing our instruments and such. The crowd was also going crazy so we were really feeding off their energy. About half way through the set I noticed that the stage seemed to be moving. I figured I was just running on adrenaline and a bit hungover so I didn't think anything of it. During our last song Jakob and I (David) both went for a massive jump. BOOM! All of the sudden I was laying on my back on the floor of the bar with an amp on top of me, still trying to play guitar. The stage had totally collapsed and Jakob, I and a bunch of our gear had spilled onto the floor. In a stunned moment we popped back up and kept raging on the floor. We finished off the set and the crowd totally loved it! And then the Denver Post even wrote an article about it. Here's the link. I'll never forget that one. 

As the community opens up, what's next?: We've got UMS coming up which we are super excited about, followed by a show at The Aggie Theater on August, 29th. And then we are opening for the legendary, Bob Mould, at The Boulder Theater on October 5th. Hopefully we'll have a couple other surprises coming up that aren't announced yet as well :) It's just nice to be playing live music again.

Band Website:https://www.slowcaves.com/

Get Social: Twitter, Instagram, Spotify, Facebook

---
The Still Tide
Hometown: Denver

Formed: 2013

Latest Release: "Between Skies" EP, Mod y Vi, Jan. 17, 2020

Pronouns: She/her

About: Anna Morsett has never been in one place for too long. Whether traveling in her mind or in actual transit, she has always been searching for the steadiness that her band name implies: The Still Tide. While Morsett's project has gone through several iterations, hometowns and releases the one constant has always been her honest, intentional and luminous brand of indie rock. Influenced as much by growing up in the Pacific Northwest as by her experiences traveling the globe as a guitar tech for artists such as The Tallest Man on Earth and Kaki King, The Still Tide is Morsett's true and heartfelt landing place for her confessional lyrics and intricate guitar work.

UMS Memory: One of my most favorite UMS moments was about two years ago when I played in the basement of metropolis with Bluebook under the beautiful cloud - or sonic bloom - they made. It was magical, womb- like and maybe one of the hottest/sweatiest shows I've ever been a part of. Amazingly intimate, incredible crowd, I loved it.  

As the community opens up, what's next?: Excited to play shows and get back into the studio! We've got a national tour with Strand of Oaks booked for the fall and plans to record in the near future.

Band Website:http://www.thestilltide.com

Get Social: Twitter, Instagram, Facebook
---
Wes Watkins
Hometown: Denver (Born in Bitburg, Germany moved to Denver at 6 months old)

Formed: I started playing solo shows about 3 years ago, but was busking solo loooong before that.

Latest Release: "Sweet Talk," Self-Released, July 9, 2020.

Pronouns: He/his

About: I'm a Denver local who went to Denver School of the Arts for high school. I spent the beginning of my adult life homeless so I had the privilege of learning from the OG's down there and also of learning that self-worth comes from self and not from the external world.

I have been seen in bands such as Air Dubai, Petals of Spain, Rowdy Shadehouse, iZCALLi, Wheelchair Sports Camp and started the band Other Black. I strive to use music as a tool two-fold.

Firstly, it is my tool to encourage people to experience themselves as I believe that if we could experience the core of our individual personage than we would find that we are inherently flawed and find patience with ourselves in the process of growth. That creates kindness, patience, and less judgement with our experiences with others.

Secondly, I use music as a tool to encourage individual education in a time where to challenge our self, our communities, and our country seems so overwhelming and difficult.

Band Website: www.theweswatkins.com

Get Social: Instagram, Facebook, Bandcamp, YouTube
---
Wildermiss
Hometown: Denver

Formed: 2016

Latest Release: "Supermagical" (Single), Self-Released, May 15, 2020 and "Italy" (Single), Self-Released, Sep. 18, 2020

Pronouns: They/them

About: Wildermiss is an indie rock band from Denver, Colorado. Emma Cole sings and plays synth bass, Joshua Hester plays guitar and Caleb Thoemke plays drums. They have sold out all of their hometown headlining shows since 2017 and steadily gained momentum nationwide with multiple support tours and festival spots. The band is currently working on the follow up to their quarantine singles "Supermagical" and "Italy" with plans to tour until their van dies again like it did in Michigan that one time.  

UMS Memory: Midnight. 3 Kings (R.I.P.) Sold out. One in, one out. Hot. Gold confetti cannons. Gold Jackets shrink wrapped to our skin. Tits out, front row. Rock n roll. It was a blur of sweat, booze, and B.O. The way UMS should be. A glorious set. 

As the community opens up, what's next?: Touring wherever and everywhere. Amen.

Band Website: www.wildermiss.com

Get Social: Instagram, Facebook, Twitter
---
YaSi
Hometown: Denver, CO

Formed: 2016

Latest Release: Coexist with Chaos, Royal Rhythm Recordings, Apr. 2, 2021 

Pronouns: She/Her

About: In art, as in life, YaSi is caught between worlds. The first-generation American daughter of Persian immigrants creates songs that toe the line between Eastern and Western influences, between ebullience and sultriness, between optimism and realism. YaSi has toured with Raja Kumari & iyla and has opened for the likes of Teyana Taylor, K.Flay, Zara Larsson, and Lolo Zouaï. Her music has been on Spotify's Fresh Finds along with publications and blogs like NPR, Earmilk, and Indie Shuffle & MTV. Her anticipated EP - Coexist With Chaos - is out now.

UMS Memory: UMS has been such a stepping stone for me. My favorite memory was in 2019 when we played a secret set at the Hi-Dive. My DJ at the time forgot a very specific cable and we were so lucky that like 3 or 4 people in the crowd rushed to find us the cable so we could play. We had no idea if anyone would show up and it was packed out and the energy was unforgettable. 

As the community opens up, what's next?: Lot's of new music and some of the best stuff I've ever made.

Website: https://www.yasimuse.com/

Get Social: Instagram, Facebook, Spotify
You made it!
You love learning about new music and the Denver music scene. We have a weekly newsletter for you -- Inside Track. Sign up here to stay in the know about the hottest Colorado concerts and how you can score tickets!