From dawn to dinner at a family-owned restaurant that has survived the pandemic
After attending the University of Colorado Denver, Ryan Anderson and Alysia Davey considered careers in academia. But while the couple was helping Anderson's family remodel a building they own in Englewood, which had been a restaurant for decades, they changed course. They decided to open a restaurant of their own to showcase the Vietnamese cooking of Davey's grandmother.
"We had the opportunity to do this and we were like, 'let's just try it. Let's give grandma her own place,'" Davey said.
In May, 2019, the couple opened Zomo Asian + American Eatery, alongside Davey's grandmother Chi Nguyen. The restaurant is along South Broadway, a busy but walkable corridor just outside of Denver that is lined with low-slung storefronts, a popular theater and other restaurants.
By the time the pandemic shut down most dining rooms in March, 2020, Zomo had managed to build a loyal customer base and take-out business became a lifeline. Now that the restaurant has fully reopened, Anderson, Davey and Nguyen have had to negotiate a changed landscape of paperless menus, increased patio service and mask requirements.
Like many other industries, restaurants have had to contend with issues in the supply chain. To find the raw ingredients and supplies they need to operate, Anderson must visit multiple vendors in a day, crossing his fingers he will be able to find what the restaurant needs.
CPR News reporter Sarah Mulholland, Colorado Matters host Ryan Warner and CPR News visuals editor Hart Van Denburg spent a day with the Zomo crew in early November. Here is some of what they saw.
---
7 a.m.
Anderson arrives at Restaurant Depot in Denver. The store is a mainstay for local restaurants. You need a resale license to shop there because it sells items in bulk at lower prices than traditional supermarkets. Anderson hopes to find broccoli, lettuce, cucumbers, jalapeños, carrots, cabbage and dry goods, like sugar.
"We're grabbing some groceries early in the morning, trying to get some fresh produce," Anderson said. "We'll keep going to some of the Asian markets and pick up produce there and get back to the restaurant and start getting everything stocked."
The rear seats of his small SUV are folded down to make space. He anticipates spending between $500 and $1,000 here — that is, if the depot has the items on Anderson's list. Lately, because of supply chain issues, many staples have been hard to find. Coconut milk is one example, which Zomo uses in yellow curry, their most popular dish. Anderson says that he has only seen cans "once or twice in the past three to four months."
"I think nothing surprises me now. Better to just stock up on everything that you can. That's the best safe bet."
Much of the produce is in stock, but not the broccoli. Anderson finds packets of Sriracha, but soy sauce is out.
8:15 a.m.
Anderson stops at another wholesaler where he scores broccoli, which will become Zomo's popular appetizer: broccoli wings. It's a little victory. 
"A lot of times you end up seeing similar product shortages," Anderson said. "If Restaurant Depot is out of broccoli, then it could be possible that Shamrock [Foods] is out of broccoli and whatever giant broccoli truck is driving from California is probably stopped or delayed or whatever."
His next stop is Costco Business Center, which, as its name suggests, caters to businesses. Anderson buys sacks of onions, gloves for the kitchen staff and pomegranates as a snack for his workers. Maybe the fruit will inspire a special, he said.
8:45 a.m.
Anderson is running out of time, and room in his SUV, so the New Saigon Market will be his last stop. He finds tapioca pearls for boba tea. Another little victory.
The family-owned grocery on Federal Boulevard is his source for jackfruit, star anise and rau ram, which is a Vietnamese coriander. Anderson, who is Chinese-American, practices his Vietnamese with the cashier. "I think they kind of laugh at some of my pronunciations, but I'm trying to learn it."
9:30 a.m.
Anderson drives his SUV to the back of Zomo and unloads the morning's bounty. He carefully wheels his dolly laden with boxes of dry goods into the basement, thud-thudding down the stairs.
The generous storage space means Zomo can stock up on staples when the getting is good. It has insulated them from some of the supply shortages.
In between unloading trips, Anderson checks in with an HVAC repairman; The heat in the kitchen has been on the fritz. Stocking ingredients and cooking are only part of the day-to-day work. "You've got staffing, supplies and then maintenance," he said. "I've got a list on my phone I don't know if I'll ever get to. It just keeps growing and I can't keep up."
10:30 a.m.
Chi Nguyen — Alysia's grandmother, affectionately known as "Grandma Chi" —  arrives with kitchen staff who she drives to work. The staff is vaccinated against COVID-19, which Alysia helped arrange as soon as they were eligible.
Nguyen is the head chef at Zomo. She ran a restaurant in Kansas before the family moved to Colorado and was working at an establishment in Golden when Alysia asked her to run Zomo's kitchen. Her recipes are the backbone of Zomo's menu, which she developed with her own hands — literally: Alysia said the recipes use the size of Grandma Chi's hands as a unit of measurement.
The hours between the kitchen staff's arrival and the start of dinner service are used to prepare food and ready the dining room.
4 p.m.
As the doors open for dinner service, Davey arrives with the couple's six-month-old son, Carden. "Everyone watches out for him," she said while he makes a joyful crackling sound: "that's his most recent noise." Davey was pregnant with Carden early in the pandemic and mostly filled takeout orders when the dining room was closed. Tonight, she will visit tables and connect with customers. She thrives on the energy of the front of house.
Son Nguyen, Alysia's brother, is behind the bar mixing drinks. The cocktail features a sake margarita, Thai basil mojito and an Iwai old fashioned. (Iwai is a Japanese whisky.) A couple are the first customers of the night, and they belly up to the bar to talk with Son; the three have become friends. At a table nearby, another party of regulars say they have worked their way through every menu item over their many visits.
But customer service can also be trying, especially in the pandemic. Davey says they switched their water pitchers from glass to plastic because of a glass shortage. Some diners complained about what they saw as an inconsistency. "We're like 'no, we literally just can't get glassware,'"
7 p.m.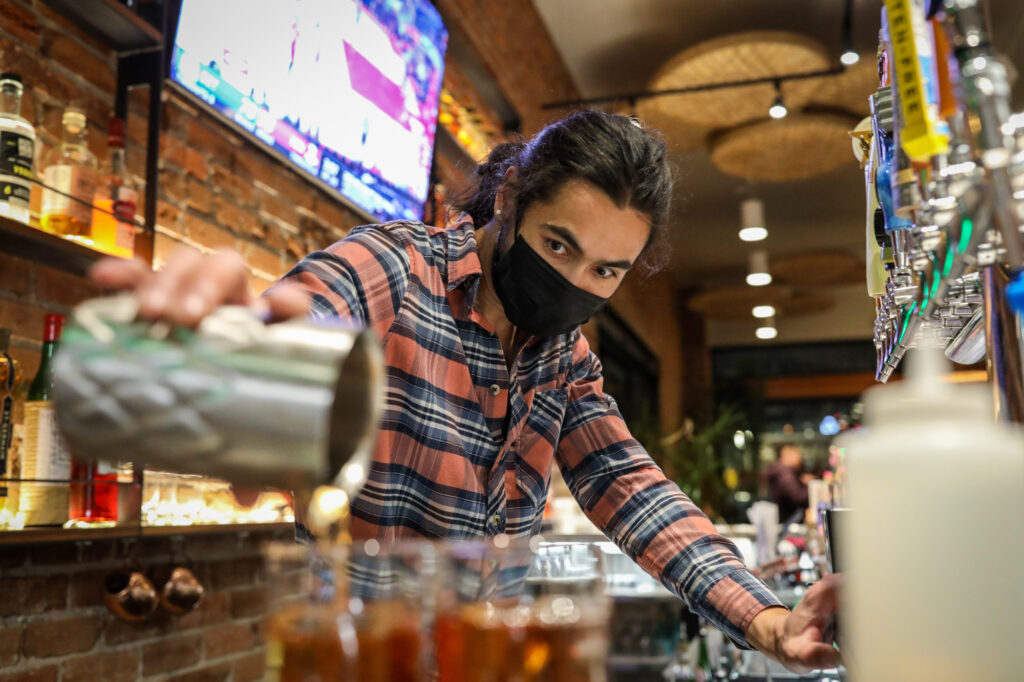 The dining room is full at the height of dinner service. Servers whizz out of the kitchen with bowls of piping-hot pho. If a dish is particularly popular and it looks like Zomo might run out of an ingredient, Anderson is prepared to run to a grocery store.
When the pandemic halted dine-in business, servers considered their options. One of their best and first employees left to pursue a nursing degree. "She's going to be the most amazing nurse because she's a great server and she's so good at customer service," said Davey. But, "it's bittersweet," she continued, because the server's departure means they have to search for another employee.
9 p.m.
As the final diners trickle out, Zomo's staff begins cleaning the restaurant and preparing for the next day. Tables are wiped down, dishes are put through the dishwashers, and items are restocked.
Anderson and Davey feel optimistic about the business now that they have made it this far. Davey noted that being a young restaurant might actually have helped them in the early days of the pandemic because they weren't too set in their ways. 
"We were new and flexible," she said.
As the pandemic continues to reshape the restaurant landscape in unpredictable ways, they will have to keep adapting.
---
Related stories
---
You care.
You want to know what is really going on these days, especially in Colorado. We can help you keep up.  The Lookout is a free, daily email newsletter with news and happenings from all over Colorado. Sign up here and we will see you in the morning!