DevonBalet
CPR: Serving the Western Slope & Central Mountains
We are proud to call Colorado home.
Here on the Western Slope and across our beloved state,
Colorado Public Radio is especially proud to be the place you turn for
conversations, storytelling, daily news and musical journeys that
connect us all in these challenging times.
Sign up to receive the best news on the Western Slope, and get your free CPR decal!
We are grateful to have you at our side as we continue to write
more of the Western Slope's story in 2022.
This feature was created by our membership department at Colorado Public Radio, which is solely responsible for the content. CPR News editors and reporters were not involved in its creation and no editorial judgment should be inferred.
The Yampa River is 'over-appropriated': There isn't enough water for everyone who wants it
Smaller sections of the upper Yampa and some of its tributaries have already been deemed over-appropriated, including the upper Yampa River when increased development in Steamboat Springs put more demand on the river. But as climate change and extended periods of drought continue to dry up the West, state engineer and director of the Colorado Division of Water Resources Kevin Rein said it was necessary to expand the designation to the lower part of the river, too.
Your voices have become my friends in the morning. Cheers for all you do to elevate the news from the muck of the absurd!

- Abby, Evergreen Member from Grand Junction
Big Colorado ski resorts dominate, but these small, city-owned ski areas keep up the tradition of skiing for all
When people think of Colorado skiing, certain big resorts pop to mind. 
Aspen. Telluride. Vail. 
Maybe they even know some of the smaller ski areas, like Powderhorn outside of Grand Junction, or Ski Cooper near Leadville.
But there's another level of small when it comes to the state's ski areas, so small that if you're in the tiny community of Ouray, you literally turn up Third Avenue, go two blocks, and there you are. 
This is the world of little, city-owned ski hills, and they're scattered across western Colorado.
Sign up now!
We recently moved to Colorado from the East coast and I have been listening to CPR every morning for the last month and enjoy all of the programming and news.

-Sue, Evergreen Member from Montrose
Hart Van Denburg/CPR News
CPR's Matt Bloom
KRCC's Shanna Lewis
Hart Van Denburg/CPR News
Climate and environment reporter Miguel Otárola on the hunt for a good story.
Hart Van Denburg/CPR News
CPR's Megan Verlee interviews Senator John Hickenlooper.
Courtesy Brittany Werges / CPR
Colorado Matters host Ryan Warner speaks with Aurora author Patricia Raybon about her mystery novel, "All That is Secret," for Turn the Page with Colorado Matters.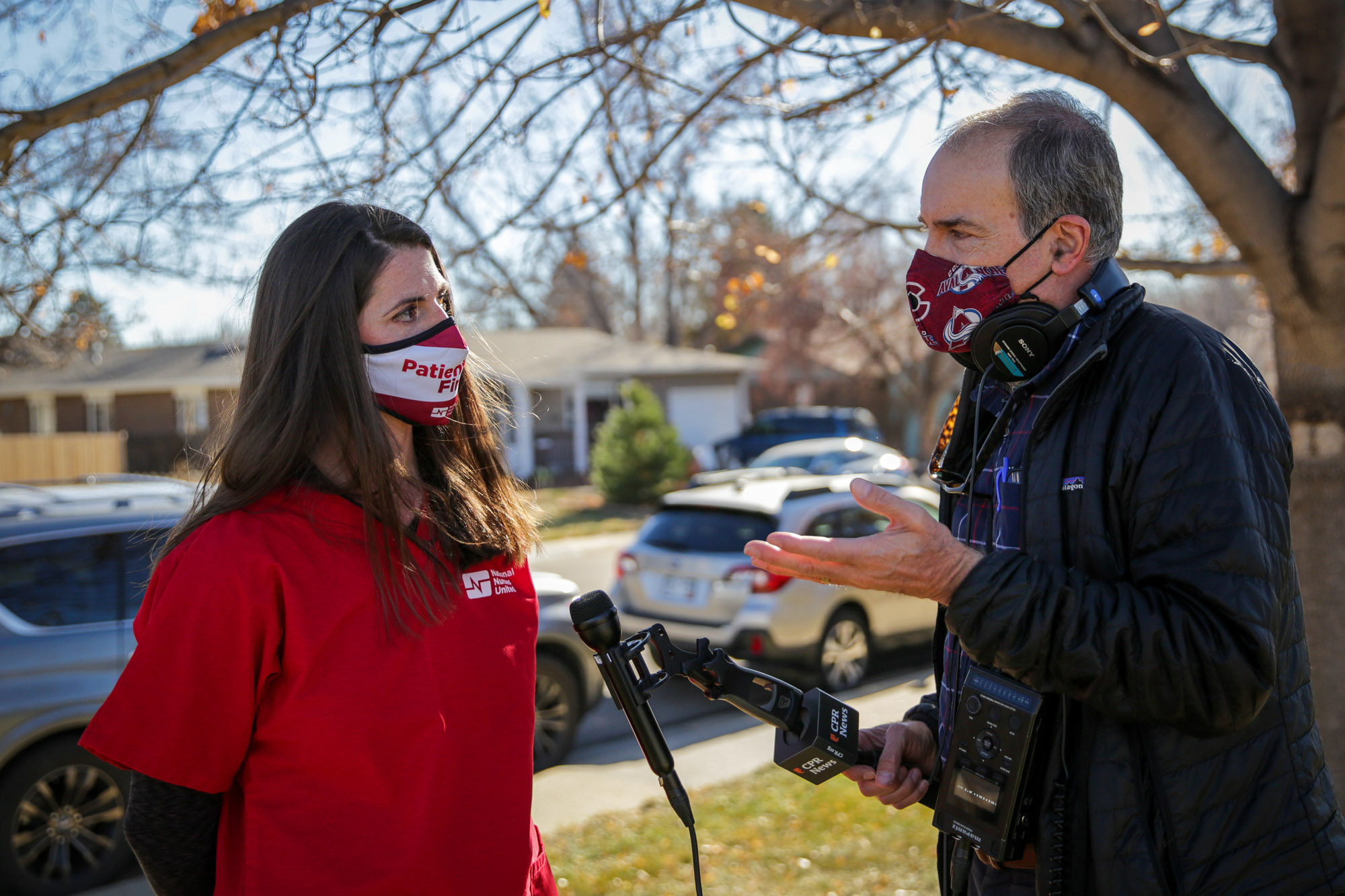 Hart Van Denburg/CPR News
CPR's John Daley
CPR's Andew Kenney.
Excellence in reporting by each and every reporter, all have earned my respect, trust and gratitude. Especially appreciate Stina Sieg's coverage of Western Slope news...

- Bonnie & John, Evergreen Members from Grand Junction
Where to find CPR on your dial
Thank you!
CPR's public media service is uniquely positioned to deliver meaningful news, music and cultural experiences that use the power of the human voice in all its form.
And everything we do begins with YOU. 
As we invest even more resources to build local communities and ground us all in more shared experiences, your support of CPR will strengthen our service to the Western Slope and beyond. Thank you for being part such a special part of our CPR family.
One more story before you go...
A World War II vet is reunited with the bracelet — inscribed with his wife's name — he lost during the war
When Joe Esquibel was just a teenager and about to be sent off to World War II, he bought himself a keepsake: a small, silver bracelet. On one side, he had the engraver add his signature. On the other, he used a nail to scratch the first name of his sweetheart back home in New Mexico.
Lydia.
Not too long after, he found himself guarding a prisoner of war camp in what was then known as Czechoslovakia. One day in 1945, right before he was supposed to leave for Germany, he discovered that one of his bags was missing.
"And they stole my items that I had in the duffle bag," said Esquibel, now 95.
The bracelet, among other things, was gone.