The Local 303: Colorado artists we're featuring for December 2022
December's Local 303 is infused with a blend of artists representing our Colorado music scene in genres ranging from indie rock to R&B spanning the Mile High City up north to the Front Range.

Denver resident Ave Emi has found a sizeable audience on Spotify and makes his debut on the radio this month with his melodic trapsoul; and also for the first time, Same Cloth, an uplifting jazzy and energetic R&B act that emerged earlier this year with their debut single.

Young singer-songwriters Hero Talbot and Darcy Nelson sparkle with their debut offerings as well as new songs from funk, rock and soul act The Elegant Plums who moved to Denver from the east coast in 2016.

Denver's DIY indie act Antibroth was born in 2020 after the previous incarnation Broth went cold; and we've got warm singles from cinematic singer-songwriter Matthew Birch who records as Our Violet Room that are perfect for the season.

More indie rock on the roster this month is from beloved The Crooked Rugs out of Fort Collins and Denver's Barbara, a fairly new band comprised of members from other established local acts.

We will explore songs from one of the grittiest gothic pop albums this year about personal pain by former Coloradoan, Queen Kwong, who was discovered by Trent Reznor at age 17. He even took her on tour to open for Nine Inch Nails!

Ethereal projects Oko Tygra and Hollow Head round out the featured artists this month!

Join us for our Local 303 Meetup on Monday December 19th. The event gives space to celebrate Colorado musicians and music fans from our community with our Music Meeting that previews new Colorado music that you can vote on and there will be a very special performance from Barbara! For aspiring musicians, we will also host a Q&A about how to get your music on the radio; and get entered to win concert tickets. The Local 303 Meetup is at our new home, Mercury Café, on Monday December 19th from 6:30-9 p.m. It is all ages and open to the public. Mercury Café is located at 2199 California Street in Denver.

Are you a Colorado musician who wants to be featured in the Local 303? Send us your music.

Meet December's picks:
Antibroth
Colorado Home: All members currently reside in Denver.

Formed: The original group, previously known as Broth! came together in 2019, but has been operating in its current form as Antibroth since 2020. 

Latest Release: We just released our debut self-titled album last September!

Pronouns: All three of the guys use he/him pronouns.

About: Drawing from an eclectic array of influences, experimental post-punk band Antibroth brings the idea of controlled chaos to a new level. The trio, which consists of guitarist and vocalist Jeremy Mock, bassist Dan Switalski and drummer Hayden Bosch, has made a name for itself in and beyond the Denver Metro area, sharing the stage with local and touring acts alike at a wide variety of performance locations. Combining earworm melodies with mind-bending rhythms, the group has cultivated a sound entirely of their own while still paying homage to their biggest influences, such as Sonic Youth and The Pixies.

Plans For 2023: After a well received release of their debut self-titled album Antibroth, the young musicians are now setting their sights to the future, where they plan to further expand their catalogue and focus on growing their presence across state lines.

Get Social: LinkTree
---
Ave Emi
Colorado Home: Denver

Formed: I've wrote and produced for artists for a while, and I starting releasing music as an artist in 2016

Latest Release: Faux Hearts EP in 2016, "Waste Time With U" (Single) in 2017, "No Benefits feat. Gentrae Rogerz" (Single) in 2021, "Saucy" (Single) in 2022, and "Slip" (Single) this past month

Pronouns: He/Him/His

About: Ave Emi ("Av Emmy") is a songwriter and producer from Denver. Formally known by his producer handle, Ave has composed for artists like T-Pain and the legendary group TLC as well as Denver's Hip Hop and R&B artists such as Trev Rich, Rachel Bailey, Danae Simone, and TheyCallHimAP. In 2016, Ave found a new spark and passion for songwriting and released his first EP titled Faux Hearts. After the success of his last single "Saucy," Ave Emi has returned with his new hit "Slip."

Plans For 2023: I'll be releasing my next single at the beginning of 2023 featuring a special international artist. Stay tuned!

Get Social: Twitter, Instagram, TikTok, Facebook, Soundcloud, YouTube
---
Barbara
Colorado Home: Denver

Formed: 2021

Latest Release: Escape Artist, Self-Release, Sep. 16, 2022

Pronouns: Camilla Vaitaitis (she/her), Anna Panella (she/her) Bridget Hartman (she/her)

About: Barbara is a band in Denver, CO. It comprises established musicians Bridget Hartman, Anna Panella, and Camilla Vaitaitis. After meeting in mutual pursuit of certificates denoting that they Know About Music, the three moved in together. In a new creative sandbox void of stamped papers and prerequisites, they excavated a fresh, intuitive approach to composition. The infinite jam session that is implicit to cohabitation formed an uncanny scaffold for the natural sound of Barbara— psychedelic, liminal, and vibrant.

Barbara has a sound that's been lived in. Stay for a while, come dance in the kitchen. You can be our fourth-dimensional roommate.

Plans For 2023: Our plans for 2023 include recording and releasing our newest song, "Currents," along with a music video. We are also planning on recording our second full-length album. In addition we have booked shows in January, February, and March with some of our favorite bands around Denver. We've been applying to festivals and hope to plan a West Coast tour during the summer.

Website: linktr.ee/go_barbara_go

Get Social: Instagram, TikTok
---
The Crooked Rugs
Colorado Home: Fort Collins

Formed: 2019

Latest Release: Tales of the Great Western Sky, Self-Release, Apr. 1, 2022

Pronouns: He/him (all members)

About: Creating a unique blend of psych and classic western rock, The Crooked Rugs pull from many genres and influences to create a one-of-a-kind sound that transcends decades. The Colorado quintet takes the compulsory ingredients of modern rock band instrumentation and creates something wonderfully foreign. Echoes of psych, prog, and garage rock resound, but each song is clearly the result of diligent experimentation.

Plans For 2023: Metropolis coming out in March and playing festivals around the USA!

Website: https://thecrookedrugs.com/

Get Social: Instagram, Facebook, Spotify
---
Darcy Nelson
Colorado Home: Denver

Formed: In 2018, I started sharing my music more bravely as a new face in a new place when I moved from Washington state that summer. Prior to that I had only been sharing timidly at open mics. 

Latest Release: "Bad" (Single), Self-Released, Oct. 7, 2022

Pronouns: she/her

About: Darcy Nelson is a Denver based vocalist and songwriter who shares heart-centered melodies and stories about love, longing, loss, and shadow sides. Channeling a blend of sweetness and sass, her vocals are rich and lilting and her truth-telling style has been influenced by folk, jazz, country, pop, and spoken word.

Plans For 2023: I released my first two singles in 2022, and am looking forward to continuing to grow my sound and pursue opportunities for mini-tours as a solo artist in Utah and New Mexico. I'm waiting for updates on the motion picture soundtrack that "Bad" is associated with, and I want to connect with new instrumentalists who can help me expand my live performance sound and still retain a heart-centered intention that I bring to my shows.  I feel excited to have my first singles out in the world as I continue to research dream producers to help me cultivate a sound that goes beyond Folk/Americana into more fusion work that honors the country influences in my vocals with fresher tracks that marry ambient chillhouse with indie pop -- music that resonates with me as a listener.

Website: https://darcynelson.com/

Get Social: Instagram, Facebook, TikTok
---
The Elegant Plums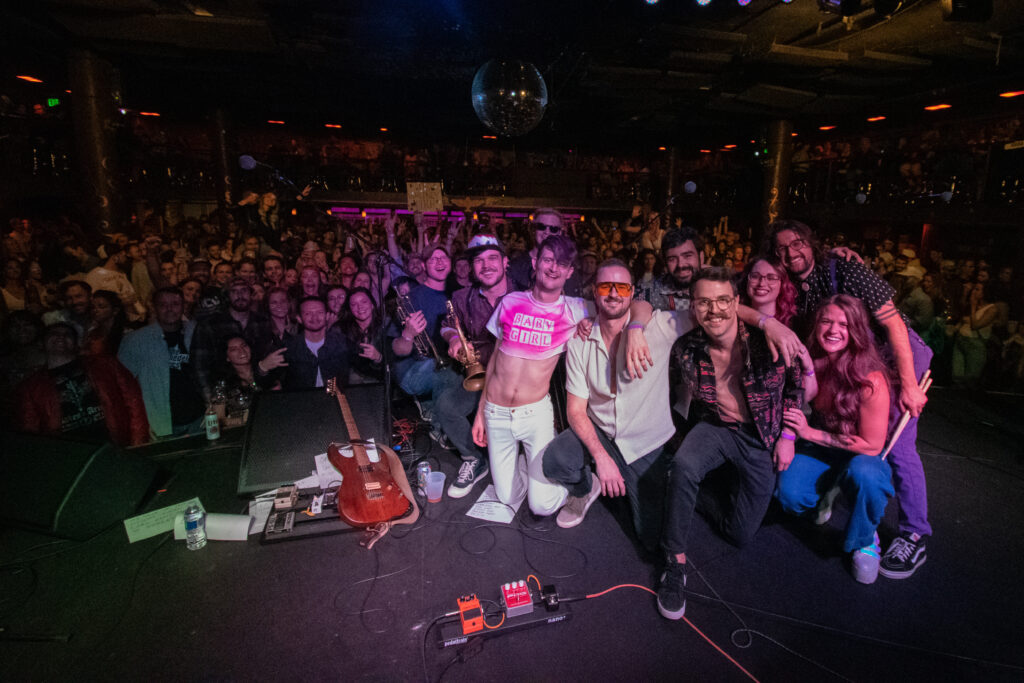 Colorado Home: Denver

Formed: We formed in the Northern VA/Washington D.C. area in 2013 as a four piece band. We moved to Denver in 2016, and have grown into the Plums we are today!

Latest Release: Two singles released in September- "Dance to Forget (Mixed/Produced by Mitchelll Gardner, Mastered by Evergroove Studio), Self-Released on Sep. 9 and "Disco Dev's Dirty Disco" (Mixed/Produced by Mitchelll Gardner, Mastered by Evergroove Studio), Self-Released on Sep. 16.

Pronouns: They/Them, Plums

About: After planting their roots in the Northern Virginia/Washington D.C. area, The Elegant Plums moved to Denver in 2016 which they have since called home. The Plums core is a five piece group, which often expands to as many as 10-members featuring a three piece horn section, and two back-up singers. Members of the band have a wide range of musical influence resulting in a unique blend of funk, rock, soul, and so much more. The Plums are known for their energetic live performances with surprises at every turn and have been fortunate enough to play iconic venues between both Denver and Washington D.C. To know The Elegant Plums one must experience their fun blend of diverse originals and creative curveball covers that can turn any normal evening into an elegant one…

Plans For 2023: We will be back in the studio in January/February of 2023 with hopes of finishing recording out for a new EP. In addition, we are planning a West/Mid-West regional tour for late Winter/Spring of 2023 with our management company Loose Leaf Talent Agency

Website: https://elegantplums.com/

Get Social: Facebook, Instagram, Spotify, TikTok
---
Hero Talbot
Colorado Home: Denver!

Formed: I have been writing songs and creating music my whole life, but didn't start recording music until March of 2021 with the help of my producer, Phil Jones.

Latest Release: Butterscotch, Self-Released, Oct. 14, 2022

Pronouns: she/her/hers

About: As a self-taught musician and vocalist, Hero loves creating music that evokes a memory, a feeling, a place. She explores the depths of the human experience with love and truth. Then, transforming that viewpoint into music. Still developing her style, Hero works at embodying her goal of reaching out towards the part of you that stays suspended in space and time, then bringing it back to life through sound. With producer Phil Jones, she began her career with the release of her debut single, Satanic Saints, quickly followed by her first EP, Butterscotch.

Plans For 2023: I am currently working on making another EP that I hope to release in the spring, as well as a possible music video for a song off of Butterscotch. Besides that, I have so much music that I hope I get to share either in the form of more singles and EP's, or ideally an album!

Website: https://www.herotalbot.com/

Get Social: YouTube, Instagram, TikTok
---
Hollow Head
Colorado Hometown: Arvada

Formed: 2021

Latest Release: "Porcelain" (Single), Self-Released, Oct. 2022

Pronouns: Jimmy - He/Him/His, Elliott: He/Him/His

About: Based out of Denver, Hollow Head — who have drawn comparisons to Bear's Den, Radiohead, and Bon Iver — was formed by multi-instrumentalists and long-time friends, Jimmy Adame and Elliott Miller. The two of them bend the folk-rock genre into something entirely new and surprising with the release of their debut album 'A Spark of Madness' (released May 2022).

Plans For 2023: New music coming early 2023, lots of shows in the works for Colorado and beyond.

Website: www.hollowheadmusic.com

Get Social: Instagram, Facebook, YouTube
---
Oko Tygra
Colorado Home: Denver

Formed: 2014

Latest Release: FADE EP, Self-Released, Dec. 2, 2022

Pronouns: They/theirs for the band, and he/him/his for the members

About: After suffering an accident that left him with a life-threatening head injury, Joshua Novak realized something had to change. This unforeseen moment became the genesis of Oko Tygra. "I thought we needed to approach this seriously from the beginning and I didn't want to make the same mistakes again. There would be no Oko Tygra without the collapse of what came before it."

The band is set to release their first set of new songs in three years on a new EP entitled, Fade, with the lead single "West Coast (is burning)."

Plans For 2023: This EP has been exciting project to work on having been relatively quiet for the last few years. Without major expectations or plans to play live when we started this project, we've felt a renewed feeling of purpose and enjoyed working on all the 'behind the scenes' elements of being a band. We made our first music videos ever, which has been a blast. Hoping to feel reinvigorated and see how people respond to the new EP, and maybe there will be a new show and tour in the new year.

Website: https://okotygra.com/

Get Social: Instagram, Facebook, YouTube
---
Our Violet Room
Colorado Home: Originally from Los Angeles now Lakewood

Formed: I started making music under the name Our Violet Room in 2018. I found my band in 2020. 

Latest Release: My debut full length album Not Where I Thought I'd Be dropped this Sept 2nd 2022. My Halloween/Autumn EP called Ode To Tim And Danny dropped October 31st 2022. 

Pronouns: He/him

About: Our Violet Room is the musical project of Matthew Birch. He is an indie singer-songwriter with a cinematic twist. "Making movie scores has been a dream of mine and to look at each song as a little movie score has been a great way of creating." His songs have been featured on both film, radio and TV worldwide. His music has been compared to Sufjan Stevens, Hans Zimmer, Bon Iver , Bob Dylan, Coldplay and many other indie singer songwriters. His debut album Not Where I Thought I'd Be dropped September 2, 2022.

Plans For 2023: Making a cover EP in January of 2023. More songs will be featured on TV shows next tv season, and a few songs will be on an upcoming movie. I'm beginning work on my second full-length album to be released in spring.

Website: www.ourvioletroom.com

Get Social: Instagram
---
Queen Kwong
Colorado Home: I was born in Denver and grew up in lower downtown (LoDo). My dad had a hotel called The Oxford so I grew up in a room there. He also has a nightclub called Rock Island so I bar-backed there on all ages night and worked at the Union Station food counter when I was 13.
Now Living: I'm always in transit. I've spent most of my adult life in Los Angeles but while touring overseas a lot and going to school/living part time on east coast. I guess I haven't really found my home yet. I think being a touring musician has made stability difficult to attain. Haha. I've thought about moving back to Denver…

Formed: My band is called Queen Kwong but I guess it's more of a project than a band. It's just me doing whatever I want to at the moment and getting a live line up for tours. I played open mic nights at the Mercury Cafe every week when I was 12 to 13. I opened for NIN later in my teens as a solo artist and then I think I started going by Queen Kwong a few years later. Maybe that was 2010? Long time ago.

Latest Release: Couples Only is my third LP. Released a few months ago in July via Sonic Ritual Records. It was produced by Joe Cardamone and mixed by the legendary Tchad Blake. It's definitely my most personal and vulnerable record but like all of my releases, it was all improvised as we recorded. I don't pre-write anything.

Pronouns: She/Her

About: Queen Kong is Carré Callaway. Roger O'Donnell of The Cure defines her as: "However weirdly I came to hear of Queen Kwong is overshadowed by the fact that she's managed to hold my attention for so long. Queen Kwong is the brainchild of LA based musician Carré Callaway.  Her rawness and charisma remind me of a young Iggy Pop or Patti Smith at the peak of their careers. Queen Kwong's volatile stage persona, no doubt sits in the lineage of such primal and visceral acts as The Stooges, Nirvana, Swans, even Queens of the Stone Age. 

Her songs and stage show are a blatant protest at the "sanitization" of Rock in recent years. Queen Kwong's work stands out from the sea of rubbish I keep hearing on the radio. Carré embodies the true and uncompromising spirit of Rock.  This LA based musician's unwillingness to play it safe is rare and admirable. Someone very wise once taught me the importance of metaphorically, "passing on the torch".  I say with utmost sincerity that Queen Kwong deserves that torch more than any performer I've come across in the last decade."

Plans For 2023: Thinking about touring the states for the first time in many years, touring overseas and making a new record that's totally different, genre-wise.

Website: www.QueenKwong.com

Get Social: Instagram, Facebook, Twitter, TikTokhttps://m.youtube.com/watch?v=8Y3mhmH0JpE
---
Same Cloth
Colorado Home: Denver

Formed: 2019

Latest Release: "No Good" (Single), Self-Released, Jan. 24, 2022

Pronouns: Them/They/Theirs

About: Same Cloth is a charismatic, Denver-based fusion band that uses their individual peculiarities to share meaningful art. Performing original music and creative cover arrangements, Same Cloth's musical vision is brought to life by JoFoKe on vocals, Solomon Chapman on keyboards, Will Gaines on bass, Callum Bair & James Tré on guitar and Matt Campbell on drums. Same Cloth combines the diverse traditions of Black American Music to create an energetically eclectic and emotionally elevating live music experience. In addition to serving as the 2021 and 2022 'Artists in Residence' at one of Downbeat Magazine's "Top 100 Jazz Clubs in the World," Dazzle, Same Cloth has been privileged to open for Louis York, The Shindellas and Lakeside, blessed to share the stage with Dr. Otis Moss III and Shane Endsley as well as perform at the Juneteenth Music Festival, City Park Jazz, Colorado Black Arts Festival, Taste of Colorado, Westword Music Showcase and other Colorado music festivals.

Plans For 2023: We are currently putting the finishing touches on our debut full length release and we are working toward building a 2023 Same Cloth tour.  We are also excited to continue our Last Saturdays residency at Dazzle Denver.

Website: JoFoKe.com/SameClothBand

Get Social: Linktree
You made it!
You love learning about new music and the Denver music scene. We have a weekly newsletter for you -- Inside Track. Sign up here to stay in the know about the hottest Colorado concerts and how you can score tickets!