Mirth and merriment at the 7th annual Colorado Matters Holiday Extravaganza
The world could use more mirth. It's why we created the Colorado Matters Holiday Extravaganza seven years ago. This year, the merriment carried on as hundreds of Coloradans filled the breathtaking sanctuary at Central Presbyterian Church in downtown Denver. The Extravaganza borrows a page from Judy Garland's 1963 Christmas special – with a cozy living room, glimmering performances and plenty of laughter.
Singer-songwriter and musical star Neyla Pekarek, an original member of The Lumineers, was our headliner, channeling Garland with her rendition of "I've Got My Love To Keep Me Warm." We celebrated the light of Hanukkah with the rabbi at one of Colorado's oldest synagogues, Temple Aaron in Trinidad, which is headed for National Historic Landmark status. And an intergenerational dance and drum circle got us moving.
Enjoy the sounds of our radio special by clicking the player above, and scroll down for photos of the event by Hart Van Denburg, CPR News visuals editor.
---
At the Extravaganza, recorded December 15, 2022, Neyla Pekarek put a punctuation mark on a banner year, which included the world premiere of her musical Rattlesnake Kate. Accompanied by pianist Annie Booth, she transported the audience to the golden days of Garland.
Rabbi Rob Lennick is experiencing milestone after milestone. He is retiring from Temple Aaron in Trinidad, Colorado. Meanwhile, the 1889 shul is on the cusp of becoming a National Historic Landmark. Prior to a heartfelt rendition of Peter, Paul and Mary's Hanukkah classic, "Light One Candle," Dr. Lennick described what it's like inside the storied synagogue. "You feel like you're stepping into a stream of history and consciousness for the tens of thousands of people that have worshiped in that humble space since the congregation started."
CPR News' May Ortega, host of the CPR podcast "¿Quién Are We?", shared a family secret: her mother's menudo recipe. Ortega played a recording of a laughter-filled phone call in which her mother explained, "We make it on Christmas. We make it on birthdays. We don't make it every day, because it's a big thing. And nowadays it's so expensive!" Try your own hand at the Mexican delicacy with the recipe in the program below.
Boulder comedian John Novosad, like many people who were born and raised in Colorado, revealed that he does not ski. "I'm already sliding downhill in so many other areas of my life," he told the crowd. Novosad shared that his goal as a kid was to get his sister to laugh hard enough that milk would shoot out of her nose. He succeeded.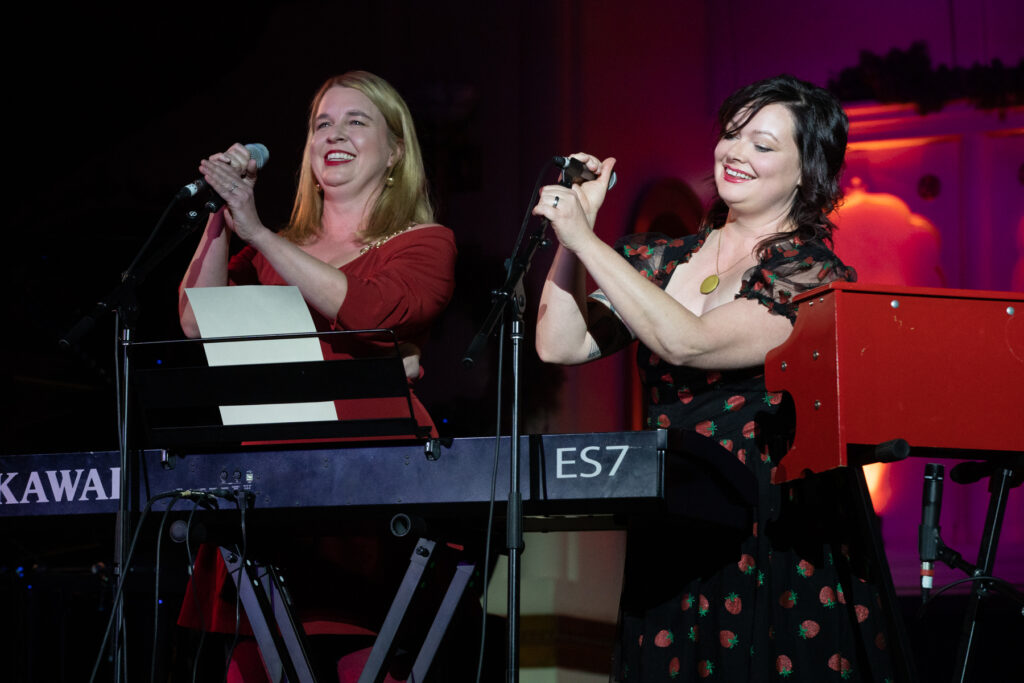 The Colorado Springs duo Swelter and Burn are real winners. Literally. Lauren Ciborowski and Willow Welter won a contest to perform at this year's Extravaganza. Entries had to come from Southern Colorado and, ideally, feature an original holiday tune. The winning song, "Deck The Damn Halls," is an uproarious reflection on climate change… and cat pee. It charmed judges Dan Boyce, of CPR News, and Vicky Gregor, of KRCC.
Colorado Matters got an early holiday gift this year, with the arrival of host Chandra Thomas Whitfield in June. On stage, the longtime Denver journalist and New Orleans native shared a stirring story about her family's first Christmas after Hurricane Katrina. Whitfield also presented the crescendo of this year's show: Denver's Intergenerational Women's African Drum and Dance Ensemble, or IWADDE. Its members shared the joy, and the healing qualities, of Kwanzaa.
View the program from the show
You care.
You want to know what is really going on these days, especially in Colorado. We can help you keep up.  The Lookout is a free, daily email newsletter with news and happenings from all over Colorado. Sign up here and we will see you in the morning!