Did you hear 38 explosions in Denver today? It was Gov. Polis getting inaugurated
Gov. Jared Polis began his second term in office on a sunny but windy Tuesday morning on the steps of the Colorado State Capitol. Behind him hung banners proclaiming "Colorado for All," the theme of the inaugural day. The event was marked by 38 artillery firings and a flyover by four fighter jets.
In his speech, Polis reinforced a bipartisan message and made broad promises to continue expanding early childhood education while addressing climate change, crime and the cost of living.
"It's not about the brand of our politics, it's about solutions to real-life challenges, and a passion for making life better for all of us," he said.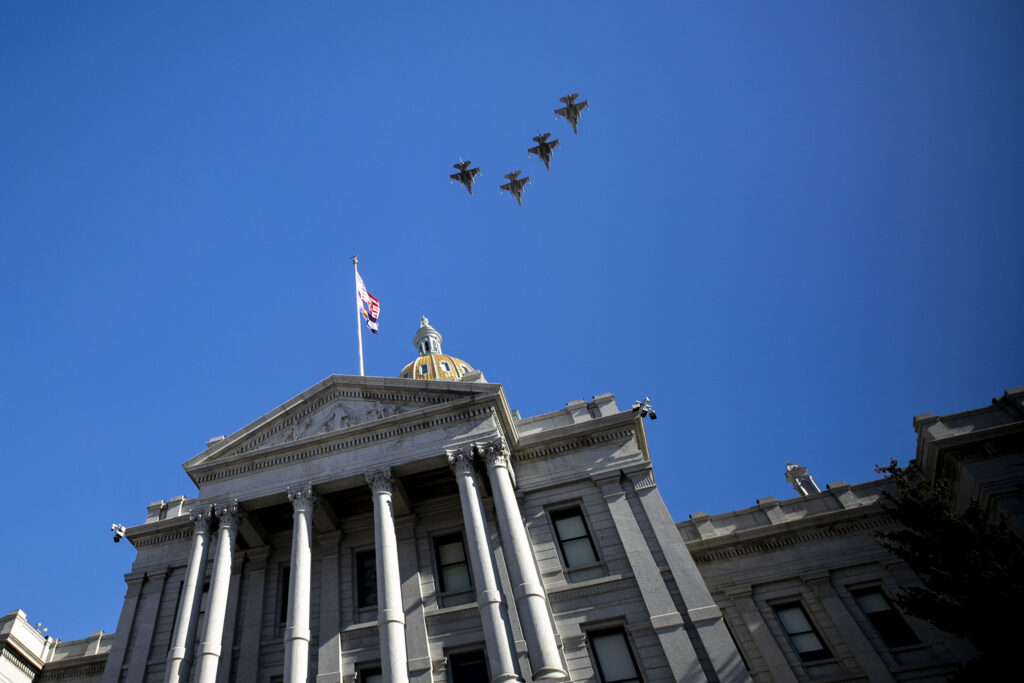 As he did during the campaign, the governor said he aims to use government programs to provide people with opportunity, but "without the government telling you how to live your life."
The speech comes after Democrats won a commanding victory in the midterm elections, retaining near-total power in the legislature for at least two years longer. At the same time, like many other states, Coloradans face climate-driven disasters; rising costs for housing and food; and higher crime rates than in recent years.
"Throughout our first term, we may have crossed some big items off our to-do list, but that doesn't mean the list in front of us today is any shorter than it was four years ago," Polis said.
Among other priorities, Polis said his approach to crime would include "holding criminals accountable," but he added that lawmakers would try to prevent crime altogether.
Democratic leaders in the legislature have said they will try to raise the age for some gun purchases and implement a waiting period for buyers. While Polis did not name any gun law reforms directly, he did say that Coloradans should not have to "fear for their safety on the streets where they live, in the places where they work and play, in the schools where our kids go to learn and dream big dreams."
Polis again emphasized the state must build more housing, while also reducing costs in other areas.
"Anything we can do, we must when it comes to helping you hold onto more of your hard-earned money," he said. 
The governor will deliver a longer speech, likely with more specifics about the term ahead, in his State of the State speech next week.
Poetry, prayers and cannonade mark ceremonial start
As he started his second — and thanks to term limits final term — in the office, Polis also sprinkled in goofy bits of humor. After a shockingly loud cannon salute, he opened his speech by asking: "Can anyone still hear anything after that?" Then he took — and posted — a selfie with the crowd.
Several hundred guests watched from the Capitol plaza, while a smaller crowd of the general public took in the ceremony from across Lincoln Street. At times, an enormous state seal that hung behind the speakers twisted violently in the wind.
During the ceremony,  transparent bulletproof shields protected Polis, his husband Marlon Reis, Lt. Gov. Dianne Primavera, Secretary of State Jena Griswold, Attorney General Phil Weiser and family members. A law-enforcement team kept watch from the corner of a nearby rooftop.
The ceremony began with a gospel music performance by Tarell Martin and the C2 Mass Choir, and later featured a performance of the national anthem by the Denver Gay Men's Chorus and the Out Loud Colorado Springs Men's Chorus. Colorado Springs was the site of the recent mass shooting at Club Q. 
Terry Knight Sr. of the Ute Mountain Ute Tribe gave a blessing based on the four cardinal directions, expressing hope for the many generations to come. "Teach our children. Bless them that they may learn and become leaders in the future," he said.
Rev. Dr. James D. Peters Jr. gave the invocation. Peters praised Polis' work on education and hinted at presidential rumors, jokingly warning Washington, D.C. to "back off."
Polis' mother, Susan Polis Schutz, recited poetry, and the ceremony featured the usual military flourishes, replete with bagpipes.
You care.
You want to know what is really going on these days, especially in Colorado. We can help you keep up.  The Lookout is a free, daily email newsletter with news and happenings from all over Colorado. Sign up here and we will see you in the morning!