'It's gotten commonplace': DU's Jewish students and staff reckon with rise in antisemitic attacks
University of Denver student Maddie Rothstein dropped her bags in front of her dorm room door, took out her keys and froze. 
Something was wrong. The small wooden prayer box Rothstein had hung on her door frame was missing. 
Rothstein had just returned from a weekend Sabbath retreat in the mountains in February. She'd spent the bulk of her sophomore year reconnecting with her Jewish community. She didn't believe in God, she said, but she took pride in the kinship she felt with other Jews on campus. It made her feel accepted and safe. 
Now, she stared in shock at the vacant spot on her door where the box, called a Mezuzah, used to be, she recalled in an interview. 
"I was like, whoa, whoa, whoa, whoa," she said. "That's not supposed to happen." 
She ran to her boyfriend's room, where they discovered his Mezuzah was also missing. After searching their dorm building together, they found one of the missing boxes in a stairwell. The other was nowhere to be found. 
Soon, word of the theft had spread on social media. News stories came out. Campus police got involved. Rothstein's Jewish friends felt anxious. 
"An attack like this affects everybody almost equally," Rothstein said. "Even if it doesn't happen to them directly." 
Rising antisemitism in Colorado and across the country
A wave of hate speech on social media platforms like Twitter, Facebook and TikTok is chipping away at a sense of safety for Jews on college campuses and in society at large.
In the five years since the Tree of Life synagogue shooting in Pittsburgh, where a gunman killed 11 people in the deadliest attack against Jews in U.S. history, researchers have recorded a steady rise in antisemitic attacks nationwide. 
Several Colorado synagogues have faced bomb and shooting threats, including Pueblo's historic Temple Emanuel in 2019. 
Last November, flyers were tossed into yards in a Colorado Springs neighborhood, warning readers that "every aspect of Disney child grooming is Jewish." It had pictures of Disney executives with photoshopped Stars of David on their foreheads. A line on the fliers read "protect our children." The message parroted centuries-old antisemitic propaganda, which has historically included claims that Jews kidnap gentile children.
Just last week, a group of middle school students in Denver drew swastikas on their arms after watching a presentation about the Holocaust. The district condemned the behavior, but Jewish parents said on social media it was one of many examples of antisemitic harassment students have faced recently. 
Antisemitic attacks in the Mountain West reached their second-highest level in over a decade last year, according to the latest audit from the Anti-Defamation League's Mountain States chapter. It counted 71 reported incidents in 2022. The highest count ever was recorded a year prior in 2021, which saw 92 reported incidents. 
"It's gotten commonplace," the ADL said in a statement. "We need everyone to recognize antisemitism for the true threat it is not only to Jews, but to our entire society."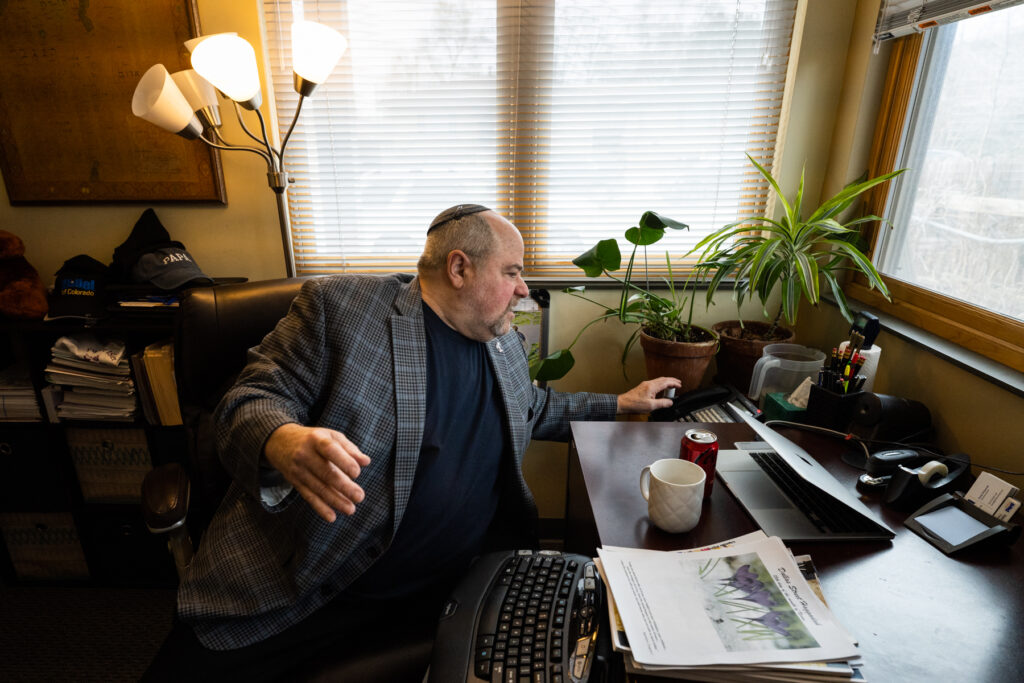 Stolen Mezuzahs and antisemitic vandalism at DU
At DU, the week before Maddie Rothstein discovered her stolen Mezuzah, another student had come across a grisly scene: over 5lbs of packaged ground pork, bacon and ham slices taped to the outside of his dorm room door. The vandalism was a clear nod toward the fact that many Jews don't eat pork. 
The display disgusted Daniel Bennett, executive director of Hillel of Colorado. But it didn't surprise him. 
Bennett took over leading Hillel of Colorado in 2015, and since then, he's seen incidents like "KKK" being scratched onto cars outside the organization's DU community center. One year, CU Boulder students were confronted on their way to class by a stranger saying, "We're gonna do the job Hitler didn't do." 
Those situations may have felt like isolated acts of hate to some, but to Bennett, the recent uptick appears to be a trend.
When people fall into echo chambers with extreme views online, they become polarized, said Bennett. Jews and other minority groups have become scapegoats for national and global issues from the pandemic to economic worries throughout human history. 
"Antisemitism is 2,000 years old," Bennett said. "We live in a country where we thought we had that stuff under control. But I do know that our students are feeling it more now than they felt it since I've been here." 
'We're not gonna hide from this'
After the February incidents on DU's campus, Bennett got emails from community members who suggested arming students with guns and teaching them how to shoot. He also got messages from concerned residents saying students should stop wearing yarmulkes. 
Neither seemed like the right fit. Bennett wanted to address what he called DU's "message crimes" head on, but not overreact. 
"We're not gonna hide from this and we're not gonna become a militant group," he said. "We're gonna teach people measured responses and clearly how to stand up for themselves."
After the spate of incidents this February, Bennett and staff opened the campus Hillel, a community building for Jews, around the clock for several weeks for students to gather and process.
Volunteers baked cookies in the kitchen. A group of local Jewish moms made care baskets and offered to clean dorm rooms. 
In small living room conversations at the DU Hillel, students shared their experiences with antisemitism. Many said they had overheard friends joking about how "all Jews have money" or work in certain professions.
"They opened up about other ways that they were made to feel uncomfortable as Jews with words and with actions," Bennett said. 
Maddie Rothstein said her Mezuzah theft was the first time she'd felt targeted. She comes from a Jewish family but didn't really practice her religion growing up.
After her and her boyfriend's Mezuzahs went missing, they came up with the idea of giving out prayer boxes and information brochures to raise awareness.
They bought dozens of them and set up a picnic table on a sidewalk on campus. As they handed them to students, they explained that the Shema scroll inside was a common prayer that's meant to protect every Jewish person's home. 
"I've seen a couple doors with it since then," she said. "It felt like we were all rallying for Jewish people."
DU responds with temporary security cameras, a Title IX investigation and education
For its part, the university has issued statements condemning the February incidents. DU was founded in 1864 as a private Methodist seminary, but it has grown into a secular research institution with more than 10,000 students of all backgrounds. 
When Mary Clark, DU's provost, first heard about the campus harassment she was in a security line at Denver International Airport. She got the text message, and her heart sank. 
"I was horrified," she said. 
Clark's mother-in-law was a Holocaust refugee. Her sons identify as Jewish – even though she doesn't – and she thought the first thing to do was denounce them. 
"This is a home and a community for our students, and it must feel that way," she said. 
Administrators installed temporary security cameras outside of Maddie and other students' dorm rooms. They also launched a Title IX investigation that remains active. 
The university went on to sponsor several speakers and panels about antisemitism. It's creating a new position on campus for a director of spiritual life and offering a new course on antisemitism this fall. 
"There is a real sense of deep worry that this type of behavior is becoming more dominant," Clark said. "We have a major opportunity, but also a responsibility, to educate our young people."
A Passover Seder attended by hundreds
More than 200 students showed up to Hillel's Passover Seder in April, a record for the group. Outside the kitchen, students hugged their friends and found seats among tables decorated with goblets and white and blue tablecloths. 
Ahead of the meal, a student stood on a chair and shouted for everyone to look at them for a selfie. 
"We wanna show our parents back home that we're proud of who we are," the student said. 
In the kitchen, Maddie Rothstein tightened her apron and scooped potatoes into a silver serving dish. Being here with hundreds of other Jews made her feel safe – a different feeling than the shock she felt when her Mezuzah was missing. 
Despite the scare earlier this year, the response from the school and the community has made campus feel like a safer space. 
"More good came out of this than bad in my opinion," she said. "This many people wouldn't be here if it wasn't for those incidents." 
Rothstein thought about her door frame. Several weeks earlier, she hung a Mezuzah back up in the same spot where her old one was. Alongside it was an informational poster about its significance to her.
She felt confident it would still be hanging there when she got home, and this time, it was.
You care.
You want to know what is really going on these days, especially in Colorado. We can help you keep up.  The Lookout is a free, daily email newsletter with news and happenings from all over Colorado. Sign up here and we will see you in the morning!