To make a living off Dungeons & Dragons, Ginny Di knows how to battle some trolls — in-game and online
The role-playing action-adventure game Dungeons & Dragons has exploded in popularity in recent years. And Colorado is home to a player who makes her living through the world of fantasy gaming. We joined Ginny Di and her friends on a recent Sunday in Denver. 
The group of six ventured off together to a faraway land, led by a dungeon master, who set the scene for this journey.
"We begin our adventure today in the resplendent High Elven capital of D'watha Dey Daneer," said Jesse Jerdak, as the group prepared for its trek.
These fearless heroes included a cunning wizard, a curious warlock, and a fierce barbarian.
Oh, and that barbarian? She's a three-foot-tall gnome named Penelope. That's the character Di is playing in this game. 
In the real world, Di is somewhat of a rarity. She's reached a great level of success in the fantasy gaming industry — which is dominated by men. And she's paving the way for others.
"We can go to the forest nearby," Penelope instructed her companions during that recent game.
But after arriving at said forest, a barrage of assassin vines springs to life. They're not friendly, and they have flowery heads bigger than your torso.
"Like an Audrey II situation," Penelope explained, referencing the musical "Little Shop of Horrors" from the 1980s. "Like a little spindly body and a giant head."
The group nods in agreement, some smiling. Jerdak, however, knows how dangerous these creatures can be.
"They are poisonous, they are large, and they are very deadly," he said, in a foreboding tone.
And suddenly, one of the vines lashes out and wraps itself around an adventurer named Lyrith. Just like that it's time to fight. 
Enter the dice. Rolling dice is a huge part of what's happening, and what's to come. Penelope rolls the highest number of the group — a 22 — so she gets first strike.
"[I try] to bite down on the portion of vine that's wrapped around Lyrith and it just falls apart as the frost from [my] teeth makes it brittle and it cracks," Penelope said.
But with one down, there's still more than a dozen to go. And they're not easy to kill. After three hours, several team members are incapacitated, others are wounded, and everyone is exhausted. But the vines have been defeated.
Then everyone shuts their laptops, packs up their dice, and heads home.
This is what it's like to play Dungeons & Dragons, with all of its role-playing, character building and imaginary action. And when people around the world want to learn how to play, they turn to Ginny Di.
"I am a professional tabletop gaming YouTuber (and) content creator," Di said.
And her meat and potatoes is making videos teaching others about the game. When you look up how to create a D&D character with depth on YouTube, some of the top results include a chipper woman with big eyes and minty green hair. That's Di.
"A personality, on a basic level, is the combination of internal and external context. Your personality is what you think and what you do," she explained in a video on how to give your D&D character an actual personality. 
Di lives in Denver, along with her fellow D&D-playing husband, and their two cats. She's played the game for close to four years. 
"It's completely changed my whole life's trajectory," she said. "Like not just as a hobby, but obviously as a career."
What started out as a fun pastime quickly took over her life — in a good way.
"I knew that I was a big nerd," she said. "I've always been just a big fan girl, and when I love something I want to make something with it."
And Di has made a whole lot of something from her love of the game. She creates most of her videos and costumes in her home office. There, she has a special spot where she stores some important goods.
"It is a smallish, walk-in closet that is completely jam-packed floor ceiling with costuming and weapons," she said with a laugh.
Those fake weapons include swords, axes and a giant lollipop.
This is also where she keeps Penelope's costume. She beamed as she pulled the heavy, layered outfit off a rack and held it up.
"I did a bunch of hand embellishment on this little cape," Di said. "These are real quartz crystals. She has a cute little apron. She's got a little knife in a pouch."
Di has made costumes for fun ever since she was a kid. Halloween was one of her favorite holidays, and she would go all out. Then she kept creating more and more.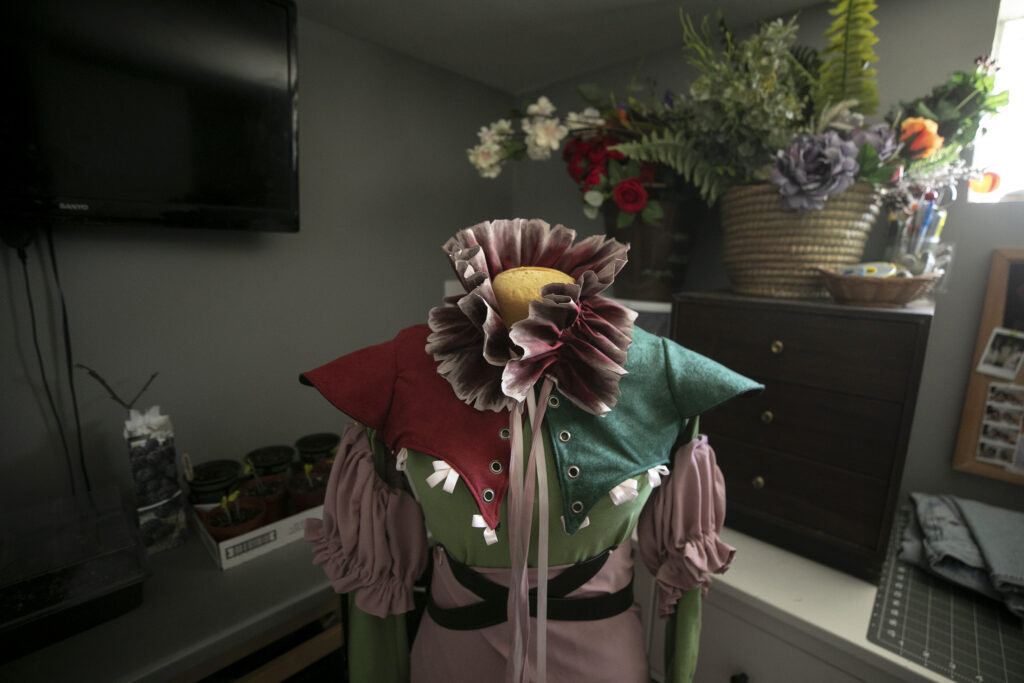 "At that point I was like, 'Wait, it's possible to make money just making whatever weird, crazy stuff I wanna make online,'" she said.
Eventually, she started making parody videos online. One of the most popular is inspired by Carrie Underwood's hit song "Before He Cheats."
"I took my spiritual weapon to every mast. I'll destroy this whole damn craft," she sings in the video, with her skin painted baby blue, adorned with curly horns and sharp fangs. "Doesn't she know that I know where she sleeps?"
And thus, Ginny Di, the online creator, was born.
In her office hangs a silver plaque from YouTube. It celebrates her milestone of hitting 100,000 subscribers in early 2020. She reached over half a million subscribers in May, steadily releasing new videos once a week.
But for her, it's about more than the numbers. She's found a community where she belongs and where she can make others feel welcome too. She especially appreciates that now — when many people work from home, and it can be tougher to cultivate meaningful relationships.
"So the only community we have are the ones that we create," Di said. "And I think D&D allows you to do that in a way that is very long-lasting and very deep because there's something vulnerable about just playing pretend with a bunch of adults. You can get very invested in it, and I love that."
Di has been playing as Penelope for three years with a group that meets every other Sunday (though they did take a brief hiatus in 2020 during the COVID lockdown). Some campaigns, as they're called, go on for decades.
Diving into this world headfirst has made Di less shy and even more creative, she said. It's also bolstered some parts of who she's always been. She likes to wear makeup, and she enjoys pastel colors and flowers. And she really lets those things shine in her content. But it means being her true feminine self in a male-dominated space with a global audience.
"While everybody on the internet gets negative comments and comments that are rude or criticizing or dismissive, there's a certain flavor to them when you are a woman that is different," she said.
Like when people ask if Di is pregnant when she's not. When she doesn't wear makeup, people tell her she looks tired. It gets frustrating. But there's also an upside to being this genuine, this publicly.
"Being able to hear from other women that seeing me be a prominent creator in this space has made them feel more welcome within D&D is so meaningful to me," she said.
Plus, there's another reason she keeps her head held high.
"And also I'm powered by spite," she said with a laugh. "So the more that people are like, 'You don't belong here,' I'm like, 'I'm going to belong here so hard. You don't even know.'"
So on the surface, it's playing pretend while slaying fake monsters with friends. On a deeper level though, Dungeons & Dragons lets you slip into who you really are — or maybe who you want to be. It can help you find you, just like it did for Ginny Di.
You care.
You want to know what is really going on these days, especially in Colorado. We can help you keep up.  The Lookout is a free, daily email newsletter with news and happenings from all over Colorado. Sign up here and we will see you in the morning!