How Rad Power Bikes won the biggest share of Denver's e-bike rebates — at the frustration of some local shops
Catia Chavez wasn't even thinking about buying an e-bike until last year. 
The public health researcher changed her mind when Denver announced its now-famous e-bike rebates. With only one car to share with her boyfriend, Chavez figured a battery-powered bicycle would be a perfect option for quick trips around town. 
The city later sent her a $300 voucher redeemable at local bike shops. After some shopping, she landed on a model from Rad Power Bikes, the country's largest e-bike brand.
Beyond the reasonable price tag, Chavez loved the model's extra option for a dog carrier attachment. Her pug, Prudence, now tags along on e-bike rides to the coffee shop and farmers market. 
"She's part of the family," Chavez said. "We don't want to leave her at home." 
Denver launched its e-bike program in April 2022. One goal was to cut greenhouse gas emissions from local vehicle traffic, and, by early accounts, it's working. More than 5,800 residents have taken advantage of the discounts.
One city survey found recipients tend to use their e-bikes several times a week, which has replaced at least 100,000 miles of driving around the city each week. 
Grace Rink, the city's chief climate officer, said another far-less-publicized benefit is a new business for local bike shops. Since funding comes from a sales tax for climate projects, her office only allows certain local e-bike sellers to redeem the rebates.
That means the $5.6 million spent on vouchers so far has been funneled back into the local economy — plus additional money spent by consumers.
But it turns out Rad Power Bikes — itself a direct-to-consumer retailer— was the biggest beneficiary. City data show Rad Power collected 44 percent of all the individual vouchers and more than half the total rebate dollars, far more than any other local bike shop. 
As other cities and states rush to replicate Denver's success with e-bikes, the company's role in the story shouldn't be overlooked as one potential reason so many residents participated and why some shopowners feel the city didn't stick with the spirit of its original program.
How Rad Power pulled ahead of other bike shops
The Seattle-based retailer built its reputation through online sales, but it qualified for the Denver rebates by opening a pop-up store outside Denver weeks after the rebates launched. It now has a permanent shop and service center on the city's northside. 
Kelsey Wickman, a Rad Power spokesperson, said the company accelerated its plans for a brick-and-mortar store to participate in the program, but Colorado was "always earmarked for a physical location." 
---
---
To explain its success in Denver's program, Wickman said her company's products struck the right balance between price and quality.
Rad Power Bikes doesn't sell a bike for more than $2,500, which meant the discounts could have a far larger impact, especially for low-income residents who qualified for larger rebates in Denver. In some cases, those incentives could wipe out the cost of a Rad Power bike.
The company also offers cargo e-bikes built to carry groceries or passengers, which qualified for an additional incentive from the city. 
Why other local e-bike retailers are upset 
That's frustrated MacKenzie Hardt, who owns Hardt Family Cyclery in Aurora and sells high-end cargo bikes. He wishes the city had written its rules to exclude direct-to-consumer retailers like Rad Power. 
"We obviously got a chunk of the money from the rebates, but we didn't get nearly enough. The city took a large portion of the rebates away from locally owned businesses," Hardt said.
He's further disillusioned by Colorado's recently announced statewide e-bike rebates for low- and moderate-income residents. To provide bikes in rural areas, it will include brick-and-mortar stores as well as online sellers.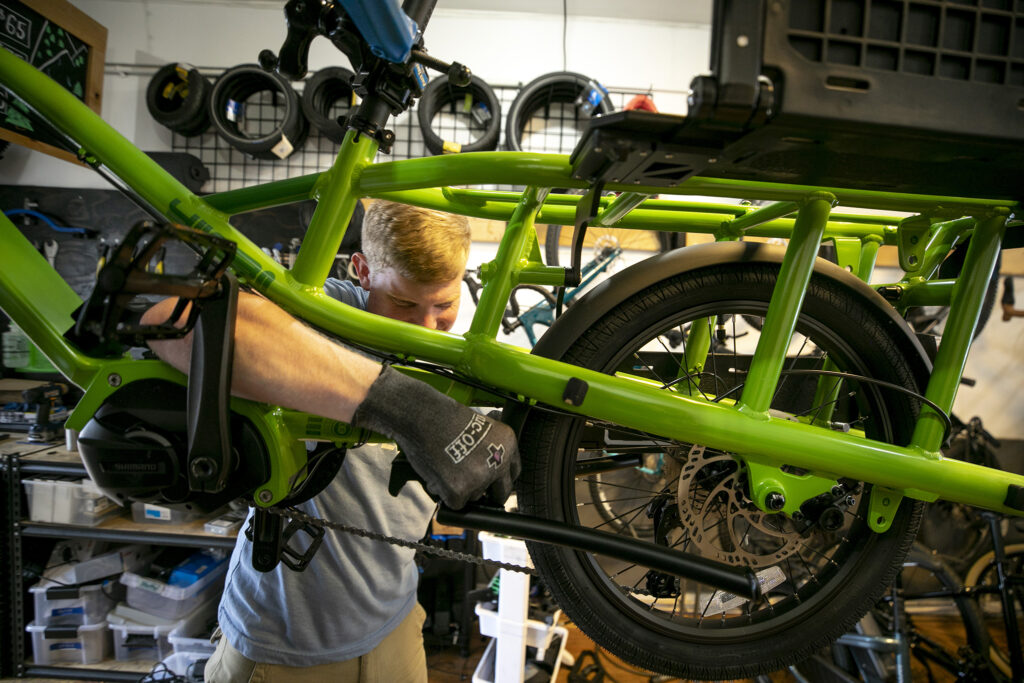 Hardt acknowledges an average e-bike sale is around $6,500 before taxes. While it's a high price, he said it guarantees every e-bike sold from his shop is a "safe, reliable and repairable" replacement for a family car. 
In addition, he noted every battery is certified to meet UL Safety Standards, a voluntary testing protocol to prevent fires and hazards in e-bike batteries.
Rad Power Bikes has faced a string of recent safety crises. An issue with misaligned tires forced the company to recall 30,000 cargo bikes late last year, and it faces several lawsuits related to bike accidents.
Many of its bikes also don't meet UL Safety standards, but Wickman said the company has earned the certifications for two bikes and is working to approve further models. 
Steve Pribyl, the owner of SloHi Bikes in Denver, isn't as concerned that Rad Power is participating in Denver's e-bike rebates.
He says the program boosted his own sales by about 15 percent, and he's also brought in businesses servicing many Rad Power bikes. 
"It's just more competition, which is just part of business," Pribyl said.
You care.
You want to know what is really going on these days, especially in Colorado. We can help you keep up.  The Lookout is a free, daily email newsletter with news and happenings from all over Colorado. Sign up here and we will see you in the morning!