The Local 303: Colorado artists we're featuring for November 2023
Ramakhandra by Robert Mayper
Feeling grateful this time of year for the bounty of new Colorado music that we are receiving; and this month you will hear songs by artists across the Front Range hailing from Fort Collins, Lafayette, Boulder, and Denver. Local mainstays Heavy Diamond Ring, Neyla Pekarek, Bison Bone, Alysia Kraft, and Super Bummer have put out perfectly autumnal new records that you will hear on the radio. Longtime local artists Ramakhandra, Card Catalog, and Morning Bear have returned with new tunes, and you will also get to know young bands No Signal, Juno Rossa, High Street Joggers Club, and Summer Bedhead; all of which are making exciting music that we are excited to share throughout November.

In addition to these artists, listen to our weekly show More From the Local 303 to explore the music scene even more Friday nights at 9pm.

Join us in person to for our monthly Local 303 Meetup to celebrate Colorado musicians and music fans from our community. We host a music meeting where you get to vote on some new local songs, sign up to win concert tickets, and see a live performance by Juno Rossa. The meetup takes place at our new location, Hi-Dive, on Monday, Nov. 27 from 6:30 to 9 p.m. The Hi-Dive is located at 7 S. Broadway in Denver. This event is 21+ and free to get in.

BONUS: When you come to the meetup, pick up a poster designed by Stuart Alden of Ink Lounge. A limited edition of 50 posters are available for the meetup and you can get one while supplies last!

Are you a Colorado musician who wants to be featured in the Local 303? Send us your music.

Meet November's picks:
Alysia Kraft
Band Lineup: 
Alysia Kraft - guitar & vocals (she/they)
Shane Zweygardt - drums (he/him)
And sometimes:
Oliver Mueller - bass (he/him)
Dee Tyler- guitar (he/him)
Meg Wild Rice - bass (she/her) 

Colorado Home: Fort Collins

Formed: 2020

Latest Release: The Electric Blooms EP, October 13, 2023, Self-Released 

Upcoming Shows: Announcing EP release run - SOON!

About: Alysia's Kraft's sophomore EP, 'Electric Blooms' is a hard-hitting, hook-laden batch of indie rock that balances warmth, quirk, play, and catharsis in equal parts. Kraft's long been a supernova and sweetheart of the Northern Colorado music scene, a unique front-person who is punk-kinetic, pop-accessible, and a genuinely powerful conductor of collective energy. On "Electric Blooms," the rare velocity of Alysia Kraft can be felt.

"As a real extrovert, the return to 'life' after so much isolation brought on a million combustions. A crushing breakup, a gigantic new love, enough sobriety and self-growth that a few things that fit before the pandemic became seriously uncomfortable constraints. This album is overwhelm and overjoy taking turns driving a getaway car — and myself, crazed in the backseat, knowing I need the ride."

Kraft and drummer/co-producer/energy-twin Shane Zweygardt took turns producing and engineering the album in the dimly lit after-hours of The Music District - a space in which they both worked day jobs that involved supporting other local musicians through access to high quality gear and programming.

"I was writing constantly and eager to develop more sustainable ways to make records. When we started, we didn't know if we were going for demos or finished songs…but we were bottling these songs in the time they were being lived and felt, experimenting and trusting instinct. It helps to have Grammy-nominated mixing engineers (Andrew Berlin and Jason Livermore) finishing your work."

Kraft's solo debut First Light (sonaBLAST!, June 2022) charted third on Colorado radio in 2022 (alongside giants The Lumineers and Nathaniel Raitliff), won Best Original Song from the LA International Independent Film Festival, and earned Kraft one of nine inaugural Sonic Guild Grants in Colorado. The Colorado Playlist nominated First Light for a 2022 best album, and Kraft was named a NIVA Artist to Watch in 2023 and a nominee for the Colorado Sound Awards Outstanding Live Performer in 2023. Kraft built devoted followings for prior projects Whippoorwill and The Patti Fiasco and has shared stages with icons ranging from Bon Jovi, to Blondie, to Bonnie Raitt, to Big Thief. Kraft is a rare songwriter who can hush a crowd with an intimate solo set or bring fervor to a packed stadium. While First Light leaned harder into the folk and pop edges of indie rock, Electric Blooms packs more of a punch.

The title track launches listeners through a surrealistic energy-scape of new connection and pollination with flirtatious and coy wordplay; "Offering" lands somewhere between the 90's grunge-dreaminess of the Cranberries and the pop-astute indie rock of Snail Mail and Soccer Mommy, kicking down doors in the opening bars before surrendering into the light of a new, gigantic love; "Killer Bees" buzzes with the memory of love that packs a sting; and "Little Fire," a song Kraft penned as "the simplest and most loving life advice" she could condense for her four-year-old niece, smolders steadily until a climax of sonic fireworks and the mantra "follow your heart, keep it wild, build your own little fire" takes willing listeners to the side of transformation. The album's most virtuosic emotionality comes from "3 Empty Chambers" an homage to the determined but devastated exodus from a ten-year-relationship that accelerates and intensifies until the "break" that Kraft has been begging for lyrically cracks the song open on itself. Contemporaries like Bully, Broncho, Snail Mail & Waxahatchee exist alongside classic references to the Breeders, Cranberries and the Cars.

Any upcoming plans to share or behind the scenes work you're excited to tell us about: Recording, recording, recording ---- CREATIVE TIME. Hello winter & fall seasons of deep concentration and long dives into the creative process. Making this EP was just a taste of how creative we can get with this project... and I'm so excited to pick back up in the studio! 

Website: www.helloiamalysiakraft.com

Get Social: Spotify, YouTube, Instagram, Facebook, TikTok
---
Bison Bone
Band Lineup:
Tony Piscotti (he/him) - bass
Adam Blake (he/him) - drums
Eric Tate (he/him) - electric guitar
Courtney Whitehead (he/him) - guitar/lead vocals

Colorado Home: Denver

Formed:2016

Latest Release: 40 Grit EP, 10/20/2023, Self-Released

About: Americana is said to be a melting pot of several American music genres. Denver-based group Bison Bone embraces the melting pot proudly, blending hypnotic melodies of the pedal steel, keys and alt-country guitar tones. Upon hearing this new EP, listeners are greeted with a sound that moves, that's made to travel. Muscular but vulnerable, warm & worn-in, it's a blue vinyl booth, a waiting barstool; the songs are rooms to be walked into. Whatever part of the world's gone wrong or busted, let music be a source to mend it, then mend it: the windows rolled down, the radio up high.

Website: http://www.bisonbone.com/

Get Social: Instagram 
---
Card Catalog
Band Lineup:
Jenn Tatro (she/her) - Lead Vocals, Rhythm Guitar
Rob Spears (he/him) - Lead Guitar
Brooke Holman (she/her) - Bass, Vocals
Kevin Kirkpatrick (he/him) - Drums

Colorado Home: Based in sunny Lafayette

Formed: 2013; current lineup 2021

Latest Release: "Tall and Free" (single), Sept 13, 2023, Self-released

About: Card Catalog's raw, eclectic, and energetic performances mix the impassioned grit of 90s rock with deft, playful musicality. True to its name, the band holds a little of everything, weaving across genres—sometimes with a rageful cry, sometimes with a grin, but always with power. Card Catalog pulls listeners to their feet with story-driven music, tangible on-stage chemistry, and the allure of authentic expression.

Any upcoming plans to share or behind the scenes work you're excited to tell us about: Always! Right now, we are thrilled to be getting back into the studio this month to record some new originals! We've been writing a lot this year and can't wait to share these new songs in an EP in early 2024.

Website: https://www.cardcatalogmusic.com/

Get Social: Instagram, Facebook, YouTube, Spotify 
---
Heavy Diamond Ring
Band Lineup: Sarah Anderson (She/Her)-vocals, Paul DeHaven (He/Him)-guitar,vocals, Mike Lang (He/Him)-keys,vocals, Blake Stepan (He/Him)-bass,vocals, Orion Tate Ignelzi (He/Him)-drums

Colorado Home: Denver 

Formed: 2018 

Latest Release: All Out Of Angels LP, November 17, 2023, Cowboy Cowabunga Recordings

Upcoming Shows: 
Nov 16- Fox Theatre, Boulder w/ Mama Magnolia
Nov 17- Globe Hall, Denver w/ Jess Parsons & Desert Child
Nov 18-Lariat, Buena Vista  

About: Some things are just meant to last. When Sarah Anderson and Paul DeHaven met and began playing together in 2004, they had no idea just how deep the well of their musical partnership would prove to be. After the disbanding of indie-folk sweethearts Paper Bird, the duo founded Heavy Diamond Ring and never looked back.

HDR is the culmination (thus far) of their signature sound, a seeming fountain of open-hearted, folk-rock, steeped in vocal harmony and group synergy. Led by Anderson's smooth-as-honey vocals and DeHaven's rugged guitar chops, the band has been described as "open-road, long drive music", having "a little bit of twang, and a whole lot of beef", and their live show as "infectious and contagious". The band is rounded out by veteran knockouts Blake Stepan (bass), Mike Lang (keys), and Orion Tate Ignelzi (drums).

Their second full-length LP, "All Out of Angels", out this fall, was produced by Ben Wysocki (the Fray) and Mark Anderson and features a duet with Nathaniel Rateliff. Out November 17 on Cowboy Cowabunga Recordings.

"Heavy Diamond Ring creates a sound that feels as classic as rolling down the windows in the summer - a super highway to a new frontier." -303 Magazine

"...a helping of contemporary indie-folk that goes down easy, augmented by some subtle, snaky guitar work, walls of harmony vocals and Anderson's attention-grabbing vocals." -CS Indy 

Website: www.heavydiamondring.om

Get Social: Instagram, Facebook, Spotify, YouTube
---
High Street Joggers Club
Band Lineup:
Jack Cote (he/him) - Lead Vocals
Nathan Garrett (he/him) - Drums
Jake Feldman (he/him) - Guitar
Jackson Harkness (he/him) - Bass/Background Vocals 
Kevin Cincotta (he/him) - Keyboard/Synthesizer
Cole Schneider (he/him) - Guitar

Colorado Home: Denver

Formed: High Street Joggers Club formed in 2019 at the University of Denver. HSJC began rehearsing in garages by DU and performing at backyard parties. Since 2019 HSJC has performed across Denver and nationally.

Latest Release: "Fine by Friday" (Single), Oct. 6, 2023, Self Released. The single was recorded in Santa Monica, California at Red Bull Studios. HSJC collaborated with Producer Isaac Carpenter with the goal of taking their live energy to the studio.

Upcoming Shows: HSJC will be playing live with Boot Gun on February 24th, 2024 at Ophelia's Electric Soapbox. 

About: Formed in 2019 at the University of Denver, High Street Joggers Club has played everywhere from backyard parties to the main stage at Westword Music Showcase. High Street Joggers Club is a 6-piece rock band based in Denver, CO comprised of Jack Cote (vocals), Nathan Garrett (drums), Jake Feldman (guitar), Cole Schneider (guitar), Jackson Harkness (bass) and Kevin Cincotta (keys/synthesizer/saxophone). HSJC is recognized for delivering high-energy performances as they continue to grow their fan base. From behind-the-back guitar solos to roaring choruses, HSJC is a machine built to play live. The band is excited to release more music to streaming services throughout 2024 and perform across Denver and the US. 

Any upcoming plans to share or behind the scenes work you're excited to tell us about: We are extremely excited to announce that we will be releasing another single, "Add You to the List" on November 16th. This track showcases more of the alternative rock side of our songwriting with a hint of psychedelia and new production techniques. This track was also recorded in collaboration with Isaac Carpenter at Red Bull Studios.

Website: linktr.ee/HighStreetJoggersClub

Get Social: Instagram, Spotify
---
Juno Rossa
Band Lineup:
Dan Craig - Guitar/Lead Vocals 
Malena Roberts - Bass/Background Vocals
Corban Roberts - Drums

Colorado Home: Denver

Formed: 2021

Latest Release:  "Honest Youth" (Single), Sep. 21, 2023 -  Self released

Upcoming Shows: The Local 303 Meetup at Hi-Dive on Nov. 27 with 102.3!

About: Juno Rossa is an alternative/indie rock band from Denver, CO. Formed as a collaboration between singer/songwriter Dan Craig and rhythm section Malena and Corban Roberts they released their debut EP 'Die Trying' in 2022 establishing a sound based on driving, soulful beats layered with rich textures of vintage synths and horns punctuated by glistening and growling guitar hooks capped with Craig's heartfelt gravel-tinged vocals. With influences ranging from Young the Giant and Remy Wolf to the Black Keys and Deep Sea Diver, they play as a trio frequently joined by friends/collaborators on synths and horns.

Any upcoming plans to share or behind the scenes work you're excited to tell us about:  We are putting the finishing touches on a new set of songs coming out between now and spring 2024. First single, Honest Youth is available now! Also look out for a Juno Rossa Christmas jam coming out in time for the holidays this year. 

Website: http://Junorossa.com

Get Social: Instagram, Spotify 
---
Morning Bear
Band Lineup: The project is the moniker of John Runnels, who does all of the writing, recording, booking, promotion, etc. John is the lead vocalist, and plays guitar, piano, bass, and percussion on most recordings.

Other collaborators include:
Live Band-
Cello: Evan Shelton
Violin: Rhianna Fairchild
Bass: Nate Marsh
Drums: Kevin Matthews, Nic Thornsberry
Vocals: Michael Runnels, Megan Ellsworth, Kia Ranney, John Bartley, Mary Foster
Splitting of the Wood (Single)-
Recorded at Cowboy Cowabunga Studios in Evergreen, Colorado 2023
Production, Engineering, Mixing, Synth - Mark Anderson
Mastering - Timothy Stollenwerk at Stereophonic Mastering
Words, Music, Vocals, Acoustic Guitar, Synth - John Runnels
Electric Guitar - Paul DeHaven
Flugelhorn - Aaron Strumpel
Reap and Sow (Single)-
Recorded at Shovel Studios in Lafayette, Colorado 2023
Production, Engineering, Mixing, Synth, Percussion - Aaron Strumpel
Stem Mastering - Dave Wilton at Coalesce Audio
Words, Music, Vocals, Acoustic Guitar, Piano, Synth - John Runnels
Vocals - Kia Ranney
Vocals - Michael Runnels
Colorado Home: Denver! Baker neighborhood :)

Formed: 2014

Latest Release: 
Splitting of the Wood - September 8, 2023, Self-Released
Reap and Sow - October 20, 2023, Self-Released
Learning How - December 1, 2023, to be Self-Released
A Simple Understanding - February 7, 2023, to be Self-Released
Upcoming Shows: 
Single Release Party!
December 16th, 2023 at the Skylark w/ Anthony Ruptak, Our Violet Room, Bogues - 21+

About: After a long hiatus, Morning Bear finally awakens from hibernation to release their first new music in 6 years.  After a series of devastating events and losses, including a global pandemic, the death of three close friends in separate tragedies, and a severe injury, band leader John Runnels was uncertain about his return to music.  However, after taking time to heal and reflect, Morning Bear returns with 3 new singles scheduled for release in 2023, each track recorded with a different Colorado based producer.  The music explores themes of grueling work and sacrifice in the face of uncertainty, of actions and their consequences, and of the resilience of the human spirit.

The brainchild of Denver-based singer/songwriter John Runnels, Morning Bear is an orchestral indie folk project that channels emotion through vivid imagery and intricate melodies. Morning Bear was formed in 2014 when Runnels quit his dayjob as an engineer and took a one-way ticket to Europe. Characterized by highly dynamic compositions, Morning Bear's music is a synthesis of the calm and delicate stylings of artists like Bon Iver and Jose Gonzalez with the complexity and depth of the Fleet Foxes and Sufjan Stevens. Featuring soaring vocals and atypical arrangements including cello, violin, piano and more, Morning Bear provides a textured landscape behind pop-influenced hooks.

Any upcoming plans to share or behind the scenes work you're excited to tell us about: Yes! One more song is coming out this year as part of the three-song single. It's called Learning How and it was recorded at Slash O studios with Eric Dawson Tate. The song is a cowrite with another amazing local artist, Ellsworth. I also have one more single coming out in early 2024.

Website: https://morningbearofficial.com

Get Social: Instagram, TikTok, Facebook
---
Neyla Pekarek
Band Lineup: Neyla Pekarek, (she/her) — Lead Vocals, Cello, Piano

Colorado Home: Denver

Formed: Active in the Denver music scene since 2010, debut solo record released 2019.

Latest Release: Western Woman EP, June 30, 2023, Self-Released

Upcoming Shows: 2024 Dates Coming Soon!

About: Neyla Pekarek (she/her/hers) began playing cello at age 9 in her hometown of Aurora, Colorado. She studied Musical Theatre and earned a degree in Music Education at UNC in Greeley, CO. In 2010, she joined the Denver folk-rock group The Lumineers as a cellist and vocalist, and spent 8 years, touring the world and recording with the band. In January 2019, she released her debut album, Rattlesnake (streaming now!), on S-Curve records, and was commissioned by the Denver Center for the Performing Arts to develop her album into a musical production entitled, Rattlesnake Kate, which had its World Premier at the DCPA in February 2022.Neyla wrote the music and lyrics, and garnered a Best Supporting Actress Henry Award for her portrayal of the cello playing horse, Brownie. She recorded a companion EP entitled Western Woman released in June, 2023. Neyla is a proud member of Sweet Adelines International and The Barbershop Harmony Society, two organizations that nurture the craft of Barbershop Quartet Singing.

Any upcoming plans to share or behind the scenes work you're excited to tell us about: I have some exciting and unique live shows lined up in support of my Western Woman EP in the new year. Additionally, after an exhilarating experience of putting together the stage version of Rattlesnake Kate, I have begun work on a new musical based on the life of Adelaide Herrmann, a headstrong, fearless, ambitious magician who performed all over the world at the height of "The Golden Age of Magic."

Website: www.neylapekarek.com

Get Social: Instagram, Linktree, Facebook
---
No Signal
Band Lineup: Riley Schmelzer (He/Him) - Vocals, Guitar, Keys. Jake DeMarco (He/Him) - Bass. Nic Kubes (He/Him) - Drums

Colorado Home: Boulder

Formed: 2017

Latest Release: Distorted Reality LP, Aug 25, 2023, No Label Productions

About: Colorado-based alternative rock band, No Signal, builds a world of conceptual, dark, genre-bending music, pulling you into their captivating universe with strong lyricism and unique sounds. Led by 21-year-old Riley Schmelzer (vocals, guitar, keys) and backed by Jake DeMarco on bass and Nic Kubes on drums, No Signal proves to be a force to be reckoned with. Their new full-length album, Distorted Reality due for release on August 25, showcases the young band's ability to seamlessly blend deep illusionment, entrancing transitions and intricate conceptual elements within each song.

Distorted Reality picks up right where the band left off with their previous project, venus (February 2022), encompassing the fusion of alternative, rock, and progressive elements, creating a truly unique and immersive experience. From the very beginning, Riley has kept his eye on the prize, constantly striving to break new sonic ground. The young visionary brought in the best of the best to help on this record: the revered 7-time GRAMMY-winning audio engineer Brian Vibberts (Aerosmith, Alice In Chains, Billie Eilish, Bon Jovi, David Lee Roth, Elton John, Green Day, Michael Jackson), 3-time GRAMMY-winning producer David Bottrill (Peter Gabriel, Godsmack, Muse, Mastodon, Tool, Stone Sour) as an executive consultant on the LP's focus track - entropele, and highly acclaimed GRAMMY-winning audio engineer Alex Psaroudakis (Amy Grant, Celine Dion, Cher, Kylie Minogue, Mel-B, Rosalía).

While the story of Distorted Reality is in the eyes and ears of the beholder, Riley explains that this record presents a collection of new, individual tales within a meticulously constructed universe, portraying the overarching themes woven into each of their projects, flooded with vivid metaphors and distinct rules. "Each story is richly visual and intricately detailed, interconnected in various ways, with some narratives sharing stronger connections than others," Riley shares. "While this album is one of our most conceptually driven works, we have intentionally offered the listeners greater freedom to explore and engage with the music, allowing their own interpretations to shape the experience as well."

Leading up to the album, No Signal released a number of singles, offering a look into the full project to come. The first single from Distorted Reality is "PSD" (2021), combining elements of soft ambience and strong harmonies that push the boundaries of rock.  The record's second "Jane" (September 2022), arrived accompanied by a visually entrancing music video with incredible VFX by Tom Fisher, known professionally as Glass Void (Korn, Super Future). "Jane" is the quintessential introduction to No Signal's arena-sized rock sound, pulling the listener in. "Embers," was released in November 2022 and brought listeners back into their infectious energy. "Embers is a metaphorical journey of moving on from the past," explains Riley. "The embers represent the things you want to leave behind, ignited by the fire that pushes you to move forward. They surround you, setting ablaze the world ahead as you strive to escape the flames. Your goal is to let go of these omnipresent embers, leaving them behind in your life."

The final look into the album before its release was "Cloud 1," released on July 21. The track explores the juxtaposition between dystopian and utopian perspectives on humanity's trajectory into the future. "It speaks to our simultaneous flirtation with greatness and our looming potential for failure and destruction," states Riley. "Simultaneously, we find ourselves entering a fascinating era for our species, full of potential and excitement… but regardless of the path chosen, we no longer have the luxury of avoiding change." Although touching on relatively heavy subject matter, No Signal doesn't shy away from acknowledging the complex duality of positive and negative aspects that characterize our present reality: an ever present theme throughout the album.

Their largest project to date, Distorted Reality expands upon the group's roots in alt-rock, touching on different genres and themes. Many tracks on the album are very piano centric, which is a first for No Signal. These songs, with their energetic kinship, create an atmospheric and theatrical ambience different from what you'd expect to hear from the band. With a large range of sounds employed throughout the record, they all blend together when placed into the context of the universe this record creates. "It's new for us," Riley admits. "But it still withholds our own sound, and I hope our existing fans will be thrilled by this progression, and how this truly does feel to be our next chapter."

The highly conceptually driven and intentional album, Distorted Reality, released on Friday, August 25.

Website: www.NoSignal.com

Get Social: Linktree
---
Ramakhandra
Band Lineup:
Annastezhaa (she/her) - Vocals, Harp, Koto
N0bahdee (he/him) - Drums
Eric Estrada AKA Ness (he/him) - Keys, Synthesizer
Clay AKA Clayto (he/him) - Bass

Colorado Home: Denver

Formed: 2018

Latest Release: "Mochi Megazord" (Single), Released Sept 22nd, Self Released

Upcoming Shows: Styles P "Respect My Legacy Tour" (multi-date national tour, dates in link)

About: The sound from the other side of the multiverse, Ramakhandra is a genre-breaking quartet fusing together future funk, neo-soul, jazz, lofi, and more. Like no others who have come before, Ramakhandra is comprised of harpist + kotoist + vocalist Annastezhaa, an Atari synth player Ness, the intergalactic whale of a bass player Clay, and the space-time continuum bending drummer N0bahdee. Together, they push the boundaries of what can be done in the modern music world. They've built up a large fanbase through word of mouth alone.

Any upcoming plans to share or behind the scenes work you're excited to tell us about: Taking over your town so you remember the name; The Respect My Legacy tour sees the living legend Styles P teaming up with the cosmic crew of Ramakhandra to put on a show never seen before. With Ramakhandra performing both as the live band for Styles P and playing a set of their own original music. With support by the Kushedgod himself, Smoke DZA.

The coldest time of year will see the coldest release from Ramakhandra yet as they unleash their Agent M EP onto the world. Full of tracks that usher in a new phase of Ramakhandra's music with their most fully realized artistic vision to date.

Website: https://ramakhandra.com/

Get Social: Instagram, Facebook, Tiktok
---
Summer Bedhead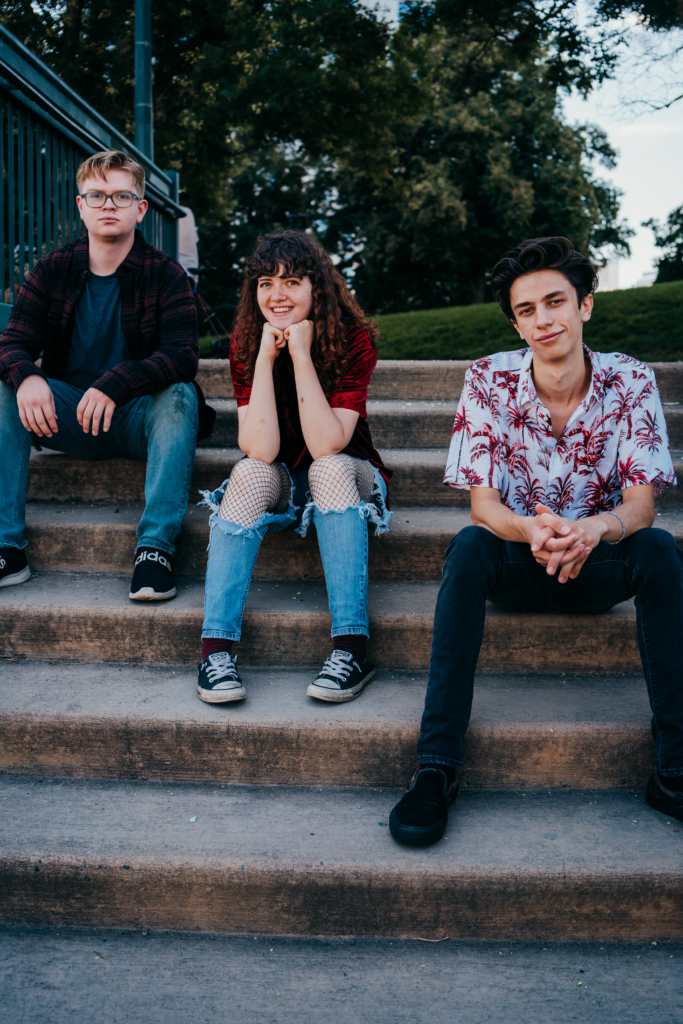 Band Lineup: Summer Green (she/her) - Vocals and guitar. Jacob Burton (he/him) - Bass. Tyler Hamlin (he/him) - Drums.

Colorado Home: Denver

Formed: Oct 2021. We hired Tyler as a temporary drummer for our first gig and just never let him leave. We all had too much fun working together so here we are two years later!

Latest Release: Visitor Parking Only EP, Sep. 21, 2023, Self-Released

Upcoming Shows: December 7th at 100 Nickel with Wombat and the Monkey Man and Keddjra

About: Summer Bedhead's diverse sound ranges from melancholic indie pop to alt-rock with raging and raw vocals. The trio's nostalgic and intimate expression can sometimes make you feel like you're simply overhearing someone in their bedroom as they soulfully sing out their thoughts. Critiquing social norms or emotionally sorting, the lyrics can be contemplative or charismatic and silly like you've walked into someone doing karaoke with their hairbrush.

Any upcoming plans to share or behind the scenes work you're excited to tell us about: We're really excited to start branching out from Denver this year and prepare our debut album: The Body Needs A Break.

Website: www.Summerbedhead.com
Get Social: Instagram, Facebook  
---
Super Bummer
Band Lineup: 
Keenan Vincent (he/him) - Lead Vocals, Guitar
Justin Camilli (he/him) - Lead Guitar, Keys
Tom Austin (he/him) - Bass
Nic Turiciano (he/him) - Drums, Vocals

Colorado Home: Denver

Formed: 2014

Latest Release: Super Bummer, S/T - LP - 9/26/2023 - Self released

Upcoming Shows: TBA - Let us know if you want to play a show or need local support!

About: Super Bummer is a Denver-based indie rock band spinning catchy tunes about loss, depression, unrequited love and dark fantasies of the heart. It takes heavy inspiration from early indie pioneers like Built to Spill and Neva Denova as well as Bay Area underground hip hop weirdos, Why?. It's guitar music that swings from introspective melancholy to rowdy distorted bar bangers and leaves you wanting more with tracks that rarely exceed 3 minutes.

The group is made up of four friends who have played together since high school and the end result sounds like it. The grooves are tasteful and restrained, leaving space for singer Keenan Vincent to lay vulnerable and poignant lyrics down.

Any upcoming plans to share or behind the scenes work you're excited to tell us about: We've been pretty consumed with releasing our self-titled LP earlier this year. After a successful release show at the Skylark Lounge in September, we are excited to start writing/recording new material and playing shows locally. After self producing our more refined full length album, we're looking forward to going back to our lo-fi roots and plan to record our next EP using a Tascam 4 track tape machine.

Website: https://superbummer.bandcamp.com/music

Get Social: Instagram
You made it!
You love learning about new music and the Denver music scene. We have a weekly newsletter for you -- Inside Track. Sign up here to stay in the know about the hottest Colorado concerts and how you can score tickets!