Science Partner at OpenAir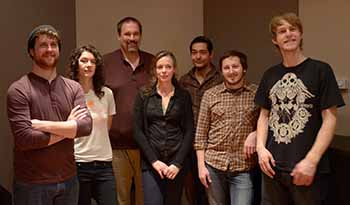 In addition to discussing its origin story with OpenAir host Alisha Sweeney, Denver band Science Partner performs three songs from its most recent album, Rocky Mountain News. The band follows "Animal," with a back to back recital of "Young Patriots" and "Bee Is a Bee" before explaining the album's namesake as a promotion of regional matters and local music in particular. Concurently, Science Partner expresses particular appreciation for the continual support and resources provided by Denver based Hot Congress Records in releasing the album.
To conclude, Science Partner looks toward a future national tour and yet another new album. As a sample of things to come, the band performs the previously unreleased track, "Western Bells," exclusively for this CPR Performance Studio session. 
You made it!
You love learning about new music and the Denver music scene. We have a weekly newsletter for you -- Inside Track. Sign up here to stay in the know about the hottest Colorado concerts and how you can score tickets!