2014 Music Preview: Albums we can't wait to hear
While many of us are still catching up with the prodigious output of must-hear music from 2013, the muses of rock, soul, folk, electronica, and hip-hop continue to exert their cosmic forces on our favorite musicians both young and old. And, as is our moral obligation, we at OpenAir must keep our noses to the grindstone and our ears to the subwoofer to stay ahead of the curve in 2014. 
In preparation for another year of providing listeners with the very best in new music, we've compiled some of the upcoming releases we are most diligently anticipating in 2014. Check them out below, and let us know which records you can't wait to hear!    
(note: Dates are subject to change, and our list is by no means comprehensive. Keep checking back with OpenAir for further new release updates!)
Fans of Olsen's lovely 2012 debut Half Way Home might have been initially shocked by new single "Forgiven/Forgotten." While the former was a primarily acoustic work showcasing Olsen's operatic voice, the latter immediately strikes with guitar fuzz and distorted vocals. It doesn't stick around long, but it's an enthralling 124 seconds leaving us thirsty for more from Ms. Olsen.   
We've come to expect the unexpected from Mr. Hansen, with no two of his albums sounding the same (and one of them, Song Reader, not sounding like anything unless you have someone to read the sheet music). Some early press releases have classified Morning Phase as a psych-rock companion to the melancholy breakup album Sea Change, but we know better than to subscribe to any description until we've heard it ourselves. However it turns out, Morning Phase is sure to spark rabid discussion among alternative rock junkies.
With continuously excellent and forward-looking releases from Blur and Gorillaz, Damon Albarn seems to have discovered the musical fountain of youth. This year he'll release his debut solo record. Details are scarce, but at this point we should expect nothing less than excellence from the prolific Britpop veteran.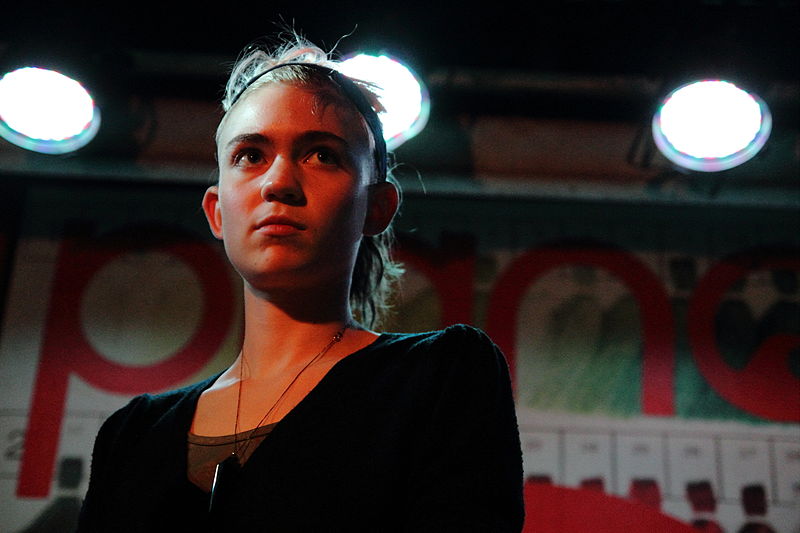 As we continue racking up playcounts on 2012's highly addictive
Visions
, electronica maverick Grimes is hard at work on its follow-up. It's clear Grimes has lofty goals for her fourth full-length: on her
Tumblr account
she writes: "It's important to me that the next album is better than
Visions
technically, but its also really important to me that it has the same heart and soul and isn't rushed." The new album sets the singer/producer up for a major breakthrough, as she recently signed with Jay-Z's management label Roc Nation.
If you're unfamiliar with Mark McGuire (not the St. Louis Cardinals slugger and alleged steroid user, of course), you're missing out. The former Emeralds member crafts vast soundscapes with guitar effects and pulsing beats that propel you headfirst into uncharted musical territory, but always guide you back home comfortably. McGuire's debut for the Dead Oceans label hopes to expose him to a wider audience, and deservedly so. 
It's hard to swallow that it has been seven years since a new Modest Mouse album, 2007's We Were Dead Before the Ship Even Sank, as the world is a sadder place without the music of Isaac Brock. The quintessential indie band canceled a European tour last summer - but for a very forgivable purpose: to record a new album for release in 2014. We Were Dead memorably featured Smiths guitarist Johnny Marr, but this time around, they found a guest a little closer to their Pacific Northwest roots: Nirvana bassist Krist Novoselic, who ambigously described the album as "edgy." Wouldn't have it any other way.
While frontman Jim James' excellent solo record was enough to keep our Jacket fix in check, the news that MMJ were working on a new album last fall was more than welcome. The record will be the follow-up to 2011's Circuital, and James' recent words about his multi-genre band are promising: "With My Morning Jacket we don't put limits on anything." 
Singer and guitarist Annie Clark – or as you probably know her, St. Vincent – puts us all to shame with her productivity. In a recent
NPR interview
, Clark details how she used her time off following a yearlong tour with David Byrne – by writing another album. The eponymous album follows the effervescent
Strange Mercy
. We'll have to wait until February for it, but previews "Birth in Reverse" and "Digital Witness" promise more snaky guitar riffs and unforgettably intrepid lyrics.
The hyperliterate New Jersey punks followed up Civil War-themed epic The Monitor with a utilitarian road record Local Business. Their fourth LP, slated for release this fall, turns up the ambition of The Monitor threefold: singer Patrick Stickles has described it as a 30-song rock opera inspired by Nietzsche, manic depression, and science fiction. As if that weren't enough to get your head spinning, Stickles also claims the band will release a film as a "visual representation" of the album.  
The Philadelphia-based band has been doing more than alright since the departure of guitarist Kurt Vile. 2011's Slave Ambient, their first LP without Vile, was a remarkable psych-rock experience to follow-up the superb debut Wagonwheel Blues. Lead single "Red Eyes" is reminiscent of Neon Bible-era Arcade Fire, awash with shoegaze keyboards and the rambling folkman vocals of Adam Granduciel.
And of course, we're looking forward to releases from: Sharon Jones & the Dap-Kings, The New Pornographers, Swans, Shellac, Esme Patterson, Woods, Black Lips, The Hold Steady, Spoon, Warpaint, Wye Oak, Liars, Real Estate, Belle & Sebastian, Built to Spill, Death Cab for Cutie, The Decemberists, FKA twigs, Broken Bells, Fleet Foxes, Joanna Newsom, Sharon van Etten, Speedy Ortiz, tUnE-yArDs, Future Islands, Mogwai, Phantogram, Morrissey, Sam Smith, Eternal Summers, Wilco, Courtney Barnett, Dum Dum Girls, Tokyo Police Club, Mac DeMarco, and surely many more. 
You made it!
You love learning about new music and the Denver music scene. We have a weekly newsletter for you -- Inside Track. Sign up here to stay in the know about the hottest Colorado concerts and how you can score tickets!