Weekly Music News: Bjork, Sub Pop, Jack White, and more
(Photo: courtesy of the artist)Museum of Modern Art to host Bjork exhibit in 2015
New York City's renowned Museum of Modern Art is set to host a Bjork-themed retrospective next year. The exhibit will draw on the Icelandic singer's output from her 20+ year career including excerpts from her work in music, film, dance, costume, and live performance. "This highly experimental exhibition offers visitors a direct experience of her hugely collaborative body of work," says MoMA's Klaus Biesenbach. It will run from March 7 through June 7, 2015. [via Time] 
Sub Pop launches digital music subscription service
Iconic Seattle-based record label Sub Pop, home to Nirvana, Fleet Foxes, Father John Misty, and many more, has launched a digital subscription service through the Drip.fm platform. Subscribers will receive each new Sub Pop release via email on its release date, as well as select material previously released. Sub Pop is not the first to debut this type of service, as Dead Oceans, Stone's Throw, and Domino are among those labels with already existing digital subscriptions available. [via Pitchfork]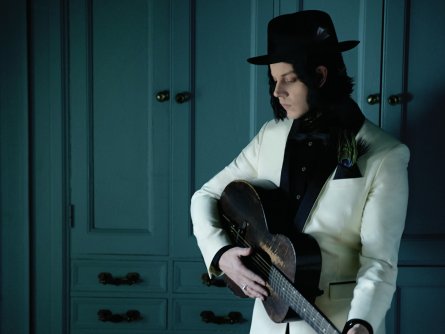 (Photo: courtesy of the artist)Jack White breaks vinyl sales record with "Lazaretto," gets signature ice cream flavor
Blues-rocker and guitarist extraordinaire Jack White, who headlined Saturday night of last weekend's Bonnaroo Festival, moved over 40,000 vinyl copies of his second solo album "Lazaretto" in its first week of release. That number broke the previous record of 34,000 for most vinyl albums sold in the first week of sales owned by Pearl Jam's "Vitalogy" in 1994. Additionally, White was honored this week with his very own ice cream flavor in Australia. Gelato Messina debuted the "Jack N' White" line boasting caramelized white chocolate, pecans, fudge, and a shot of Jack Daniels whiskey as an homage to White's Tennesee headquarters. [via Spin]
R.I.P. Casey Kasem
Radio host and voice actor Casey Kasem died on June 15 at the age of 82 after suffering from Parkinson's disease and dementia. Kasem was best known as the host of many notable radio "countdown" shows, including American Top 40 and Casey's Top 40, until his retirement in 2009. He was also a notable voice actor, probably best known for playing Shaggy in the "Scooby-Doo" franchise. A legend in the radio world, Kasem's signature sign-off was: "Keep your feet on the ground and keep reaching for the stars."
Our lives have changed ...
CPR will not compromise in serving you and our community. Vital news and essential music are made possible by member support.
Donate
Hi, you!
You love listening to new music and learning about Denver's music scene. We have a weekly newsletter for you -- Inside Track. Sign up here to stay in the know about Colorado musicians making new music and the new releases you should be streaming.