The OpenAir Third Birthday scrapbook: Scott Carney
With OpenAir's Third Birthday on Oct. 31 approaching, the OpenAir staff looks back on some of their favorite memories at Colorado Public Radio's new music service, and looks ahead to the future.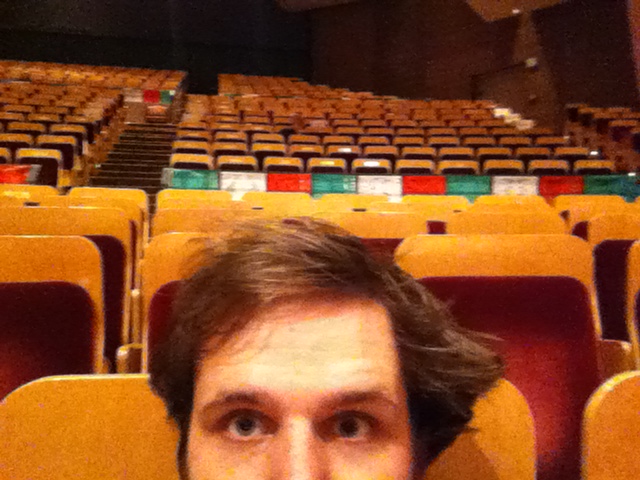 While our performance studio has housed hundreds of bands over the course of our first three years -- helmed by the incomparable David Fender -- two unique sessions took place outside of our confines and remain as some of my favorite OpenAir memories to date:
Father John Misty crashes Jessi Whitten's apartment - November 2, 2012
Due to scheduling conflicts, Father John Misty was unable to stop by our CPR Performance Studio before headlining a sold-out show at the Bluebird Theater.
Undeterred, our crew tried to set up a remote broadcast at the theater itself, but due to wireless connectivity issues, things were not looking promising. Jessi Whitten - ever the quick thinker - offered up her apartment as an alternative spot for the session, only a few scant blocks away.
With acoustic guitar in tow, Father John Misty caught a ride over and performed two songs off his then recently released album "Fear Fun." Seeing Josh Tillman belt out his songs on a red suede couch in front of a couple of people, knowing that he would soon perform for hundreds more, made for an extremely enjoyable, albeit surreal performance.
Spending a day with The Lumineers - September 12, 2013
Before the Lumineers played two sold-out shows at Red Rocks with the entire Colorado Symphony, they practiced at the Boettcher Concert Hall...and we were given exclusive access to film it.
We hit the road and spent the entire day in and around the venue, capturing audio and video with our equipment. Like Father John Misty's session, seeing a band like The Lumineers perform to a nearly deserted Boettcher Concert Hall was stirringly surreal.
You made it!
You love learning about new music and the Denver music scene. We have a weekly newsletter for you -- Inside Track. Sign up here to stay in the know about the hottest Colorado concerts and how you can score tickets!