The OpenAir Third Birthday scrapbook: Alisha Sweeney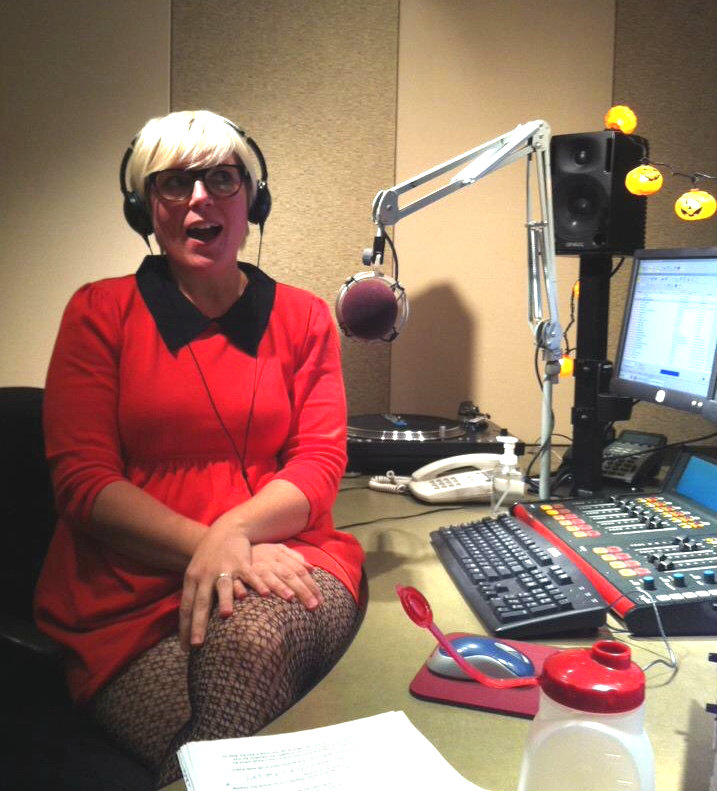 (Photo: CPR/Hart Van Denburg)I still remember the conversation concerning: "What will be the first song we play on OpenAir?" It was a big deal, a song that would define what we were all about and forever mark our legacy.
As the first host on OpenAir at 6 a.m. on Halloween morning three years ago, I asked: Was it going to be a song to welcome our new audience to the morning?; would it be something spooky because of the holiday?; should I play the first song when I initially became a radio host?
We knew we needed to play the perfect song that represented OpenAir.
While this was going on behind the scenes, some of you may remember the music loop we put together to tell the OpenAir story on our new home at 1340 AM. It was a sampler of our musical variety, narrated by a few of us hosts. It was fresh and exciting, but a change for many Colorado Public Radio listeners who relied on this location on the dial for news.
Our library was built from scratch via epic record buying trips to local shops. From walking down the aisle of the record store and buying whole catalogs of core bands like DeVotchKa, Joy Division and Radiohead, to settling into my desk with my headphones and a stack of records, the whole process was awesome, and our goal was simple: to reflect the best new, local and classic music.
With only a month leading up to the launch of OpenAir, our days were filled with reviewing and cataloging these records, as well as inviting bands into our studio. Bands ranging from Snake Rattle Rattle Snake to Danielle Ate the Sandwich stopped by to perform in our studio in the short time leading up to our debut. We did interviews with Pictureplane and Fishbone.
My first studio session was with Paper Bird. I sat down with all seven members after their fun performance for an interview. We talked about the collaborative spirit of Colorado bands including other groups some of them play in, and I remember they told me a story about busking across the country to get from city to city on tour.
The most memorable bit from my time with the band on that day was how playful they were when they were performing together. They made each other laugh, especially when they improvised during a few of their songs; one even included a nod to Colorado Public Radio.
Fast forward to 6 a.m. Monday morning on October 31, 2011. So what was going to be the first song in the OpenAir? For a few days I was convinced that it would be Arcade Fire's "Wake Up," but that was ultimately played second.
Our fearless program director, Mike Flanagan, was determined to select a song that represented all aspects of our mission -- new music discovery, a celebration of local music, and our fabulous performance studio.
When we went live that morning we chose Paper Bird's "Colorado." And it was indeed the best choice.
Listen to the first ever OpenAir break, featuring Paper Bird, below:
You made it!
You love learning about new music and the Denver music scene. We have a weekly newsletter for you -- Inside Track. Sign up here to stay in the know about the hottest Colorado concerts and how you can score tickets!