After Denver teen's death, police chief steps up community outreach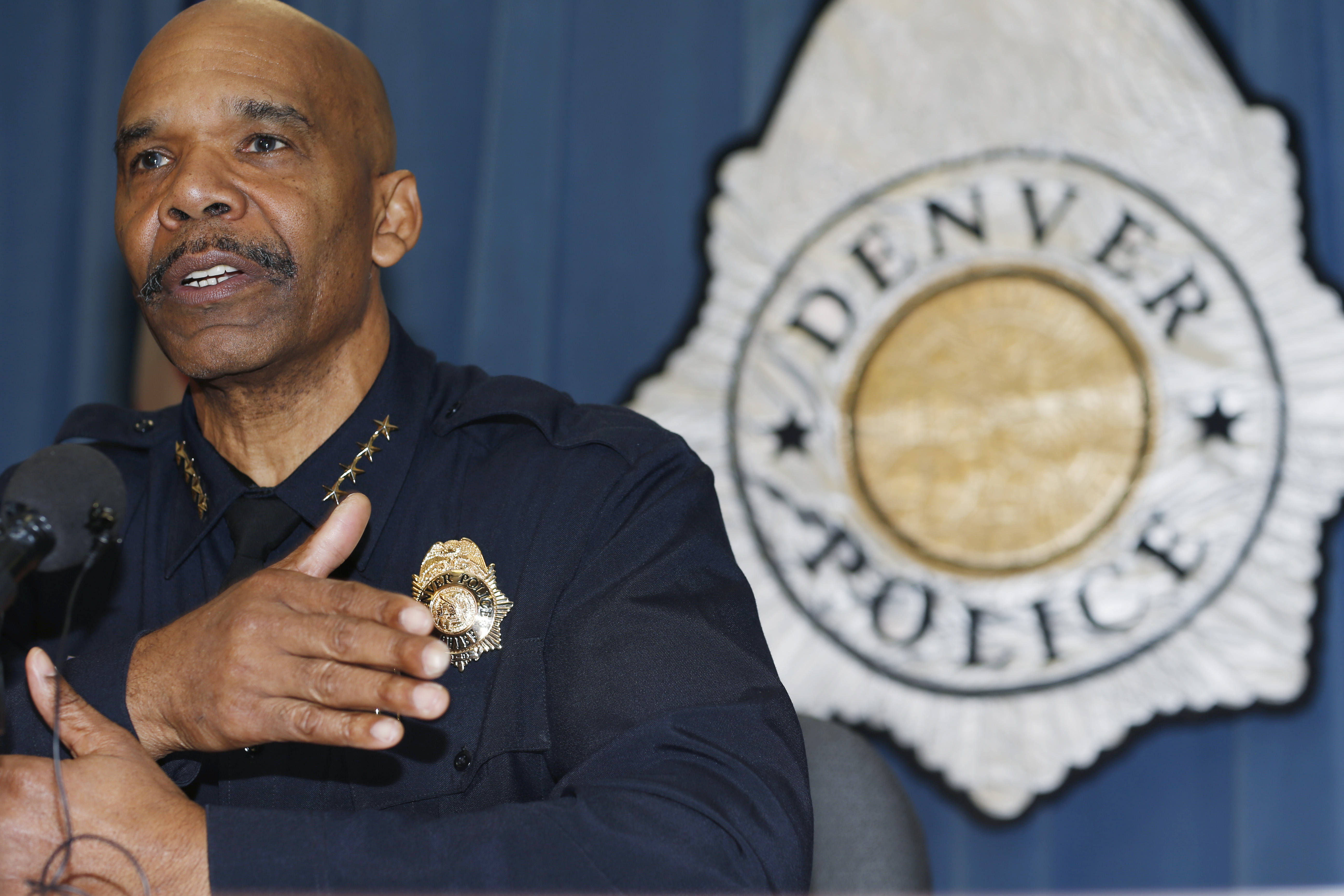 Denver's police chief and colleagues from the region repeatedly asked at a community forum Tuesday for help stamping out bad policing.
Chief Robert White, who has stepped up such community outreach since his officers killed a 17-year-old girl early this year, sparking a series of angry protests, listened for two hours as Denver-area residents described encounters that have left them wary of police.
"We need your eyes and ears," White said, urging those with complaints to come forward quickly.
Tajh Fisher, 24, was a teenager walking near his central Denver home when he said an officer stopped him and seemed intent on escalating the encounter into a confrontation. Fisher was not arrested and his mother later called his local station to complain, but never received a call back.
Fisher said the experience still colors his opinion of police, and that like many other young black men he has been repeatedly stopped since. He said he has managed to defuse tension by being respectful, even if he thinks he should not have been stopped.
"I still get nervous when I see the lights. I hope that stops," he said.
Pastor Chris Hill, who organized the forum in his Denver-area church of the national Potter's House network, told White and five other top law enforcement officers seated on stage that people like Fisher carry such experiences for years.
"Then you wonder why you have an explosion," he said.
In an interview before the forum, Hill said he hoped that as leader of a multicultural congregation of 7,000 that includes a large number of police officers as well as of teens and young adults, he could help start a healing conversation.
About 600 people, many of them black, offered a warm welcome to White and other law enforcement officials. The meeting ended with the six top officers holding hands, heads bowed, as Hill offered a prayer for peace.
Hill, who is black, said his police officer father was seriously injured on duty years ago. He said his son, a 20-year-old Howard University political science major, doesn't like to visit home because he feels targeted by Denver police because of his race, saying he gets pulled over more in Denver than when he is at school in Washington, D.C.
Since January, White has attended several meetings like the one at Potter's House, some organized by community activists, politicians and church leaders. In January, Jessica Hernandez, a suburban Denver high school student, was shot while driving a stolen car in an alley. According to police, officers approached the car and opened fire after Hernandez drove at an officer, who suffered a leg fracture.
(AP Photo/David Zalubowski, File)
The department is investigating, but Hernandez's family wants a federal probe. Colorado lawmakers are considering having special prosecutors, rather than local district attorneys who work daily with police, determine whether charges should be filed in such cases.
Denver has about eight officer-involved shootings a year, according to the district attorney's office. Only three — two fatal — led to criminal charges in the past 40 years, all decades ago.
After Hernandez's death, White said he wanted to create more opportunities for officers to interact with the community.
Chuck Drago, a police practices consultant and former chief in Oviedo, Florida, said community policing works, but shrinking budgets have meant cuts in manpower and time police can devote to building bridges.
"I think we're seeing the symptoms of that across the country" in complaints about police brutality, Drago said.
In Denver, officials note that community policing requires adequate staff in a city that had to freeze training at its police academy from 2008 to 2013.
White, who is black, came to Denver in 2011 after top positions in Washington, D.C.; Greensboro, North Carolina; and Louisville, Kentucky. His civilian boss, Denver safety department director Stephanie O'Malley, is only half joking when she says White is so eager to reach out that he'll give his mobile telephone number to just about anyone.
O'Malley acknowledged White has had to win over rank-and-file officers who face a cultural shift. They are being encouraged to use alternatives to deadly force even when such force might be justified.
You care.
You want to know what is really going on these days, especially in Colorado. We can help you keep up.  The Lookout is a free, daily email newsletter with news and happenings from all over Colorado. Sign up here and we will see you in the morning!