Poll Suggests Rural Coloradans Support Sage Grouse Protections
Bureau of Land Management and U.S. Forest Service plans to protect the greater sage grouse by preserving its habitat across millions of acres in the West have found support among rural West residents, including Coloradans, according to a new poll.
The non-partisan Pew Charitable Trusts commissioned the poll of 600 voters in all 11 Western states with sage grouse habitat -- California, Colorado, Idaho, Montana, North Dakota, Nevada, Oregon, South Dakota, Utah, Washington and Wyoming. More than 60 percent of the respondents said they backed the plans announced earlier this year to increase the bird's population -- even if it means restricting oil and gas development.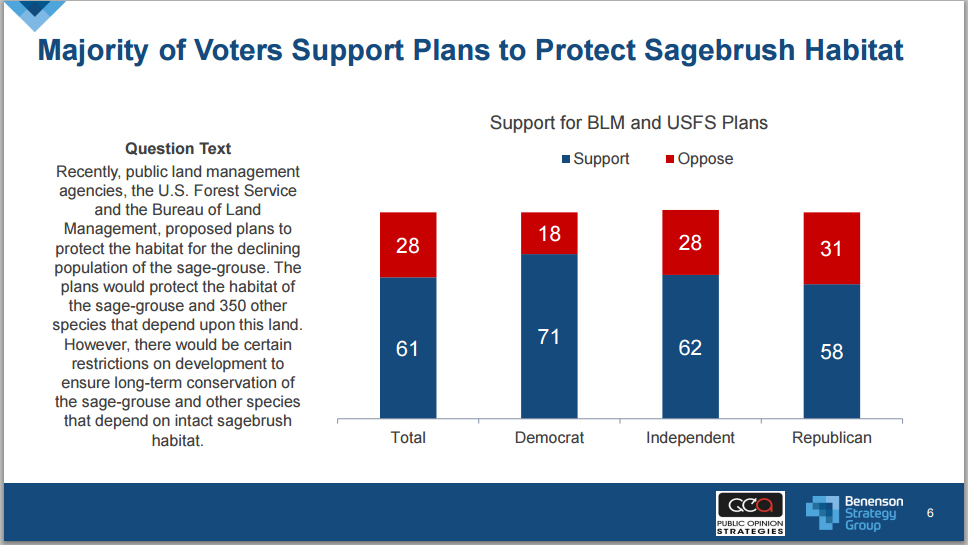 (Courtesy Benenson Strategy Group, Public Opinion Strategies, Pew Charitable Trusts)
The plans may help keep the grouse off the Endangered Species List. It once numbered in the millions, but now has dwindled to 200,000 to 500,000 birds. The U.S. Fish and Wildlife Service must decide whether the bird warrants protection by Sept. 30, 2015.
While they may have popular support in this poll, the plans also have many critics. Those include the Garfield County Commissioners, who say the BLM plan in particular unnecessarily restricts the use of -- and closes off -- public lands.
The county's protest letter says the federal plan, released in May, doesn't factor in the "unique geography and naturally fragmented habitat in Garfield County." 
"We have spent hundreds of thousands of dollars on this," said Commissioner Mike Samson. "But it was necessary that we do this. I wish – I don't want to say this – I wish the federal government would help us instead of hinder us. I'll leave it at that."
In May, Gov. John Hickenlooper said his office would help protect the greater sage grouse with an effort that allows farmers and ranchers to enroll in "habitat exchanges," where they would earn credits for improving grouse habitat. They could then sell the credits to companies seeking to offset their projects' impact on sage grouse habitat.
You care.
You want to know what is really going on these days, especially in Colorado. We can help you keep up.  The Lookout is a free, daily email newsletter with news and happenings from all over Colorado. Sign up here and we will see you in the morning!