Sage Grouse Won't Be Listed Under Endangered Species Act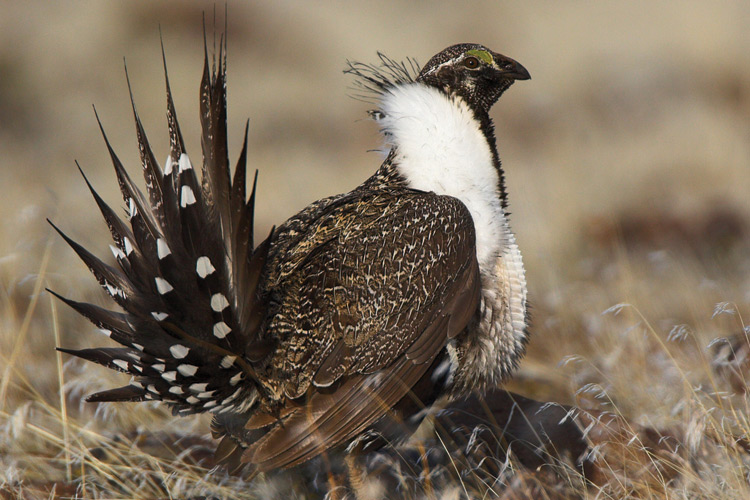 After years of work and hundreds of millions of dollars in conservation efforts, the U.S. Fish and Wildlife Service has decided that protection of the greater sage grouse is not warranted under the Endangered Species Act.
The move prevents millions of acres of grouse habitat across 11 western states from scrutiny under the lens of the ESA. According to one widely accepted study, it's estimated that billions of dollars in economic output could have been lost if the bird was listed under the ESA.
In terms of future conservation efforts, Brian Rutledge, executive director of Audubon Rockies, said listing the bird under the ESA would have been divisive.
"I've had several governors say to me if it's a federal burden, it's not my problem," he said. "That's not the mindset we need for good conservation. What's required for good conservation is collaborative concern."
That kind of friction, including complaints about uncertainty and lawsuits, followed the ESA listing of the Gunnison sage grouse in southwestern Colorado last year. Gov. Hickenlooper said in May that a greater sage grouse listing would have a "significant and detrimental economic impact to the state."
Rutledge coordinated closely with the state of Wyoming, ranchers, the energy industry and environmentalists to coordinate a protection plan for the bird in 2011. A key part of that plan was getting oil and gas developers to use more directional drilling, which resulted in less fragmented habitat for the bird.
In Colorado, conservation efforts have been going on for years. Most recently, Hickenlooper sought federal approval on a habitat exchange marketplace, in which ranchers conserve land and sell credits to would-be buyers like energy companies.
Tuesday's decision was a blow to some groups working to protect the chicken-sized bird.
"We really consider that a very discouraging development from the Fish and Wildlife Service," said Travis Bruner, executive director of Western Watersheds.
In particular, Bruner is concerned about federal plans to protect the bird on Bureau of Land Management and U.S. Forest Service lands. Almost half of sage grouse live on federal lands.
"The resource plans are essentially planning to plan later down the road," said Bruner, who wants to see a clear timeline for putting plans in place.
Refresh this page for updates.
You care.
You want to know what is really going on these days, especially in Colorado. We can help you keep up.  The Lookout is a free, daily email newsletter with news and happenings from all over Colorado. Sign up here and we will see you in the morning!