Boulder's Fox Theatre Celebrates 25 Years Of 'The Best Shows, The Most Fun… And Scratching Out A Living'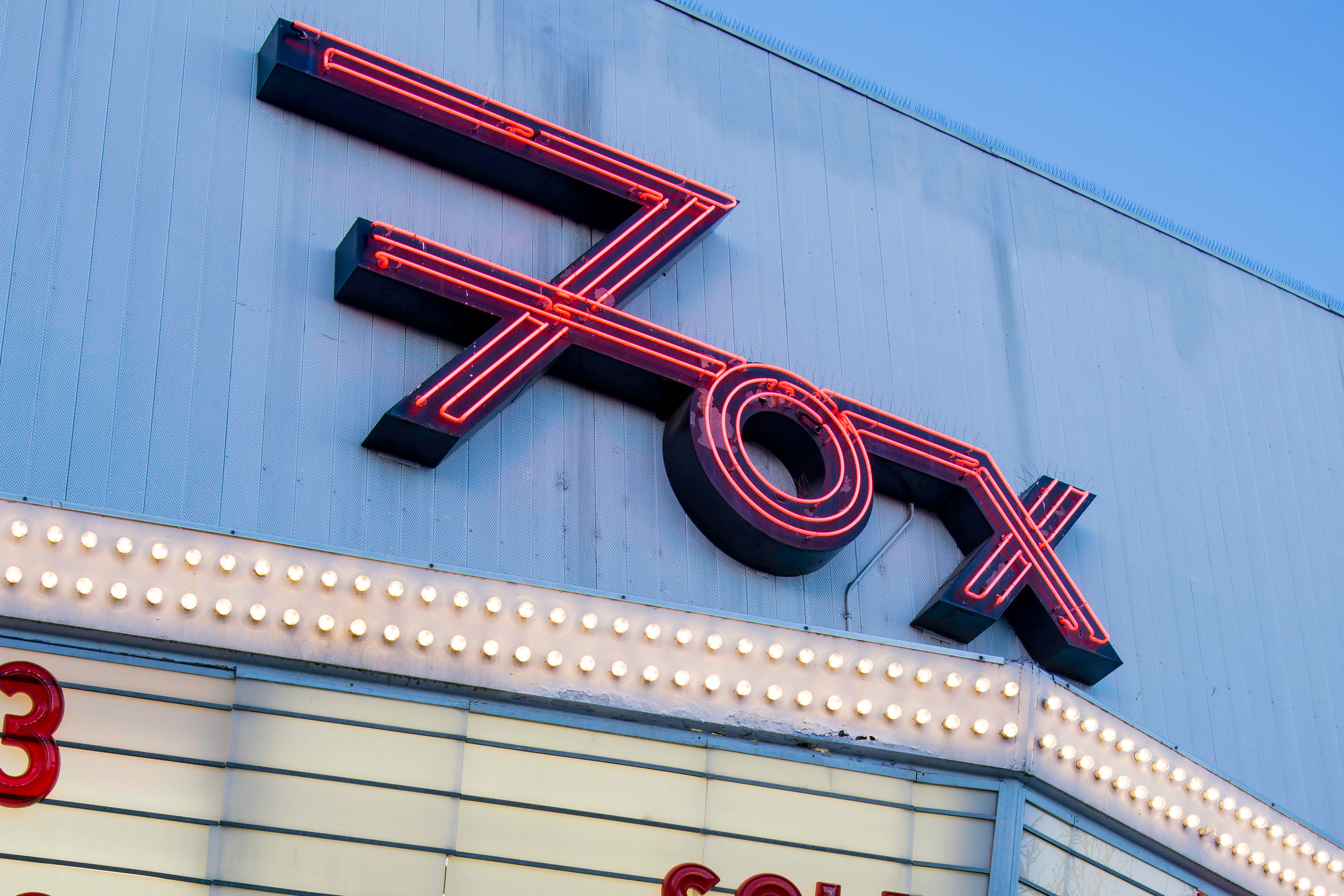 In the Fox Theatre's first year, 1992, blues titan Albert King performed just months before he died.
In yet another tale from 20-odd years ago, Fox co-owner Don Strasburg clearly remembers when managers for Willie Nelson and Bonnie Raitt fought over who'd go on first. It was a late night, and they feared a dwindling crowd. Strasburg darted back and forth from the greenroom to Nelson's tour bus trying to negotiate with each side until Raitt's team finally conceded.
"We promised she would be on no later than midnight, she hit the stage at 12:05. Pretty close," he says. "Bonnie played to a packed house and had an awesome time."
Then there's the time Strasburg spotted David Byrne of Talking Heads bicycling — his preferred transportation — through the streets of Boulder before a solo gig. Or My Morning Jacket's Halloween show dressed as the Ghostbusters. And it's hard to forget the time Strasburg played pinball with Thom Yorke of Radiohead.
Perched on The Hill in Boulder for 25 years now, you can't imagine all the stories found inside the walls of the Fox Theatre.
For Strasburg, it all started with weekend trips from Colorado Springs to Boulder. The New York native promoted concerts as a student at Colorado College, but the real action wasn't in either of the state's two biggest cities.
"Downtown Denver was not really as vital as it is today, this was pre-Coors Field and there were a few clubs down there," he says. "Boulder was the epicenter of everything that was cool."
The Fox has grown a lot since it's early days as a rock 'n' roll haven for what Strasburg called "a bunch of hippies in the early 1990s."
"We felt like the other places were being run by people who didn't actually care about the (live music) experience and didn't understand it," he says. "We wanted to go to a place where we felt welcomed, so we built it."
And the big names came.
Sublime. Coldplay. Widespread Panic. deadmau5. De La Soul. LeftoverSalmon. The Motet. Rose Hill Drive. Drive-By Truckers. Dave Matthews Band. Jurassic 5. Jorma Kaukonen. Ween. Steve Earle. Built To Spill. Goo Goo Dolls. George Clinton. The Felice Brothers. The Lumineers (at the time a little Denver band on the verge of international acclaim). And...
Honestly, to list everyone would probably take another 25 years.
Musician Kyle Hollingsworth first saw the String Cheese Incident play at the Fox and the set blew him away. He reached out to the Colorado bluegrass band and they started jamming together. That led to Hollingsworth joining String Cheese on the keys, and the new lineup soon found itself back at the Fox.
"I feel like it's the biggest small venue in the country," he says. "One of the best things about the Fox is the sound quality. You can be in the audience and hear every instrument, and the PA is tuned perfectly."
It's the kind of place that favors attention over ornamentation. The front of the house looks more like a black hole than it does the Taj Mahal, intended to draw your eyes directly to the stage.
"There are many beautiful venues that are just stunning," Strasburg says. "But it doesn't account for the quality of the sound. You're going to listen that should be the most important thing first."
Photographer Lisa Siciliano started as a cocktail waitress when the Fox opened. She got to see acts before they were famous and "some you didn't even know they'd be famous."
"I waitressed Dave Matthews at one of his first shows, and there were like 150 people here," she says.
Siciliano kept her camera above the bar. As soon as headlining bands left the stage, she'd make a split decision to either serve a few more drinks or photograph the band's encore. That experience led to house photography gigs at other venues like Red Rocks and the Bellco Theatre.
"Instead of going to photography school, I learned here," she says.
It's a collective learning experience shared by employees and bands alike. Philly's G. Love & Special Sauce played here on their first U.S. tour, stopping in Boulder on a Saturday night in 1994.
"We just blew the roof off the place," says G. Love. "It was such a special night for us, the crowd was electric."
Soon after they got off stage, Strasburg asked the musicians to play again the next day. The band agreed without hesitation.
"It solidified this amazing connection we've had with Colorado in general," he says. "It all started there."
The Fox Theatre's mission statement was to "put on the best shows and have the most fun and try to scratch out a living doing it," Strasburg says. "We needed to survive and live and pay the bills, which we barely did."
Co-president of AEG Live Rocky Mountains and co-owner of Z2 Entertainment, Strasburg is considered one of Colorado's top concert promoters. Operating both the Fox and the Boulder Theater, and booking shows for the Chautauqua Auditorium, gives his team widespread reach in and around Boulder.
Strasburg and Z2 Entertainment have taken some heat for their hold on the scene — especially with another music institution, Tulagi's on The Hill, having long since gone.
"The reason we made the merger (with the Boulder Theater) was we were not going to survive," he says. "We were just going to go out of business because we were beating the crap out of each other."
The deal, Strasburg says, allowed Z2 to maintain reasonable ticket prices and take risks by showcasing some talent that may not have the biggest draw.
"What we did at the Fox 25 years ago has resonated into the entire Colorado music community and made it stronger because of those expectations we created," he says.
The Fox Theatre lit its marquee March 6, 1992. With a stacked lineup booked to celebrate that anniversary, it seems the music won't stop anytime soon.
You care.
You want to know what is really going on these days, especially in Colorado. We can help you keep up.  The Lookout is a free, daily email newsletter with news and happenings from all over Colorado. Sign up here and we will see you in the morning!