Methodist Court Rules Openly Lesbian Denver Bishop Violates Church Law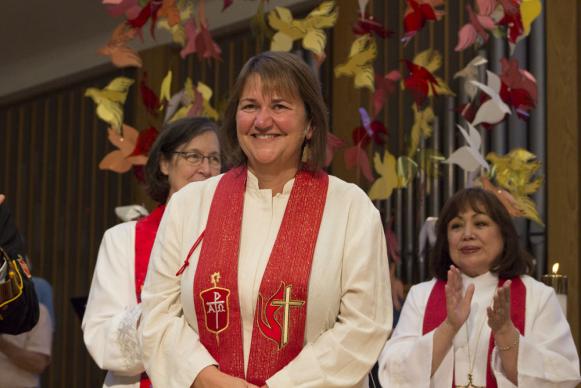 The first openly lesbian bishop in the United Methodist Church can stay on the job for now, but she is subject to a disciplinary review that could lead to her removal, the top church court ruled Friday.
Bishop Karen Oliveto's civil marriage to another woman violates church law that bars clergy who are "self-avowed practicing homosexuals," the Judicial Council said. However, a decision over whether she can remain in the position must come from a separate disciplinary process, the court ruled.
Oliveto was elected last year to lead a Denver-area church region that is part of the Methodist Western Jurisdiction, which has rejected the denomination's position that "the practice of homosexuality is incompatible with Christian teaching." 
"We are now marching off the map," Oliveto said last year at Park Hill United Methodist Church in Denver, where she gave her first sermon as bishop. "Today, we find ourselves in uncharted waters." Listen to her full sermon here.
"It is controversial, and God is doing a new thing," she told Colorado Matters last year. "And yeah, there's some people tilting their head, 'What is this?' But I have to say that, for the most part, I was warmly received. And you know, we're going to move into this together. There was great hospitality, very, very generous hospitality."
The ruling Friday was by a 6-3 vote. Oliveto said she felt "grateful" for the chance to remain as bishop as she and other church leaders study what the decision means for her future. Bruce Ough, president of the Methodist Council of Bishops, said the decision would not ease "the disagreements, impatience and anxiety" in the church, but he appealed to church members to stay unified.
You care.
You want to know what is really going on these days, especially in Colorado. We can help you keep up.  The Lookout is a free, daily email newsletter with news and happenings from all over Colorado. Sign up here and we will see you in the morning!