Can Ads Help The Colorado Outdoors Compete With YouTube Or Xbox?
Marketers behind this summer's toys and video games have some new competition in Colorado. A new campaign called Generation Wild aims to use the magic of advertising to get kids off their screens and out the backdoor. It's the brainchild of Great Outdoors Colorado.
The $4.3 million, four-year campaign is aimed at folks like Denver mom Frances Gallardo. With school out, Gallardo worries her kid will spend the summer glued to a screen.
"They get possessed by TV and games and stuff, so I try not to let him watch TV or play games so much," she says while picking up her 8-year-old son, Jorge, from his last day of school at Godsman Elementary in West Denver.
She takes Jorge to the park when she can, but it's tough. She's a single mom and won't let him play outside without supervision. The idea of camping makes her nervous.
"I am very protective of my child," she says. "He's my only one."
That kind of fear around outdoor play is a concern for Chris Castilian, who directs Great Outdoors Colorado. The agency uses lottery money to pay for outdoor recreation projects.
"Kids are overscheduled, over-screened and overprotected these days," he says.
In 2003, the University of Michigan found kids spent just 4 to 7 minutes a day messing around outside. Those numbers measure activities like spontaneous tag, not soccer practice.
The decline has effects beyond giving adults something to complain about. Psychologists with the University of Colorado Boulder found kids who have regular access to less structured activities — like reading a book or wandering the zoo — have an easier time setting goals.
"What we're trying to do is change the mindset about what you do when you have a free moment," Castilian says. "Is it naturally to pick up your phone or naturally to walk down the street to a park?"
The ad campaign's hook is a list of 100 things kids should do before they turn 12 years old. Most of the activities are fairly inexpensive and easy for parents. Each ad corresponds to a number on the list.
Number 1, for example? Skip rocks. Number 5? Roll down a hill. And Number 97? Ride a horse.
"We're going to compete with brands like Xbox. And those things are OK, but we think the outdoors are every bit as cool as those brands," says Mike Sukle, who leads Sukle Advertising & Design, the agency that developed the campaign.
To prove his point, Sukle's team is redesigning bus stops into unconventional ads. You can talk through a pair of tin cans linked with a string at one, or pop a wheelie on a bike at another.
"People get to go and interact with them and play," he says. "We think if we can get kids to interact with them, they'll be like 'That was fun. That was cool. Why don't I do that more often?'"
GOCO has partnered with Colorado Parks and Wildlife, the Boys and Girls Club, REI and libraries across the state to help connect with kids. Those groups will be handing out Generation Wild stickers and chalk stencils. Sukle hopes kids will buy into the brand and cover the state with the logos.
As fun as all that sounds, kids aren't really Generation Wild's target audience. Their moms are.
"They are kind of the nurturers, organizers, schedulers, the role modelers, the networkers," says Dan Schultz, who's working on the campaign with Sukle. The agency is far from the first to target moms. Brands from Tide to Whole Foods have long sold to moms because they tend to be the gatekeeper of their family's time and income.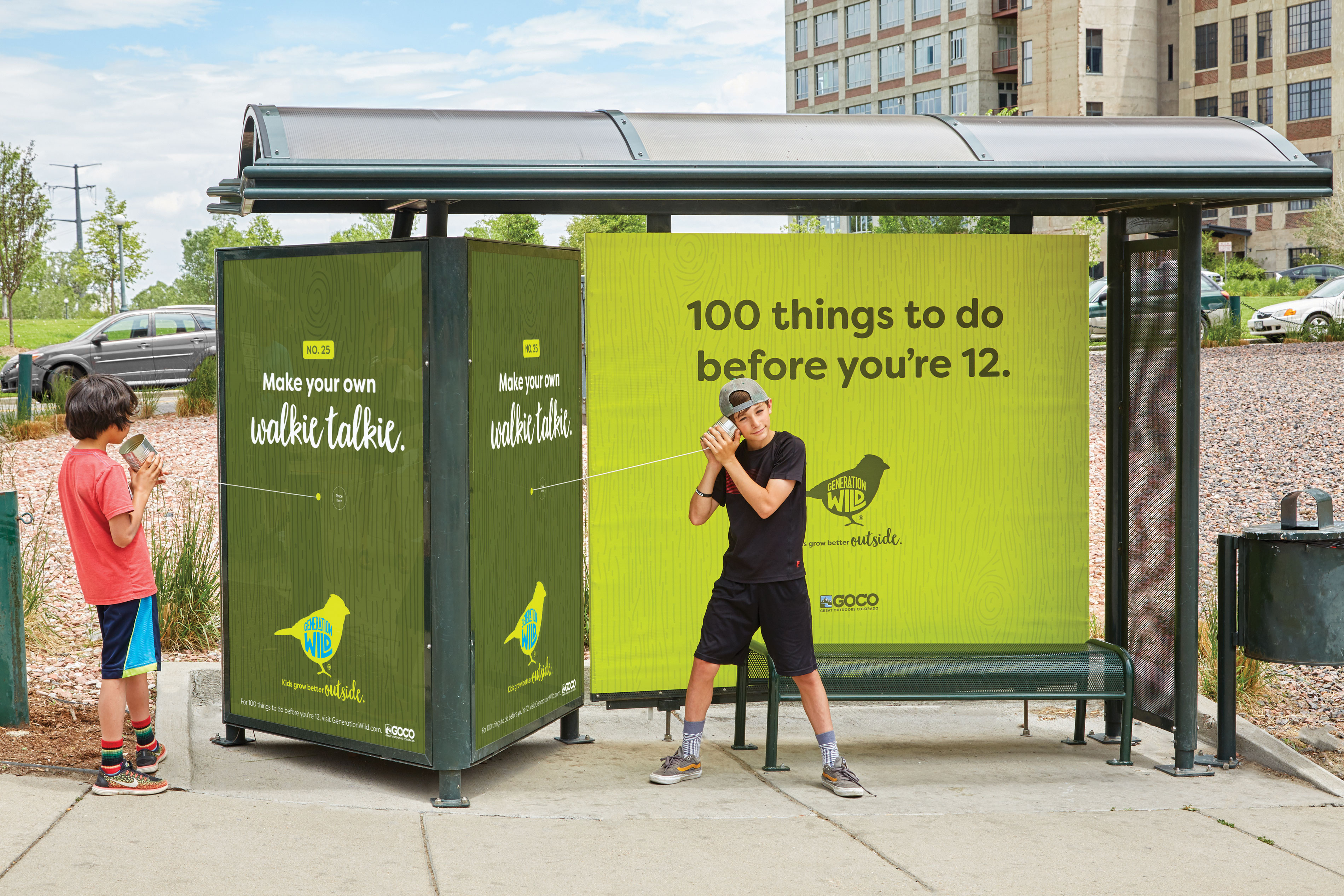 But Generation Wild is selling habits, not products. So Sukle interviewed moms across Colorado to figure out a strategy for the GOCO campaign.
"When you start talking about it in their own experiences from childhood, they love those things and they want those experiences for their kids," says Schultz. That's why the agency went for a list of simple experiences. It's meant to give moms ideas, but also stir up nostalgia.
Chris Castilian of GOCO challenged that strategy at first. He says his mom was the one that pushed him out the front door, but his dad showed him how to ski, fish and camp.
He was won over by research on the power of moms to set family habits. The campaign was designed with moms in mind and will be pushed out through their social networks. Still, Castilian is glad the marketing doesn't exclude fathers.
Erin Masich, a Denver mom who participated in those focus groups for Generation Wild, likes the final result.
"It was gratifying to see a campaign that played on that — that you can start with small experiences that in the minds of children can become pretty big things that can be pretty life changing," she says.
Masich could be a poster-child, or poster-mom as it would be, for Generation Wild. She often takes her 4-year-old son, Charlie, to play in Cherry Creek below a Denver recycling plant.
Charlie's trips to the creek have had some impressive results, even by adult standards. He once found what looked like a log sticking up out of the water, "But then we donated it to the museum, and then it was a mammoth tusk!"
That's right. Charlie found a fossilized tusk. In industrial Denver. It's now archived at the Denver Museum of Nature and Science.
That's pretty cool, even if finding a fossil is not on the Generation Wild list. Still, that's the point. The list is a starter kit. Plenty of additions are available outside.
You care.
You want to know what is really going on these days, especially in Colorado. We can help you keep up.  The Lookout is a free, daily email newsletter with news and happenings from all over Colorado. Sign up here and we will see you in the morning!