Colorado At The 2018 Winter Olympics: Alpine Team Boss Says It's Time To Regroup
(AP Photo/Andy Wong)While the U.S. women's hockey team made history with a gold medal, as did the curling team, skaters, bobsledders and freestyle skiers, U.S. Alpine director Patrick Riml began his trek back to Utah before the last ski race of the Olympics was done. He knows he has work to do after the country produced its fewest golds in the sport since 2002, fewest medals since 2006.
In a telephone interview with the Associated Press Saturday, Riml called his men's team's Olympic performance "disappointing" and acknowledged that "we definitely have to rebuild" before the 2022 Beijing Games.
"We need to sit down and let it sink in and do a thorough evaluation," Riml told The Associated Press while traveling by car to Seoul ahead of a flight Sunday. "We have to take a very close look at how we prepare, how the season went, what we have to do better, what went wrong and what we have to do moving forward."
He spoke as the Alpine team event was still being contested, but after the U.S. had been eliminated by Britain in the first round of the 16-nation contest, which Riml described as "from our standards, a little disappointing." Switzerland won that last gold, Austria took the silver and Norway the bronze, leaving each of those countries with seven Alpine medals.
The Americans, meanwhile, finished with three medals from 11 Alpine races: one gold and one silver from Mikaela Shiffrin, and one bronze from Lindsey Vonn.
That total is down from five medals, including two golds, at the Sochi Olympics four years ago, when Vonn was sidelined after knee surgery. In 2010, the U.S. won eight medals, with two golds. In 2006, the full haul was two golds. In 2002, the American count at Alpine was two silvers, both courtesy of the now-retired Bode Miller.
"We had quite a few up and downs," Riml said about the past two weeks. "We had some very strong performances and, in other events, we definitely were struggling."
He said he was pleased with the U.S. women, including having three members of the top seven finishers in the downhill.
But "on the men's side, the performance was disappointing. ... We definitely would have hoped for better results there," Riml said, adding: "Not just talking about medals, but the performances on each day."
The American men had only one top-10 finish in their five individual events, Ted Ligety's fifth in the combined.
Looking ahead to the next Winter Olympics, Riml noted that Vonn and Ligety — who have earned a combined five Olympic medals, including three golds — are not expected to still be competing. Both would be 37 years old.
"We know we have to go into a rebuilding phase and develop some young skiers," Riml said, "and hopefully next time around, we can be competitive and perform on a high level."
Here's how Coloradans at the Winter Olympics fared:
Andringa finished fifth in Moguls. Canada's Mikael Kingsbury won the gold, Australia's Matt Graham took the silver and Japan's Daichi Hara the bronze. "He's hands-down one of, if not the, greatest person to grace the sport," Andringa said of Kingsbury, The Associated Press reported. "For him not to win a gold medal tonight, I would've been sad."
Berend placed 39th in the men's Nordic Combined on Feb. 20. Coloradans Bryan Fletcher and Jasper Good placed placed 17th and 43rd respectively. Germany swept the event with Johannes Rydzek taking gold, Fabian Riessle in silver and Eric Frenzel with the bronze. On the U.S. men's team with Ben Loomis, Taylor Fletcher and Bryan Fletcher, placed 10th in Nordic Combined Team Relay.
Blunck finished seventh in the halfpipe. American David Wise  successfully defended his gold medal in the men's halfpipe, edging teammate Alex Ferreira. Wise wiped out on his first two runs before sneaking past Ferreira on his third with a score of 97.20. 
Chodunsky finished 18th in slalom. Sweden's Andre Myhrer captured gold after heavy favorites Marcel Hirscher and Henrik Kristoffersen failed to finish the race. The 35-year-old Myhrer finished 0.34 seconds ahead of Switzerland's Ramon Zenhaeusern, who took an unexpected silver medal. Muchael Matt of Austria took the bronze.
Corning had a tough go of things Feb. 11 during the qualifying competition and failed to make the medal round, ending up 9th. "I was doing something in my run the judges really didn't like so we are going to have to look back at my scores and figure out what was going on because, like I say they didn't like something in my room that I am not totally sure about," he told Reuters. "I went first and that never helps. That always sets the bar and then they forget about you."
Dierdorff made it to the snowboardcross final run but ended up in 5th place behind teammate Nick Baumgartner on Feb. 15. Pierre Vailtier of France took the gold, Jarryd Hughes of Australia took silver and Spain's Regino Hernandez claimed the bronze.
David Wise won the gold medal in the men's halfpipe for the second straight Olympics. He wiped out on his first two runs before sneaking past Coloradan and silver medalist Alex Ferreira on his third. It was the seventh gold medal for the U.S. in Pyeongchang, five of which have come at Phoenix Snow Park. Nico Porteous of New Zealand took bronze.
Wise put down the most difficult, technically precise run ever seen in the sport of halfpipe skiing. He and Ferreira gave the United States its fifth and sixth medals on the halfpipe — producing a glimmer of good news for a U.S. team that has struggled at these games.
In Seoul a few weeks ago, Wise and Ferreira huddled up and decided to get matching tattoos of the logo for the Pyeongchang Games on their arms. They were fitting tributes to all the work they put in and the suffering they endured on the road to South Korea.
Fletcher placed 17th in the men's Nordic Combined, the highest place for an American in the race. Coloradans Ben Berend and Jasper Good placed placed 39th and 43rd respectively. Fellow American Ben Loomis placed 40th. Germany swept the event with Johannes Rydzek taking gold, Fabian Riessle in silver and Eric Frenzel with the bronze. On the U.S. men's team with Ben Loomis, Taylor Fletcher and Ben Berend, Fletcher, placed 10th in Nordic Combined Team Relay.
Taylor Fletcher placed 35th in the normal hill/10 kilometer individual event. On the U.S. men's team with Ben Loomis, Bryan Fletcher and Ben Berend, Fletcher, placed 10th in Nordic Combined Team Relay.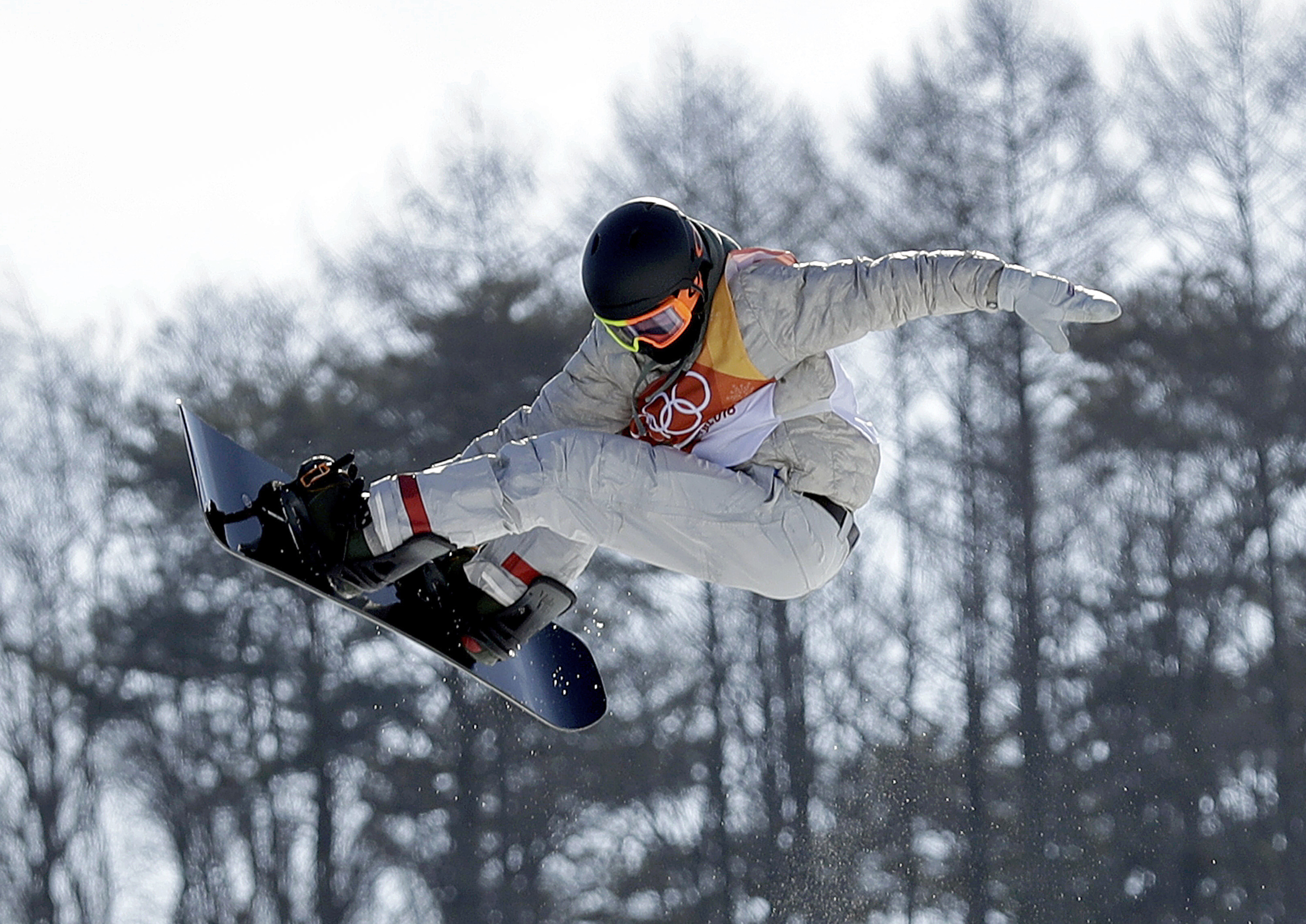 (AP Photo/Gregory Bull)
Gerard, 17 years old and all 5-foot-5 and 116 pounds of him, won America's first gold medal in South Korea, in the men's snowboarding slopestyle competition. Via NPR: "It was awesome. I just told myself that I want to land a run and I was a little bummed on my first two runs because I fell a couple of times," Gerard said, in comments relayed by the Olympics' news service. "I'm just so happy that it all worked out."
The Big Air event turned out differently. Kyle Mack captured silver for the U.S. in the men's event. Canada took the gold after Mack sat down on his third and final jump. Gerard was fifth, two weeks after winning gold in the Slopestyle.
(AP Photo)Partnered with the muscle of Lauren Gibbs, reigning two-woman bobsled world champion Elana Meyers Taylor drove just short in her bid for an elusive Olympic gold, collecting another silver to go with the one she won at Sochi 2014 and her bronze at Vancouver 2010. Mariama Jamanka and Lida Buckwitz of Germany took home gold. Canada's Kaillie Humphries and Phylicia George took bronze.
"It starts with great pushes and Lauren pushed us this week," Meyers Taylor said via the official Olympics news feed. "I had a couple of mistakes so it wasn't a gold medal, but I gave it everything I had and I'm happy with it. It's a very different silver. I'm proud of this medal and I'm going to get up on that podium tomorrow and wear it with pride."
Her brakewoman Gibbs said, "I started this sport four years ago and I tried it out on a whim. I could have never, ever imagined I'd be in the Republic of Korea, so to be walking away with a medal is just incredible."
(AP Photo)
Putting aside the pain and uncertainty of a dislocated shoulder, Steamboat's Arielle Gold claimed an Olympic bronze medal in the women's snowboard Halfpipe in South Korea. "I think putting down that second run definitely took some of the pressure off because I could focus on third run," Gold told USA Today. "My second run felt great, and I knew third run all I had to do was let things go and put it all out there and that's what I tried to do." The gold medal went to 17-year-old Chloe Kim from California. China's Liu Jiayu won silver.
Good 43rd in the men's Nordic Combined. Coloradans Bryan Fletcher and Ben Berend placed 17th and 39th respectively. Fellow American Ben Loomis placed 40th. Germany swept the event with Johannes Rydzek taking gold, Fabian Riessle in silver and Eric Frenzel with the bronze.
Via the Aspen Times, Hamilton fell during his quarterfinal sprint and did not advance to the semifinals. He and teammate Erik Bjornsen placed sixth in the men's cross country team sprint final. Norway won the gold, the Russian team took silver and the French had the bronze.
In the opening game of the tournament, the U.S. Olympic Women's Ice Hockey Team fought back from an early 1-0 deficit to top Finland, 3-1. Hensley wasn't minding the though. Teammate Maddie Rooney got the nod to start. More on that game in Sports Illustrated.
Hensley played a key role in Team USA's 5-0 shutout of the Olympic athletes from Russia on Tuesday. Time magazine reports that teammate Jocelyne Lamoureux-Davidson set an Olympic record for the fastest back-to-back goals by a man or a woman, scoring 6 seconds apart in the second period. 
She was not in the net when Canada beat Team USA 2-1 in preliminary round play.  Reuters called it "a fiery preliminary round clash on Thursday, as one of the great Olympic rivalries was renewed." Canada moves into the knockout round with a perfect 3-0 record in Group A followed by the U.S. at 2-1.
The team advanced to the gold medal game for a third straight Olympics after beating Finland 5-0 in the semifinal Monday. Hensely wasn't minding the net for the game though. That duty-- and shut out -- went to Maddie Rooney. No did she ice time when the team claimed its first Olympic gold medal in 20 years by downing Canada, 3-2 in a shootout.
Hoffman was one of the four members of the U.S. team with an 18th place finish in men's skiathlon, a 30 kilometer course split into halves, part classic and part freestyle. Scott Patterson posted a time of 1:17:27.5, Erik Bjornsen at 1:20:54.7 for 42nd, Patrick Caldwell at 1:23:18.1 for 51st and Hoffman at 1:23:28.7 for 54th.
Hoffman placed 48th, a little more than 3 minutes behind eventual gold medal winner Dario Cologna of Switzerland in the 15 kilometer freestyle. Fellow Americans Scott Patterson placed 21st, Erik Bjornsen was 41st and Tyler Kornfield was 74th. And whe was part of the four-man American team in the 4x10 kilometer cross-country race that placed 14th. Norway took gold, the silver went to the Russians and France took bronze in that race.
Johnson placed 12th in Moguls. keeping her out of the medal run. The Summit Daily reports that "with a bobble on the landing of her second jump in the second final, Johnson's 2018 Winter Olympics came to an end. "I had a lot of fun out there today, and although I'm fairly disappointed with my mistake on the bottom, I still had an amazing time," she said.
Kearney didn't make it into the Big Final (Mick Dierdorff, above, did). Pierre Vaultier of France took gold, Jarryd Hughes of Australia took silver and Regino Hernandez of Spain went home with bronze.
Forget about the bobbled runs, the broken thumb, the searing pain in his hip and, yes, even the unforgiving scoreboard that showed Gus Kenworthy finishing in last place at the Olympics. His day began with a kiss that for Kenworthy and his ever-growing legion of fans, that was a victory no gold medal will ever replace.
Before the start of the Olympic ski slopestyle contest Sunday — a contest won by Norway's Oystein Braaten with American Nick Goepper coming in second — social media went wild with a screen grab of NBC showing Kenworthy sharing a tender moment with his boyfriend, Matt Wilkas, at the bottom of the hill.
On the mountain, though, he could not string all the tricks together. On his third and final trip down the course, after he veered off-line on the landing of the second-to-last jump, he simply skied to the side of the final ramp and took the easy way down, knowing his hopes for a second Olympic medal were gone. He finished 12th of the 12 skiers in the final.
He shrugged his shoulders, looked at the TV camera and said "That's OK" before exiting the finish area. Later on Instagram he wrote:"I failed to land my run in the final and didn't end up on the podium but, for me, the Olympics aren't solely about the medals. Being here now, out and proud and living my life authentically, I'm walking away more fulfilled without a medal than I did at the last Games with one."
Maple placed 30th in the men's Downhill, with fellow Americans Bryce Bennet (16th), Jared Goldberg (20th) and Ryan Cochran-Siegle (23rd) ahead of him. Norway's Aksel Lund Svindal won the downhill, teammate Kjetil Jansrud took silver and Beat Feuz of Switzerland took bronze. The race was run in near-perfect weather after days of blustery winds.
Keaton McCargo | Telluride
Keaton McCargo finished 8th in Moguls, which placed her outside the upcoming medal round. Fellow Coloradan Tess Johnson finished 12th. "I think we had the potential for any of us to get on the podium tonight and we all just made little mistakes that cost us and that's super frustrating," McCargo told the Denver Post. She said she felt some pressure from the increased attention that included a bar in Telluride naming a drink after her."
McKinnis finished 16th in the Super -G, among a trio of fellow Americans: Breezy Johnson at 14th, Lurenne Ross, 15th. Her teammate Lindsey Vonn placed 6th. "I made some mistakes but between those mistakes I skied my heart out and that is enough for me," she said in an Instagram post. "I couldn't have given any more today and I am so pumped about it! Also, that feeling of crossing the finish line was unbeatable today, I was a grinning fool before even seeing my result because I had so much fun!"
ates scored an 82.25 on his second run to take eighth place in the men's snowboard Halfpipe final. Shaun White reclaimed his Olympic title and won the United States' 100th all-time gold medal at the  winter games. NBC reports that White "did it in dramatic fashion, landing back-to-back 1440s as part of a final run that knocked Japan's Ayumu Hirano out of the top spot."
Reid placed 22nd in the 15 kilometer individual biathlon. The Olympics run the family for this Boulder athlete. Her uncle Eric Heiden won five gold medals in speed skating at the 1980 Lake Placid Games and rode the Tour de France. And her mom Beth Heiden Reid won an Olympic bronze medal and world all-around title in speed skating and a world title in road cycling.
She was part of the four-person U.S. biathlon team that place 15th on the mixed relay on Tuesday. She raced with countrymen Susan Dunklee, Tim Burke and Lowell Bailey. Martin Fourcade become the first athlete to win three gold medals at the Pyeongchang Olympics after helping France to a first-place finish in the biathlon mixed relay. Norway took the silver and Italy took the bronze.
Reid and her American teammates Susan Dunklee, Clare Egan, Emily Dreissigacker finished 13th in the4x6 kilometer relay. Belarus won the gold, Sweden took silver and France captured bronze.
Shiffrin won gold in the women's giant slalom in her Pyeongchang Olympic debut. She used a hard-charging final run to win her second career Olympic gold medal. The 22-year-old trailed by 0.20 seconds heading into the last run, but made up ground in no time by powering through ruts that had developed on the course. Shiffrin finished 0.39 seconds ahead of Norway's Ragnhild Mowinckel at Yongpyong Alpine Center. Federica Brignone of Italy captured bronze. "I don't know when it was, at some point today after the first run I thought, like, 'I can really win this'. I just tried to hang on to that feeling and then focus on my skiing a bit," she told NPR.
(AP Photo)Shiffrin was unable to become the first skier to successfully defend an Olympic gold in the Slalom, finishing fourth as Sweden's Frida Hansdotter overtook first-run leader Wendy Holdener of Switzerland to win the gold. Shiffrin was fourth after the opening run and couldn't make up enough time to earn a second straight medal.
"Right now, I'm more disappointed with how I felt on my skis today than being in fourth," Shiffrin told NPR. "And that's maybe the one saving grace about today for me, is that I'm not lying when I tell you: It's not about the medals, it's not about winning races, but it's about how I feel on my skis."
Shiffrin settled for silver in the women's Alpine Combined event. Michelle Gisen of Switzerland took gold.  Lindsey Vonn led after the downhill portion, but she skied out in the slalom. Gisin turned in a nearly flawless performance as she finished in a combined time of 2 minutes, 20.90 seconds to eclipse the silver-medalist Shiffrin by 0.97 seconds. Wendy Holdener of Switzerland took bronze.
The slalom portion of the two-leg Alpine combined was be the and only time Vonn, 33, and Shiffrin, 22, would compete against each other at any Olympics. But Vonn's slalom lasted all of about 10 seconds before she went off-course.
In opening group play, Slovenia batted the Americans around in overtime on Wednesday, handling Team USA a 2-3 loss. Terry saw ice time in all three periods for total of 17 minutes but did not score. Next, Ryan Donato scored two power-play goals as the U.S. men's team earned a 2-1 victory over Slovakia. USA Today said Friday Team USA's "most dangerous line" is Terry and Donato playing with Swiss League standout Mark Arcobello."
Then, Terry and the U.S. suffered a shut out at the hands of the Russians, who outplayed, outhit and outclassed the United States 4-0 as each team wrapped up pool play at the Olympics. Terry then saw three assists and ice time in all three periods as the team advanced to the quarterfinals with a convincing 5-1 win against Slovakia, leaving the Americans 2-1-1 in the tournament.
But the Czech Republic beat the U.S. 3-2 in the quarterfinal game that ended in a penalty shootout on Wednesday, NPR reported. Donato scored the first goal of the match early in the first period, on a feed from Terry, but the Czech Republic answered with its own goal, and then another, to go up 2-1. In the five-round shootout, only one player managed to score: Petr Koukal of the Czech Republic.
"Not the ending we wanted but still an experience of a lifetime," Terry said on his Instagram account. "Love these guys and we battled until the end. Time to get back to Denver now."
Tierney ended up out of the finals and medal contention in an event whose headlines leading up to the day were dominated by fellow American Lindsey Jacobellis. Even so, Jacobellis ended up in fourth. Italy's Michela Moioli took home the gold.
Uhlaender slid into 14th in Skeleton, while teammate Kendall Wesenberg was right behind, tied for 15th with Canada's Mirela Rahneva. As The Guardian reports, Briton Lizzy Yarnold took the gold and her British team-mate Laura Deas won bronze. Jacqueline Lolling of Germany took the silver.
On Feb. 17, Vonn finished in a tie for sixth in the Super-G. Ester Ledecka of the Czech Republic, a part-time snowboarder, made a stunning run from back in the pack to take the title. Defending champion Anna Veith of Austria earned the silver and Tina Weirather of Liechtenstein.
Vonn was the bronze medalist in Super-G and gold medalist in Downhill at the 2010 Vancouver Games but was sidelined for the 2014 Olympics. On Saturday she went first and was fast in stretches. But Vonn lost a chunk of time both before the midpoint and again on the last key part of the course, a jump-turn combination that she flubbed and was sure cost her a medal.
"That's why it's so difficult to win at the Olympics," Vonn told the Associated Press. "Because literally anything can happen."
(AP Photo/Alessandro Trovati)
Vonn fell shy of a second Olympic gold medal in women's alpine, taking the Downhill bronze on Feb. 21. Italian Sofia Goggia finished in a time of 1 minute, 39.22 seconds to hold off Norwegian Ragnhild Mowinckel by 0.09 seconds. Vonn was 0.47 seconds behind Goggia.
"It was tough to contemplate this being my last Olympic downhill," Vonn told NPR afterward. "I struggled to try to keep the emotions together, but I left it all on the mountain like I said I would."
Vonn became the oldest female medalist in alpine skiing at the Winter Games. The record was held by Austria's Michaela Dorfmeister, who was just shy of her 33rd birthday when she won the downhill and the super-G at the 2006 Turin Olympics.
"If you think what's happened over the last eight years and what I've been through to get here, I gave it all and to come away with a medal is a dream come true," Vonn said. "You've got to put things into perspective. Of course, I'd have loved a gold medal but, honestly, this is amazing and I'm so proud."
Vonn has dedicated these Olympics to her grandfather , Don Kildow, who died in November. She wears his initials "DK" on the side of her helmet as a tribute.
"It's been really hard for me not to get emotional for so many reasons, especially because of my grandfather," Vonn said. "I wanted to win so much because of him, but I still think I made him proud."
Shiffrin already was assured of earning her third career medal, each in a different event, when Vonn prepared to propel herself out of the starting gate as the final starter in the final race of her Olympic career on Feb. 22.
This slalom portion of the two-leg alpine combined would be the first and only time Vonn, 33, and U.S. teammate Shiffrin, 22, would compete against each other at any Olympics. Could Vonn possibly summon a "miracle," as she called it, a slalom performance from somewhere in her past to make a lead from the downhill portion stand up? Could Shiffrin hold onto her silver?
With the snow carefully descending under the artificial lights lining the course, the drama quickly dimmed. Vonn's slalom lasted all of about 10 seconds before she went off-course, leaving Shiffrin in second place Thursday between two women from Switzerland: gold medalist Michelle Gisin and bronze medalist Wendy Holdener.
Weber, a Green Beret, grew up in Thornton and went to Legacy High School. He and fellow pushers Carlo Valdes and Christopher Fogt, and driver Justin Olsen, finished 20th overall in the four-man bobsled on the final day of competition Olympics. Just a fraction of a second ahead of them was another American sled, driven by Nick Cunningham. 
The top U.S. driver — in ninth place — was Codie Bascue, along with Evan Weinstock, Steven Langton and Samuel McGuffie. The German sled driven by Francesco Friedrich won the gold. Won Yunjong of South Korea and Nico Walther of Germany tied for second and shared the silver.
Yater-Wallace was on the last jump of what could've been a medal-winning run when he crashed hard, and he walked gingerly off the halfpipe. American David Wise won the gold medal for the second straight Olympics. He wiped out on his first two runs before sneaking past Coloradan and silver medalist Alex Ferreira on his third with a score of 97.20.
You care.
You want to know what is really going on these days, especially in Colorado. We can help you keep up.  The Lookout is a free, daily email newsletter with news and happenings from all over Colorado. Sign up here and we will see you in the morning!