New Misconduct Policy At The Colorado Capitol Deferred To Next Session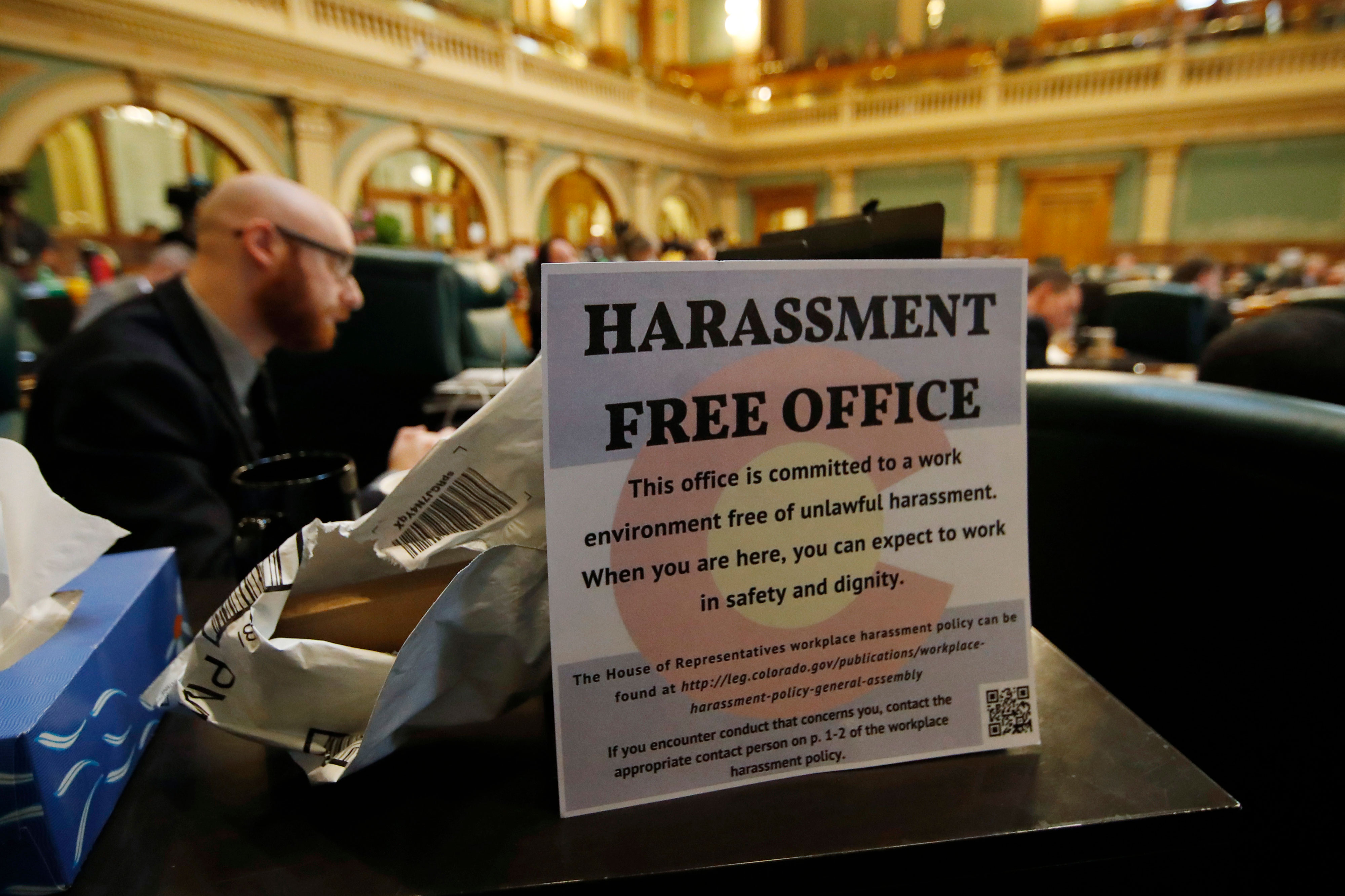 Colorado lawmakers passed 432 bills during their just-concluded 2018 session. But despite the tumult over a spate of sexual misconduct cases, they decided to let next year's leaders adopt updates to a harassment policy that could provide stricter ground rules for deterring bad behavior, punishing it and letting voters know about it.
Leaders of the House and Senate decided to appoint an interim committee to hash out recommendations made by a Denver-based human resources firm this summer. Parsing confidentiality issues, training, hiring human resources professionals and separating politics from investigations couldn't be done amid the onslaught of legislative business, they agreed.
It's a conundrum faced by U.S. state lawmakers across the country, despite momentum from the #MeToo movement that accelerated after the scandal involving Hollywood producer Harvey Weinstein last fall and permeated statehouses from coast to coast. Some legislatures, including Kansas and New Mexico, did update their policies.
In Colorado, sexual misconduct allegations against five lawmakers — one of whom was expelled — and partisan frustration over the handling of harassment claims against a state senator left a bitter taste for many when the session ended.
In March, the Democrat-led House voted overwhelmingly to expel Democratic Rep. Steve Lebsock after an independent investigator found credible claims that he harassed five women, including a Democratic colleague. Lebsock, representing a suburban Denver district, denied the allegations.
In contrast, Republican Senate President Kevin Grantham resisted Democratic demands that an expulsion vote be held for GOP Sen. Randy Baumgartner, a northwestern Colorado lawmaker accused of groping a former legislative aide in 2016. An independent investigator found the claims were credible; Baumgardner denied it.
An April expulsion vote failed.
Subsequent revelations by KUNC that Baumgardner also had been accused by eight people of creating a hostile work environment — and that two additional investigations found the claims to be credible — further angered minority Democrats, who called for another expulsion vote.
Instead, Grantham stripped Baumgardner of several committee posts.
Both outcomes for Lebsock and Baumgardner met the requirements of the Legislature's current workplace harassment policy, which leaves it to leaders of each chamber to decide appropriate punishment, if any.
"This legislative session has been intense from the very beginning," said Democratic House Speaker Crisanta Duran, who is term-limited. "And that's because we wanted to make sure that it was a priority to address the issues of harassment head-on, while at the same time working on all the other issues that we have dealt with this legislative session."
"When it comes to individuals (cases), I think that was a product of unclear policy and unclear directives on how things are supposed to move," said Grantham, who also is term-limited.
Lawmakers commissioned a report on the Capitol's workplace culture and harassment policies. Among the recommendations by the Investigations Law Group:
Create standing committees in each chamber to decide on remedial or disciplinary action for offending lawmakers;
Start compiling data on harassment claims and outcomes, and release limited summaries annually to the public without identifying accusers or accused, except in the case of legislators with confirmed misconduct;
Consider waiving lawmakers' immunity from liability.
Only three legislators showed up when Duran, Grantham and other top leaders convened an early morning meeting May 3 for all lawmakers to hear and ask questions about a draft harassment policy. Most legislators had worked late the night before, and a full agenda awaited that day as the session wound down.
"We had a draft policy in place, and I really didn't get it until the day before we were supposed to have the policy voted on. So there was a total lack of communication there," grumbled GOP Rep. Patrick Neville, the House minority leader.
One of those who did attend but left early, visibly frustrated, was Democratic Sen. Kerry Donovan, whose district includes five counties on Colorado's Western Slope.
"They ended up discussing a report I hadn't even seen," Donovan said. But she said she hoped that, even in an election year, the interim committee could carefully develop a policy that addresses the Capitol's culture as well as its harassment procedures without the distractions of legislative business.
Making it easier for those who are wronged to file complaints without retribution is paramount for lawmakers.
So, too, is some form of public accountability.
"We need to carefully parse this out," Donovan said. "But once you decide to run for office, you make significant decisions about how you are going to be treated and how your privacy is going to be treated from now on."
You care.
You want to know what is really going on these days, especially in Colorado. We can help you keep up.  The Lookout is a free, daily email newsletter with news and happenings from all over Colorado. Sign up here and we will see you in the morning!