Breakdance Is More Than A Man's World, Just Ask Denver's Queenz Of Hip Hop
Hip hop culture is said to have been born in the Bronx in the 70s — now it's taken root in a Denver industrial district that sits in the shadow of I-76 and I-25.
Most of the storefronts in the parking lot were dark, but the door to the Bboy Factory was ajar, letting the faint beats of music drift outside. Inside, a small group of dancers talked through some choreography.
"It's like wham, wham... we're popping with our knees," said breaker Asia One as she pivoted her body left and right to show the movement, her arms swinging with her.
The culture of hip hop grew out of youth expression in marginalized communities. A lot of historical writing on hip hop, dance in particular, has focused on the men. And the subgenre of breaking is often considered a masculine and aggressive dance.
Asia One, considered a legend by many in the local hip hop community, has appeared in music videos and established the B-Boy Summit, an annual community event hosted by her own nonprofit No Easy Props. She started breaking in the early 90s. She's seen more and more women get into it since — but she said female breakers might still get flack.
"They still think we're weaker, that we can't do power moves," Asia One said, "That we lack aggression or we want to be coddled. You still get that."
Asia One is part of a Colorado crew performing "Love Es Love," a hip hop, mixtape musical written by Denver MC and rapper April "FRESH" Padilla. Inspired by some of her own experiences as a woman in hip hop, Padilla said it highlights chauvinism, abusive relationships and the objectification of women. At one point in the dance, the performers pick up signs that say "Me Too."
"My goal is to place a musical microscope on some of these [issues]," said Padilla, who grew up listening to rap. "Any lyrics that come to mind, albums or favorite artist, there's very few of them that I could say have never said a derogatory word about women on tape."
Padilla hopes to eventually develop it into a fully produced show. Right now, they're at the Bboy Factory practicing for the upcoming Breakin' Convention in downtown Denver. The international hip hop dance festival is produced in part by London's famed Sadler's Wells Theatre. U.K. hip hop artist Jonzi D founded the convention in London in 2004.
The convention showcases top acts from around the world, plus eight Colorado crews.
Padilla and Asia One are members of Denver's Queenz of Hip Hop, which wants to make sure women are more visible in hip hop dance and culture. The Queenz held their ninth annual jam back in August and, with the help of a $3,500 Imagine 2020 grant from the city, hope to expand this event from a weekend to a full week. The broadened event would also further highlight women in other hip hop art forms, like graffitti and MC-ing.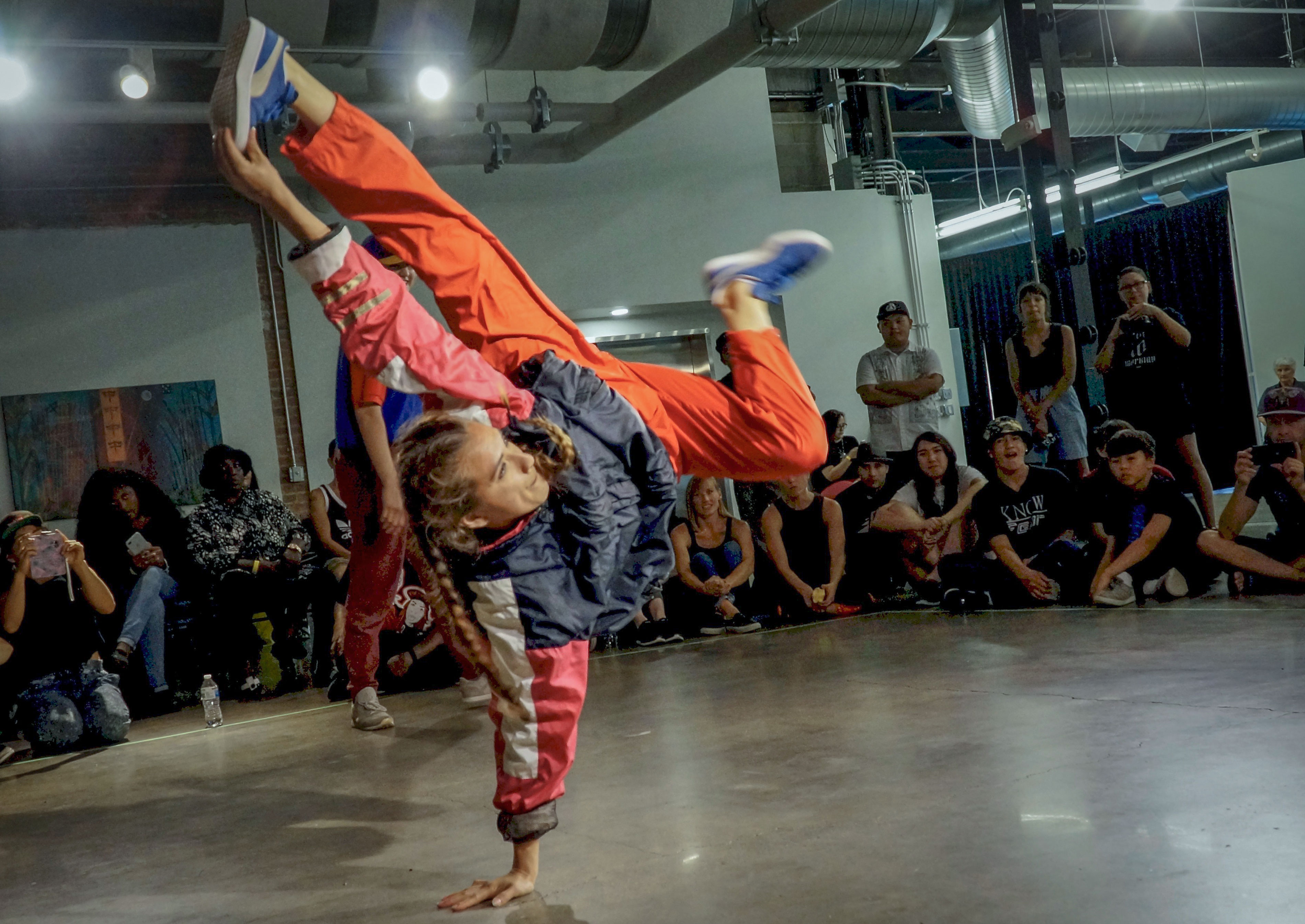 Queenz of Hip Hop co-founder Cindy Cervantes has been breaking for 11 years. She said her first classes were free lessons offered at a nearby church. Cervantes explained how, as a woman, breaking can be intimidating at first because you're often outnumbered.
"There's 10 guys and one girl or 50 guys and one girl in one room practicing or at a competition, so you can come in and think, it's all men how am I going to fit into this culture?"
Cervantes found her way and said part of that was understanding that breaking isn't just about the flashy moves — like spinning on your head."
For the record, Cervantes said she can't do a head spin, though many women can. "But breaking doesn't just entail head spinning," she said. Breaking is so much more than windmills, head slides or any other of the big moves you may have seen on popular reality TV shows like "So You Think You Can Dance" or "America's Best Dance Crew."
Gender aside, breaking is about listening to the music and matching that energy, Cervantes said. You also need to master the high-energy and intricate footwork.
Queenz member Elise Silva was a salsa dancer before she started breaking. A love interest lured her to the dance form and she quickly became hooked.
"I think there was something about it that was a little bit prideful," Silva said. "Like no one expected me to be able to do this."
While the narrative around breaking and hip hop dance has often been male-centric, Silva said "none of it has existed without women." There's a duality here in that hip hop culture has long been about resistance and calling out inequities. So, for many of these women, it makes sense to use the dance form to remind people that women have always been a part of the story.
"[Now it's about] how do we bring that into the light more so that everybody can have broader of an understanding of hip hop," Silva said.
Breakin' Convention is Nov. 3 and 4, 2018 at the Buell Theatre in Denver. "Love Es Love" will be performed Nov. 4 at 3 p.m. The 303 Jam, a free public event with concerts, workshops, dancing and spoken word, returns 1 - 5 p.m. on Nov. 3.
You care.
You want to know what is really going on these days, especially in Colorado. We can help you keep up.  The Lookout is a free, daily email newsletter with news and happenings from all over Colorado. Sign up here and we will see you in the morning!