Hickenlooper Opens His Presidential Run With Promises On Health Care, Climate Change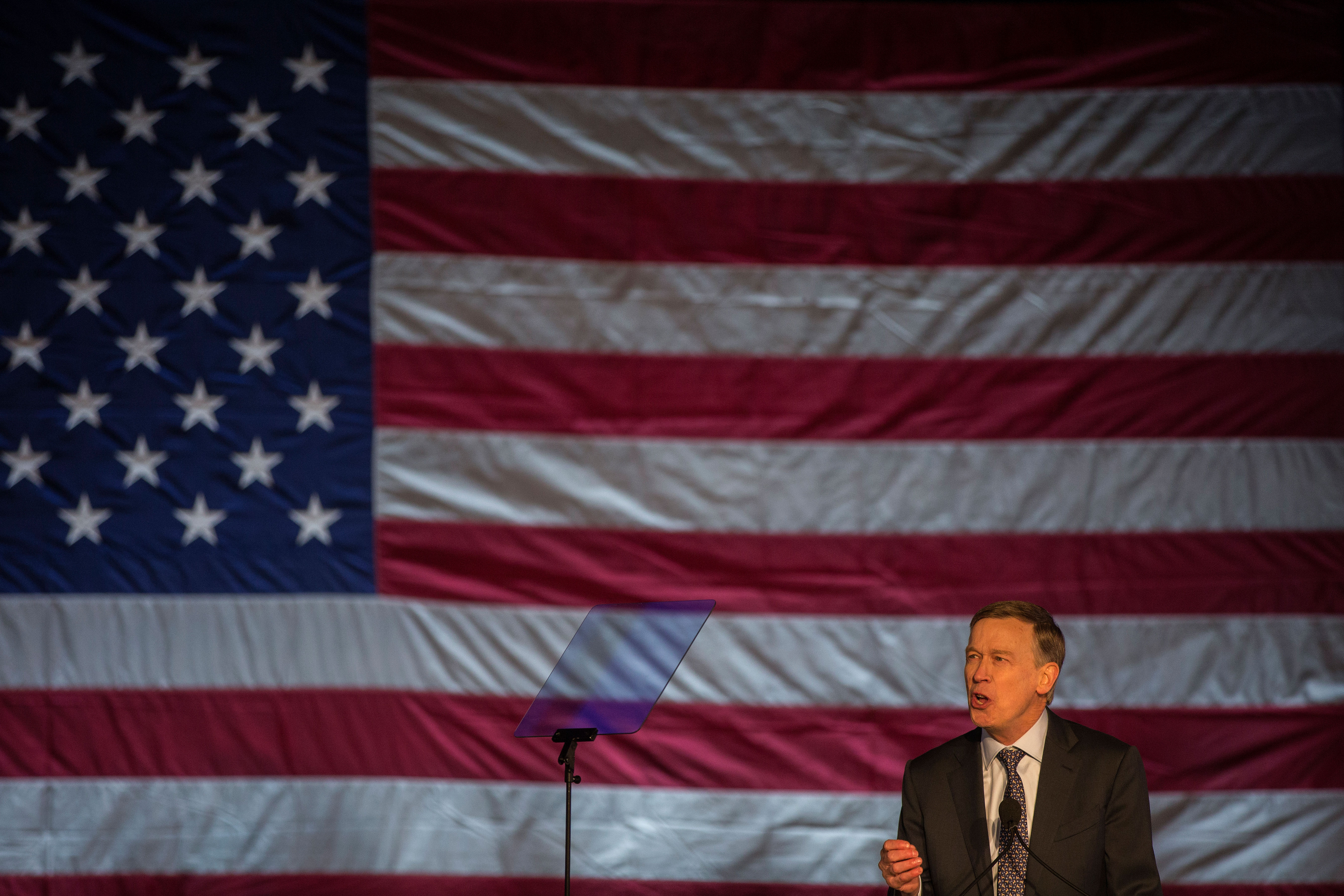 Promising to reclaim America's global leadership while moving the nation forward in areas like climate change and health care, former Colorado Gov. John Hickenlooper officially kicked off his campaign for president Thursday evening with a rally in Denver's Civic Center Park.
An estimated crowd of about 5,000, warmed up with speeches ranging from an Eastern Plains farmer, to former Denver Mayor Wellington Webb and current Mayor Michael Hancock, cheered as Hickenlooper spoke of what he would do after he was elected President in 2020.
"And the first thing we're going to do is rejoin the Paris Climate Accord and exceed its goals," Hickenlooper said of the 2015 global pact to fight climate change. Following his election to office a year later, President Donald Trump withdrew official U.S. support for the agreement.
"And we will build a green economy that creates jobs that can't be shipped overseas, while combating generations of climate change," Hickenlooper continued, adding, "We'll create a whole new understanding about the future of work. The majority of today's young adults who want tomorrow's skills will be able to shape a 21st century economy with better jobs."
Universal broadband would "instantly" become national policy after his election, Hickenlooper said. In addition, he said he would declare "declare as a country that health care is a right. This means universal, affordable coverage … where everyone has a doctor who knows them and knows their family. Where everyone can get a checkup. A real medical home."
His voice, along with the other gathered speakers, drowned out the sound of protesters who massed outside the fenced-in area where the rally was held. The most vocal was a group opposed to hydraulic fracturing; some carried signs that read "Hickenlooper Fracked" while others repeatedly chanted "Stop Fracking Now."
One almost expected someone to swing the gates open and let the protestors in for an impromptu legislative special session, given how often the rally's speakers lauded Hickenlooper's abilities to bring disparate groups together in order to — citing one of his campaign's slogans — "Get Things Done."
Tom Sullivan, a state representative who lost a child in the 2012 Aurora Theater Shooting, said Hickenlooper got things done by creating universal background checks in the state, while Tara Schoedinger, the former Mayor of Jamestown, spoke movingly of how the former governor was front and center in the effort to restore their community after the 2013 floods.
The rally was a sendoff for Hickenlooper, who will return to Iowa for a couple of days of campaigning. It will be his fourth trip since last fall to the state which officially opens the 2020 race with its February caucuses. At this point, success there would seem almost essential for Hickenlooper to remain a candidate. Rather than wallow in the uphill climb he faces, for one night at least, his campaign and those behind him seemed to embrace it.
Webb, for example, spoke of the odds Hickenlooper faced when he decided to enter the race for Denver mayor.
"No one thought he could get elected; when he decided to enter the race, it didn't look good," Webb said. "His number were low...I mean, sea-level low — really low. Everyone said there was no way the brew pub owner with the funny last name could win — and guess what? He did."
Later, Hickenlooper expanded on the theme.
"Now, I understand I'm not the first person in this race or the most well-known person in this race," he said. "But let me tell you: at four syllables and 12 letters, 'Hickenlooper' is now the biggest name in the race."
Editor's Note: This story was updated to correct that Tara Schoedinger was the former mayor of Jamestown.
You care.
You want to know what is really going on these days, especially in Colorado. We can help you keep up.  The Lookout is a free, daily email newsletter with news and happenings from all over Colorado. Sign up here and we will see you in the morning!