Cincos Cosas Que Aprendimos en Tropicália (Five Things We Learned at Tropicália Fest)
Chicano Batman have a song called "Stoned Soul Picnic" on their 2014 album, Cycles of Existential Rhyme. There's a line that includes "proud brown people singing in the dark." It's a celebration of la gente, simply being able to be.
That's what Tropicália Fest was, for the most part -- simply a celebration of the Latin communities from around the U.S. and down through Mexico, Central and South America. Fittingly, Carlos Arévalo -- lead guitarist for Chicano Batman -- took a moment during a quick changeover to do the obligatory hello to the audience, but mentioned how important a festival like Tropicália was.
"Representation matters, eh?" he said, to great applause.
On November 9 and 10, the Tropicália Music and Taco Festival returned to the greater Los Angeles area, after selling out almost immediately after releasing tickets. Because of overwhelming demand, the festival was moved to a larger venue -- the Fairplex in Pomona (about a 45 minute drive from downtown LA).
Day one was primarily for los legendarios, with Norteña favorites Los Tigres Del Norte headlining (the band recently pulled a Johnny Cash by performing and recording an album at Folsom Prison). It also included Natalia LaFourcade, Caifanes, Sonora Dinamita (of Bogota, Colombia) and La Santa Cecilia, just to name a few.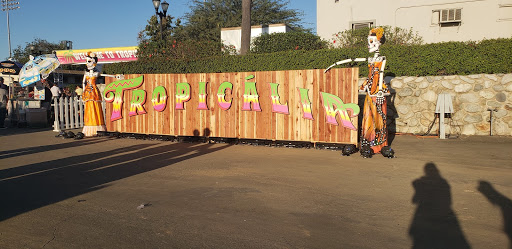 You could call day one an older crowd, but it had it's fair share of newer acts, including E. Arenas, the solo project of Chicano Batman bassist Eduardo Arenas and the group "Foos Gone Wild," a celebration of all that is vato. Primarily though, Saturday was a spell of nostalgia inducing sing-alongs and first generation Americans taking their parents to their first music festival.
Day two made for a much younger crowd, with major acts like Cuco, The Marias, and multi-year headliner Kali Uchis. With an added stage, the lineup was much larger and accommodated multiple southern California bands of all backgrounds, including Still Woozy, Oh Sees, and Mild High Club (who performed a new song at the festival). A lot of energy resounded through the Fairplex as teens experienced their first mosh pit and crowd surfing moments during the day, and left in a haze of dreamy soundscapes through the evening with Chicano Batman and Bomba Estéreo.
As many of the acts included on the bill are played on Especial on Wednesdays here on Indie 102.3, I got to head out to the festival to check everything out. Here's a playlist of what I saw, and a few things I learned:
Chicano Batman has a new album coming out in 2020 (and new stage outfits).
The quintet that headlined this year's Underground Music Showcase walked out to a massive crowd, wearing what looked like flags draped around themselves instead of their tailored suits that we've become used to. They weren't really flags -- more like capes -- but keys player/guitarist Bardo Martinez's did have "FREEDOM" written across the front of his. After asking who was a day one fan, he said the band has a new album ready for next year, and included three new songs in their set, which also included favorites "Magma," "Freedom Is Free," and "Black Lipstick."
The Marias possibly do a better Britney than Britney.
It's no news that the Los Angeles outfit The Marias (whom you may have seen open for Khruangbin last December at the Ogden Theatre), covered Britney Spears' "... Baby One More Time" earlier this year. They have two EPs out right now, Superclean Volumes I & II, and they kicked off their set with one of my favorite songs of 2018, "Cariño." The crowd sang along to every word that came from Puerto Rican-born frontwoman María Zardoya -- especially the Britney cover (check out our Instagram for this magic moment).
Tropa Magica can (almost) break a pinata over the crowd from the stage.
Especial favorites Tropa Magica never disappoint. It's always a party, whether they're headlining the Hi-Dive here in town, or playing in the middle of the day in South LA. Their Instagram followers knew a piñata in the shape of an eloteria (a nod to a song from their Thee Commons project - "Elotero Spaceman") was planned for the final song of the set. After two attempts at cracking it open with his guitar, frontman David Pacheco just threw it out over the crowd, along with the rest of the candy that wouldn't fit. The end result was one last song and the crowd pulling apart the piñata for the rest of the confetti to fall over the mosh pit. Oh, and they'll also have a new album out next year.
The former bass player for Thee Commons is now in the best discovery of the weekend -- La Pobreska.
Speaking of Tropa Magica, their former bass player in the project Thee Commons has found a new home in La Pobreska, my favorite discovery of the weekend. Out of Los Angeles, the band has been around since 2004 and I'm very upset that I'm just arriving to this party. They blend elements of ska, metal, and infuse everything with a political slant -- including matching baseball jerseys emblazoned with "F*** TRUMP" on the back. No one -- on stage or in the crowd -- stopped moving for one second. I gotta wonder if the Denver ska outfit Roka Hueka has played with them yet - and if not, ¡el tiempo es ahorra!
Natalia LaFourcade and Marisol Hernandez should just collaborate already.
... and thankfully they kind of did towards the end of Natalia's set. LaFourcade, who recently sold out the Mission Ballroom, was one set I did NOT want to miss -- and I basically stayed true to that. I was actually waiting in line for dinner, watching her set from the back of the crowd. This wasn't too bad of a situation, except for when she brought out Marison Hernandez of the band La Santa Cecilia for a duet. A girl in front of me said it best: "Porque ya esta en el escenario?" ("Why is she on stage already?"). La Santa Cecilia's set was next, so we were both worried we were missing that as well, but were pleasantly surprised when they sang together. No, I didn't get the song name, because, quite frankly, I had a trio of tacos coming my way, but I can tell you that their voices together made for an especially magic moment on Saturday evening.
Check out a Spotify playlist for a few of the highlights from the weekend below!
You made it!
You love learning about new music and the Denver music scene. We have a weekly newsletter for you -- Inside Track. Sign up here to stay in the know about the hottest Colorado concerts and how you can score tickets!