The Arkansas River Levee Used To Be Covered In Street Art. Now Pueblo Wants To Recreate It — Legally
Pueblo hopes to reclaim the record for the world's largest outdoor mural. The crown was lost when the paintings that once adorned the 2.8-mile long Arkansas River Levee were scrapped in its massive restoration project.
Now that the repair work is nearly complete, artists are eager to recapture the spirit that started back in the late 70s, when the paintings were considered vandalism.
The original paintings were as varied as the hundreds of artists who created them. You could see everything from images of the local CF&I Steel Mill to abstract designs to portraits of Bob Marley, Harpo Marx and Andy Warhol. They were all joined together to make one big mural.
Five years ago, Pueblo artist and teacher Cynthia Ramu described the mural as a "little treasure hunt."
"There's all these little things," she said at the time. "It's like why is that there? How did that get there? Oh, there's more, just keep looking."
Ramu was the longtime volunteer mural coordinator for the Pueblo Conservancy District, the authority that oversees the levee. Now she's on an advisory committee behind plans for a new round of art for the levee. And it's not going to be the free-for-all like it was when it first started.
This is what the levee used to look like...
Shanna Lewis for CPR News
A painting of Karl Marx with bunny ears adorns the old Pueblo Levee Mural.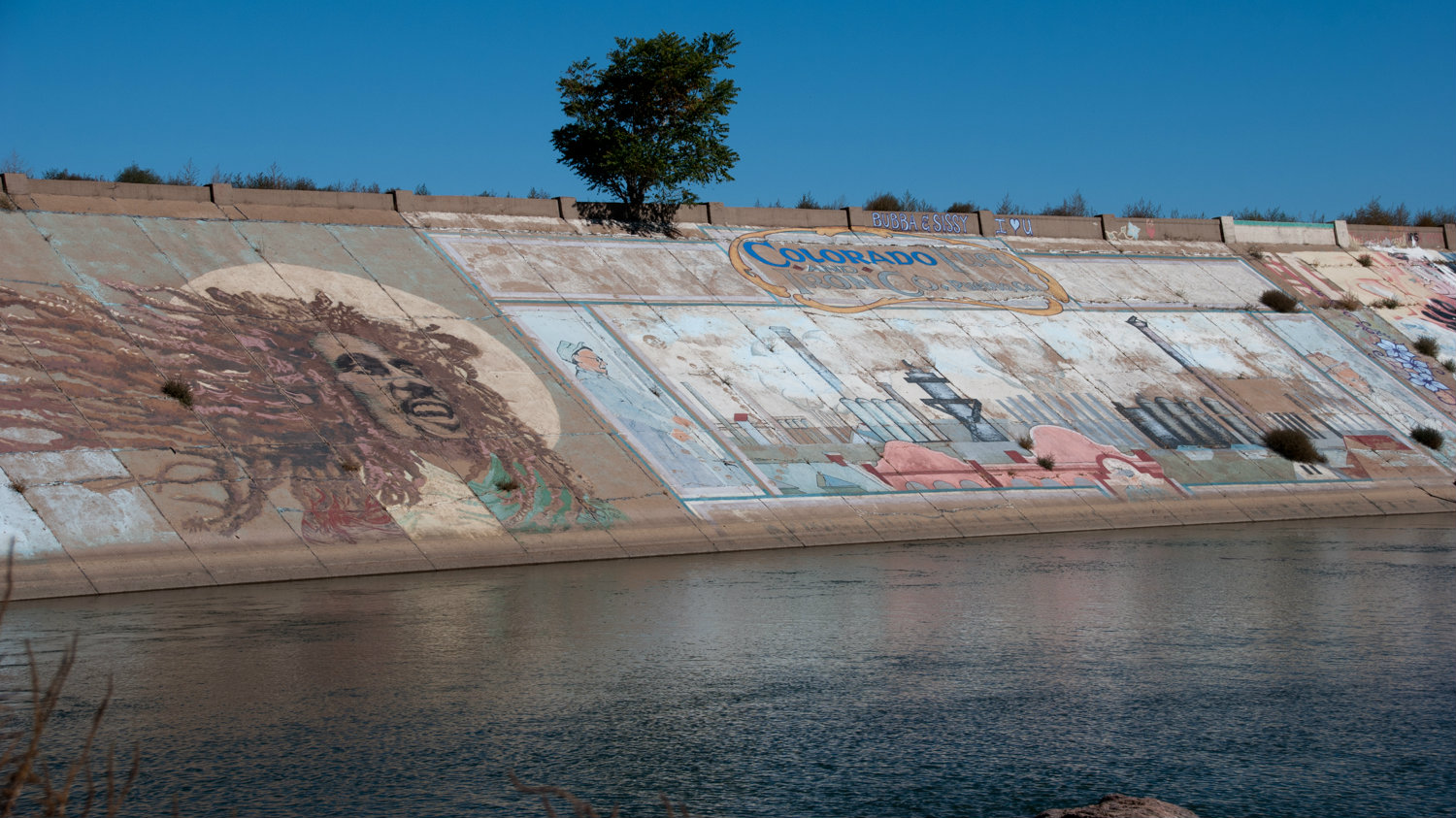 Shanna Lewis for CPR News
Two of the most well known images from the old Pueblo Levee Mural are paintings of reggae musician Bob Marley and a scene featuring steelworkers at the former Colorado Fuel and Iron steel mill.
Shanna Lewis for CPR News
One of the many images that make up the old Pueblo Levee Mural.
Shanna Lewis for CPR News
A bike path follows the Arkansas River along the levee, across from the old mural.
Shanna Lewis for CPR News
A fish in a bath tub was one of the first murals painted on the original Pueblo Levee.
People will have to submit their ideas and get approval before they can legally paint. Not everyone is happy about it.
"I hear some rumbling," Ramu said. "'How come they can tell us what to do?'"
Ramu said the district has to make sure people are safe on the steep levee and that it isn't defaced. At the same time, she also wants to give everyone a chance to get involved.
"It's really a big conversation. It's a challenge. And I think the possibilities are endless … So it's up for grabs. It's up for ideas. And it's up for creating," she said.
More than a dozen artists submitted applications to create murals that will cover just a fraction of the wall. The first eight that the district approved range from nature scenes to geometric designs.
Some proposals were denied because they were incomplete or didn't fit the guidelines. Some have claimed censorship in response. While Ramu understands artists' frustration with the district's control, she hopes those who were turned down will try again and that the whole community will pitch in.
"I think we're building communication... we're gonna like build a tribe of artists, as we're going along here, you know, people who want to help each other, and people that are willing to morph into whatever needs to be done out there," she said.
Fort Carson Mountainside Elementary school art teacher Ramona Lapsley helped paint some of the old levee murals and thinks the new project is "a great example of what a community can do." The artists will "take an otherwise really awful surface to look at and make it meaningful and make working on a piece of art like that a lifetime experience for a lot of people," she said.
Puebloans Casey Hunt and Lorenzo Estrada painted a mural on the levee just before the repair work began five years ago and plan to apply to paint a new one. For Hunt, the old murals were an important part of growing up here.
"Pueblo's changed a lot in the last 10-15 years… it would be great to see some new fresh artwork expressing emotions and ideas and give something a lot of people to look at when they go up and down the river," he said."
Hunt's mural partner, Lorenzo Estrada, might be the first person to paint on the fresh levee concrete. He's been contracted to paint local high school logos on it across from Dutch Clark Stadium. Applications for new murals will be reviewed monthly.
It'll take years for Pueblo to reclaim the record for the longest outdoor mural because it'll take 100s of individual murals to interweave into one long artwork along the banks of the Arkansas.
You care.
You want to know what is really going on these days, especially in Colorado. We can help you keep up.  The Lookout is a free, daily email newsletter with news and happenings from all over Colorado. Sign up here and we will see you in the morning!