The Local 303: Colorado Artists We're Featuring April 2020
Spring is here and we have a new batch of Colorado music to share during this uncertain time. Our mission is to play homegrown music every hour and The Local 303 is a monthly spotlight of the best and new music being created.
Because of the emergence of COVID-19, tours and concerts are on hold, musicians and venues are struggling, and for us, our broadcast studio has gone dark and we have cancelled all in-studio sessions. We are holding strong and promise to continue to be here for you and support the local music community, even from our own makeshift studios at home. 

Music is medicine so let's heal together through this health crisis and celebrate what we do know: there is help for musicians, music lovers can help, we are talking, Indie 102.3 is on-air 24-7, and live streams from musicians make this disruptive time feel more connected. These past few weeks have shown us that Colorado still has a thriving music scene even during the time of Coronavirus.

Are you a Colorado musician who wants to be featured in the Local 303? Send us your music.
Meet April's picks:
Commerce City Rollers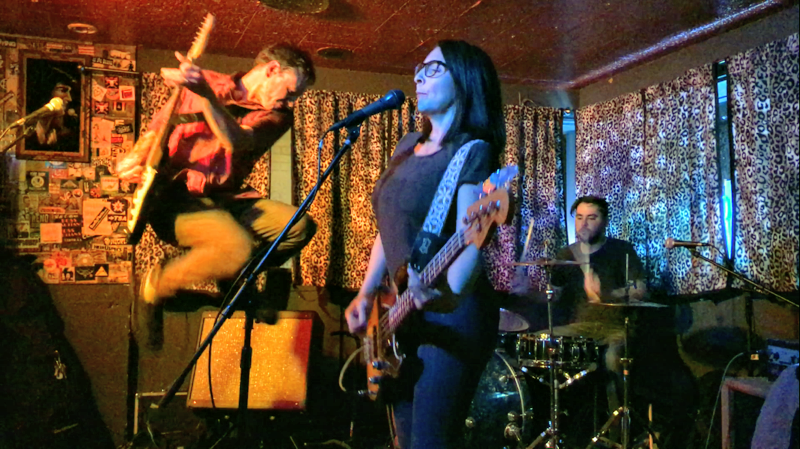 Hometown: Denver

Formed: 1996

Latest Release: "Backstories," Commerce City Records, 2019
About: Commerce City Rollers is a three-piece, female-fronted rock band from Denver that started in 1996.

The lineup includes songwriter MJ Gaylord on bass and vox, J on guitar, and Steven on drums. The band has played all over Denver including Lost Lake, Globe Hall, Bluebird, and Lion's Lair. Back in the day, they've opened for Cake, Johnny Socko, and Our Lady Peace.

Commerce City Rollers was interviewed and featured in 1997 by Westword and stopped playing roughly a year later. They reunited in 2014 and recorded "Backstories," a record they never finished in 1996. The album was recorded with Bart McCrorey at Crash Pad Studios and released on the band's own label.

Band Website: https://commercecityrollers.bandcamp.com/releases

Get Social: Facebook, Instagram
Ella Luna
Hometown: Denver

Formed: 2018

Latest Release: "Always a Bridesmaid, Never a Bride," Ella Luna, Jan. 17, 2020

About: Last year, Ella Luna released an EP called "Ella Luna" under her given name Alyssa Stoner. It was an essential experience as an artist to write, record, and release "Ella Luna." However, considering Alyssa was 14 and 15 when she wrote and recorded those songs, there was no consistency in the sound. This past summer, Alyssa turned 17 and decided she was in a place of enough certainty to create a sonically cohesive project.

"Always a Bridesmaid, Never a Bride" is influenced by all types of music, from folk/songwriter lyrical focus, to elements of jazz, to classical tones from the strings and drums. Ultimately, the sound is not only consistent, but entirely true to who she is and what she writes. The concept of the project is the idea of conditional love.

Band Website: https://ellaluna.hearnow.com

Get Social: Instagram, Twitter, SoundCloud
Ivory Circle
Hometown: Denver

Formed: 2013
Latest Release: "Trigger" (single), self-released, Feb. 14, 2020

About: Ivory Circle is an indie-alternative band started by singer-songwriter Connie Hong and producer/multi-instrumentalist Chris Beeble. They are joined by Rob Spradling on drums/ percussion. 
A former middle school choir teacher in Aurora, Colo., Hong used to write songs during her lunch breaks and play them for her students. She eventually realized her passion was in creating and performing and left the public teaching field behind. Beeble, a longtime friend, joined the project after several songwriting and recording sessions and a mutually found musical vision. 
With formal musical training in multiple genres under both of their belts, Hong and Beeble released the acoustic EP "Entropy" in 2013 to positive reviews, leading to a featured song on a promotional spot for Showtime Network's The Affair, a featured song on VH1's Couples Therapy, and opening slots for acclaimed national acts such as Copeland, San Fermin, Son Lux, and Caroline Smith. They've had appearances in KTCL's Hometown For The Holidays top 10 in 2018 for their songs "Never Let Me Go" and were a featured finalist in NPR Music's Tiny Desk Contest in 2018. 
Spradling brings a unique technological element to Ivory Circle as a videographer and additional in-studio producer, and has designed and developed the light show programs for Ivory Circle's live performances. 
Ivory Circle creates a sound as unique as it is precise, electrifying and passionate, complete with lush strings, harmonic layers, and pulsing drumbeats, interwoven between the piano and vocal lines that give them their trademark sound. The combination of their intricate compositions juxtaposed with Hong's vocal prowess make them comparable to notable musicians such as Florence+the Machine, Regina Spektor, and Kimbra.  Their full Triangle series "Equilateral," "Isosceles," and "Scalene" are available on all online outlets as well as on a special edition vinyl bundle. Since the completion of the Triangle series, Ivory Circle has released two new singles: "Slip Away" in 2019, and "Trigger" in 2020 to glowing reviews.  

Band Website: https://www.ivorycircle.com/ 

Get Social: Instagram, Facebook, Twitter, Spotify, Apple Music
My Dog Ate Chad
Hometown: Fort Collins, Colo.
Formed: 2016
Latest Release: "No Shame" (single), My Dog Ate Records, Feb. 29, 2020
About: Composed of five members, My Dog Ate Chad is an alt-rock/power pop band that started out as a group of high schoolers playing in an after-school music club. Now they've expanded into their own entity, climbing the ladder of recognition in Northern Colorado, gaining a growing and loyal fan base.
The band has made appearances at Bohemian Nights at New West Fest, CSU Stadium Sessions, CSU lagoon series, Fort Collins Music Experiment, Aggie Theatre, Lost Lake Lounge, Your Mom's House, and has shared the stage with major national acts including Summer Cannibals, and the Psychedelic Porn Crumpets. 

Band Website: https://www.mydogatechad.com

Get Social: Instagram, Facebook, Spotify
Nice Crime
Hometown: Denver

Formed: 2017

Latest Release: "Papa Ya," The Armory - Denver, April 27, 2019

About: The trio has been banding together for years, which has allowed real freedom and trust within their music.
"Our musical goal is to refresh your ears with original music that can be played for everyone." They have two EPs out now, Nice Crime Country and Papa Ya and are working on seven more songs with new music out later this spring.

Band Website: www.nicecrimeband.com

Get Social: Instagram, Spotify, Facebook
Openness
Hometown: Denver

Formed: Mid-2019

Latest Release: "Songs from the Open Nest," Lavendork Records, December 2019. "Chimera" (single) out April 1, 2020.

About: Openness is the solo project of Keelan McDorman, brought to life through collaboration with a plethora of musicians. These dreamy, psychedelic tunes will transport you out of your thoughts while still providing catchy pop melodies to grab hold of on the way out of your head.

The name is the essence of the music, for it is created from a place of openness...openness of the mind, heart, and soul.

Each Openness track is recorded and produced in his home. He typically plays drums, keys, and sings the songs, though his instrumental horizons are ever expanding. However, Openness will never cease to be an adventure of collaboration. In only 8 months, Openness has released 23 songs, featuring 18 different musicians.

Website: https://openness.bandcamp.com/
Robert Shredford
Hometown: Fort Collins, Colo.

Formed: 2018

Latest Release: "Robert Shredford," self-released, March 20, 2020

About: Robert Shredford is a sun-drenched surf rock party band from a coastless state. Named after an actor your mom loves, the band employs catchy '60s-inspired hooks, reverb-heavy guitar, and dreamy harmonies for their songs about ghosts, lady power, and bad decisions.

Formed in 2018, Robert Shredford has shared the stage with the likes of King Tuff and La Luz and features Jessi Reed on guitar, Christi Bailey on drums, Mike Adams on keys, and Alia Goldfarb on bass. All members sing.

Band Website: https://robertshredford.bandcamp.com/

Get Social: Instagram, Facebook
SHEL
Hometown: Fort Collins, Colo.

Formed: Performing since 2005, actively releasing music since 2010
Latest Release: "Wild Child" EP, independent, March 6, 2020

About: SHEL's versatile sound has led to collaborations with producer Brent Maher (Ike and Tina Turner, The Judds) as well as visionary sound guru Dave Stewart (The Eurythmics). The sister group is now excited to release their first single in collaboration with Joey Verskotzi. 

After extensive touring across the U.S. and Europe, sharing the stage with world-renowned orchestras, and supporting Amos Lee, the sisters have taken some time off the road to write and record, as well as score Facebook's hit television series Queen America, starring Catherine Zeta Jones. SHEL's music can be heard in numerous films, TV shows, and commercials, including The Best of Me, The Fourth Phase, Depth Perception, Charged, the trailer for Women In Sports, Shameless, The Fosters, Riverdale, Search Party, as well as commercials for Chevy, Toys R' Us, Panadol, Splenda, and Glade. 

"Rainbow" is the first single from SHEL's new EP, "Wild Child," produced with Verskotzi and Tim Myers (previously of OneRepublic). SHEL's Eva Holbrook traveled to India to make the music video for Rainbow with a focus on raising much-needed funds and awareness for some of the world's most vulnerable women. The sisters hope their partnership with locally run outreach Hope Springz will make a lasting impact, helping restore color and dignity to widows in Vrindavan, India.
Band Website: https://www.shelmusic.com/

Get Social: Facebook, Twitter, Instagram, YouTube, Spotify
SPELLS
Hometown: Denver

Formed: 2013

Latest Release: "Stimulants & Sedatives," Snappy Little Numbers/Rad Girlfriend Records, Feb. 14, 2020

About: SPELLS is a five-piece rock juggernaut of "vacation rock." They produce short blasts of intense melody and driving rhythms that are custom made to entertain the band members themselves and serve as an excuse to go play shows in cities that have beaches nearby. If your city's best offers include said beach and a good breakfast joint, count them in. If the best your city can do is a punk house that smells like cat s*** and a Subway restaurant inside a gas station, they will pass.
Band Website: https://www.spellsrules.com/
To Be Astronauts
Hometown: Denver

Formed: 2014

Latest Release: "Delirium" (single), self-released, Jan. 3, 2020
About: To Be Astronauts is a heavy alternative rock band proudly hailing from Denver. Musically, they're a mash-up of guitar music from the 70's through now: hard, classic, and punk rock; grunge; sprinkles of pop and metal. Philosophically, they say they're space cadets who write songs influenced by modern American angst.

The quartet has been creating/writing/recording since 2014, releasing a self-titled EP in 2015 and a full-length album entitled "Indifferentstates"--which deals with a myriad of different topics, including (but not limited to): ghosts of the Stanley Hotel, space madness, anti-Trump sentiments, the Rocky Horror Picture Show, refusing normalcy, love, Catch-22, and East Colfax Avenue.

The band has played venues all over the city, and have been featured on Denver's 93.3 Locals Only program, Monument's Tri-Lake Radio, and CPR's "Dearly Departed 2018" Compilation, covering "Totally Wired" by the Fall.

The band hopes to extend their sound throughout the Front Range and beyond.

Get Social: Twitter, Instagram
Turvy Organ
Hometown: Denver 

Formed: 2015

Latest Release: "Cold Water" single, self-release, Mar. 13, 2020

About: Turvy Organ is energetic, upbeat indie rock. Under neurotic rhythms and dynamic arrangements, frontman Ilya Litoshik delivers his lyrics with disarming passion and earnestness. Their latest single, "Cold Water," is a sneak peek into their upcoming album, expanding on the themes and concepts of Turvy Organ's 2019 release, "The Ghost at the Feast." 
"I've seen talk that Turvy Organ is a "secret", or even a "hidden gem", but it's time to recognize them for what they really are. A tour de force that is stepping into the light. With qualities that bring me back to what I loved about bands like Modest Mouse and Built to Spill, Turvy Organ are making indie rock interesting again." - Taste Culture

Band Website: http://turvyorgan.com

Get Social: Instagram, Facebook, Bandcamp
VYNYL
Hometown: Based in Denver. John Tyler is from Raleigh, North Carolina, Andrew Cole is from Cape Town, South Africa and Logan Hileman and Hunter Heurich are both native Denverites.

Formed: 2015
Latest Release: "Who Could U Be" (single), self-released, Feb. 21, 2020

About: VYNYL is a new wave pop band whose music is as big and vibrant as their emotions. Coming from homelessness and seeking a larger purpose in North Carolina, lead singer John Tyler alongside Andrew Cole, who faced dysphoria of his own, founded VYNYL in 2015 as a means to escape their circumstances. The two eventually packed up and moved to Denver where they met Hunter Heurich and Logan Hilleman.

In time, their complementary talents garnered a strong bond that has brought them acclaim and led them to share stages with the likes of 3OH!3, Neon Dreams, Bleachers, St. Lucia and more. As one of Denver's very few pop music projects, VYNYL sticks out, and embrace their difference and sound, building a world around them through a dedicated following. This past October, the band released their debut EP "Pink," which picked up tens of thousands of streams and marked a tremendous beginning for the band.

In addition, VYNYL won Channel 93.3's Hometown for the Holidays at the end of 2019 and performed alongside Breathe Carolina, Lil Jon and 3OH!3 for 303 Day at Mission Ballroom. Looking further into 2020, VYNYL is working on a forthcoming EP set for a fall release, a revamped live show, and an accompanying tour. 

Band Website: WWW.VYNYL.NET

Get Social: Instagram, Facebook
You made it!
You love learning about new music and the Denver music scene. We have a weekly newsletter for you -- Inside Track. Sign up here to stay in the know about the hottest Colorado concerts and how you can score tickets!