Entertainment Spots, Like Westminster's Akihabara Arcade And Bar, Anxiously Wonder If They'll Outlast The Coronavirus
Brandon Osha, the owner of Akihabara Arcade and Bar, has had his business for about four years. It's based on Tokyo's Akihabara district which is an enclave of huge arcades and stores jam-packed with lots of anime, manga, and games.
Osha said 2020 looked like it could be his best financially yet.
"January and February were our best months that we've had," he said. "We had a couple of our best weekends we've ever had, not holding a major tournament."
All of that success came to a halt when he was forced to close on March 16 because of the novel coronavirus. He laid off all of his staff because he had no way to keep them on.
"Business has not been great," he said. "Money in the account is starting to dwindle down pretty fast."
Osha started his day at roughly 8 a.m. with getting his 2-year-old daughter Zoey ready for the day with his wife, Tiffany. He didn't get much sleep because Zoey woke him up at 4 a.m.
Part of Osha's morning routine is checking emails at 9:30 a.m. He was focused particularly on checking his Experian credit report to see if the Small Business Association pulled his credit for a grant he applied for. It would be the first sign that anyone had seen his application.
"I applied roughly about two weeks ago," he said. "I've heard people are getting hard credit pulls before they got money in their account."
He didn't find any activity for his credit report. He also didn't see any emails from SBA or the city of Westminster, where he's also applied for a grant for small businesses.
Finances are Osha's biggest concern right now. At 11:30 a.m, he spoke with another arcade to compare notes on how things are going. It seems as if no one is getting the business they are accustomed to.
Osha said he wants the government to step in, but he's not even sure if it's worth it in the long run.
"How do we move forward?" he asked. "Do we pull out now or do we just keep throwing money at a problem that won't go away for six months? And then instead of being just a little bit in debt, being a lot in debt to, to try and, um, stay open and we want to stay open."
Explore More Colorado COVID Diaries
---
When Osha knew he had to close, he bought a lot of merchandise for his store. He prepared to have a lot of t-shirts so he would still have a stream of income coming in. Most of what he does sell is to regular customers.
Around midday, he went to his arcade, a space that he rents, to pick up a few shirts for his daily round of completing orders.
"If we could get rent deferred until this is over, it would save our business," he said.
That possibility seems unlikely since Gov. Jared Polis said he doesn't have the authority to freeze rents. Instead, he has asked landlords to be lenient and said the state won't use funds for evictions. Local or federal officials also don't have that power.
After finishing the last of his deliveries, Osha is done for the day at 4 p.m. He helped with dinner and got ready for the next day of t-shirt deliveries. 
He checked his credit again to see if it's been pulled. It hadn't. This is also around the time Osha stumbled on an article about how both federal programs, the Paycheck Protection Program and the Emergency Injury Disaster loan, ran out of money. He applied for the Emergency Injury Disaster Loan. 
"So I don't know what's going on with that," he said. "I don't understand it."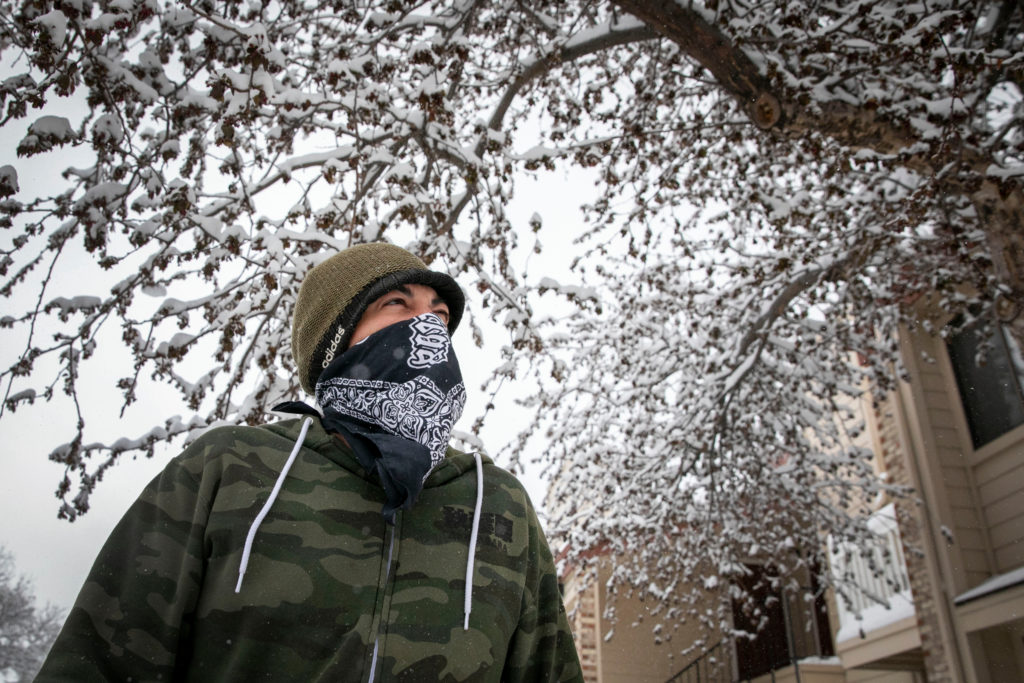 He still may have some luck for the EIDL though. The federal government isn't taking any more applications at this time, but he applied more than two weeks ago. It's possible he may still get a loan still since money is dispersed through a first-come, first-serve basis. 
He's frustrated because no one answers his emails and bills continue to come in. Defeated, he closes his computer and prepares to repeat the same routine tomorrow. 
He said he's not optimistic about hearing anything back this week. 
Osha had a lifelong love of games and spent two years buying equipment and researching how to run a business before opening Akihabara Arcade and Bar. But now, his biggest project is on the verge of collapse.
Osha said if he could open up by June, he believes the arcade can survive. 
However, he's not sure if that's even a possibility given the state of the pandemic. When asked if there is anything that makes him hopeful, he said, "Not particularly at this moment. I just don't see a light at the end of the tunnel right now for us."
This story is part of a statewide reporting project with more than 20 newsrooms led by the Colorado News Collaborative to document a day in the life of Colorado on Thursday, April 16.
You care.
You want to know what is really going on these days, especially in Colorado. We can help you keep up.  The Lookout is a free, daily email newsletter with news and happenings from all over Colorado. Sign up here and we will see you in the morning!