The Local 303: Colorado artists we're featuring for December 2021
Eli Barnces
December's Local 303 is infused with a wonderful mixture of new and unreleased tunes from infectious Colorado artists brought to you first on our airwaves!

Denver's Bluebook let us debut two new singles from their forthcoming February 2022 album Optimistic Voices that was produced by James Barone of Beach House. We also got exclusive access to singer-songwriter Lillian's new album before it comes out next year too as well as N3ptune who drops his debut this month (join us for his album release at Hi-Dive on December 10)!

Familiar Colorado acts like Said the Sky and Pandas & People have made it to the Local 303 this month with their most recent songs. We welcome back The Burroughs and Wellington Bullings who have released inspiring new songs over this last year. Jakob Mueller of Slow Caves credits the slow down of the pandemic to getting him to jumpstart his solo project Cody, Denver's CAGEMATES were able to record over 40 songs over this past year, and conversely April Gloom admitted it was hard to write music during this past year so she immersed herself in other art forms. Duos Maddy and Kev out of Mancos and Roseville from Fort Collins round out this month's lineup of great music for the airwaves.

Stream our Local 303 Virtual Meetup with some of this month's artists on Monday December 27th at 4pm. You can find it LIVE on our YouTube channel.

Are you a Colorado musician who wants to be featured in the Local 303? Send us your music.

Meet December's picks:
April Gloom
Hometown: Boulder, CO

Formed: 2017

Latest Release: "Valerian" (Single), 2021

Pronouns: She/her

About: April Gloom uses music as a vessel to take you out of everyday life and into a new dreamy realm. Not only is she a songwriter, but she also produces all of her own tracks. She records primarily out of her bedroom, thus adhering to the genre of Bedroom Pop. Though, she likes to put her own twist on it, blending in elements of Dream Pop and ethereal themes. 

Originally hailing from Boulder, Colorado, she moved to New York three years ago to pursue music. Though, she goes back and forth from place to place pretty often. By night, she is a musician and by day, a tattoo artist. Gloom finds that true creative freedom lies within the balance of different art forms. 

Musicians That Inspire: Cornelia Murr, Alice Boman, Chleo Frances, Soko, and Julia Jacklin

Do you feel like lockdown has shaped you as a musician/band? If so, how: Lockdown taught me that balance is key when taking care of your mental health. For me a lot of this balance has to do with artistic endeavors. I wish I could say that making music in the time of Coronavirus was easy… but it was by far the opposite. I felt like all my creative juices had been sucked out of my body. Though, I was able to regain them by working on other art forms. I began to sew and paint everyday and it began to feel a lot like therapy. Still, I have been struggling to write new music but it feels easier if I allow myself to play around with other art forms. Sometimes when you take one art form too seriously, you lose your joy in it. Though, making sure you experiment with other ones can help ease the pressure and struggle to create.

What's next? April Gloom is releasing a new single in January and a full length album in early 2022. It's full of ethereal whimsy and dreamy tracks. Stay on the lookout!

Website: https://aprilgloomtunes.com 

Get Social: Instagram 
---
Bluebook
Hometown: Everyone calls Denver their hometown now, but Jess grew up in Liberal, KS. Hayley grew up in Fort Collins. Julie grew up in Colorado Springs. Anna grew up in Olympia, WA. 

Formed: Julie formed Bluebook as a solo project in 2004 and began playing as Bluebook again in 2014. Jess joined Bluebook in 2016, Hayley joined in 2019, and Anna joined in 2021.

Latest Release: Bluebook released The Astronaut's Wife in 2018, and will release Optimistic Voices in February 2022. "Shake Shake" is our newest single, released on Indie 102.3 Friday, November 5, 2021.

Pronouns: She, her, hers  

About: Enigmatic, otherworldly, and thoroughly affecting, Bluebook is the haunting apocalyptic lounge project of Julie Davis, Jess Parsons, Hayley Helmericks, and Anna Morsett. NPR describes Davis' music as offering, "beautifully structured dynamics and captivating sonic twists," The Westword describes their most recent release, The Astronaut's Wife, one of the best of 2018, calling it "a jewel," and The Denver Post Reverb says Davis "gives haunting, holy voice to some of the darkest spots of imagination."  

Musicians That Inspire: Radiohead, Sylvan Esso, Peter Gabriel, Bon Iver, Ahmad Jamal Trio, Tears for Fears 

Do you feel like lockdown has shaped you as a musician/band? If so, how? Lockdown gave me the time to write that I hadn't been able to find in the last few years. Then, in January of 2021, even though we didn't have any shows scheduled, we started getting together once a week as a band and arranging the six new songs I had written that fall. It felt like we were playing in a vacuum, in a positive way--we were just enjoying each other and letting the songs develop without the pressure of shows looming.    

What's next?: We're hosting a show with some very special guests at the Hi-dive on February 12, 2022, including a full "sonic loom" light and textile installation, to celebrate the release of our first LP, Optimistic Voices. 

Website: thisisbluebook.com

Get Social: Instagram, Facebook
---
The Burroughs
Hometown: Greeley, CO

Formed: 2013

Latest Release: "I Refuse" (October 2021); "Baby Get Down" (July 2021); "Zero Sum Game" (May 2021)

Pronouns: They/Them (there are 9 of us!)

About: Steeped in classic soul standards and outfitted with modern flair, The Burroughs are a nine-piece band with a powerhouse sound. Since 2013, the band has lit up stages with their trademark brand of "Sweaty Soul Music," quickly earning their rightful place as one of the best live bands in the Mountain West. The band has lifted spirits of audiences at Bohemian Nights New West Fest, Salmonfest Alaska, Deadwood Jam, and the Underground Music Showcase, and has opened for acts including The Motet, the Steve Miller Band, Greensky Bluegrass, and the Dirty Dozen Brass Band. This fall, they produced and premiered an original show for the band plus symphony orchestra with the Greeley Philharmonic Orchestra. Their latest track "I Refuse" carries the sonic banner of acts like Funkadelic and Alabama Shakes and unapologetically states "I don't believe in the system, I believe in the people." 

Musicians That Inspire: Stevie Wonder, Brittany Howard, Anderson .Paak, Earth, Wind & Fire, Parliament-Funkadelic, Janelle Monae, The Beatles, Beyonce, Tedeschi Trucks Band...just to name a few!

Do you feel like lockdown has shaped you as a musician/band? If so, how? Absolutely - one of the upsides to lockdown is that it gave us more time to write and create music. We have self-produced, self-directed, and self-released all three of the new singles and music videos we've put out this year, and they've been some of the most fun and authentic projects we've ever created. Lockdown also really made us appreciate the magic of playing live together - we came roaring out the gates this past summer and hit a new level with our live show. We'll never take that for granted again! 

What's next?: We're returning to the Moxi in Greeley for a huge hometown show on New Year's Eve. Beyond that, we're in another season of writing and creating and will be headed into the studio to record in early 2022. And we have some other fun new video releases coming soon...stay tuned!

Website: theburroughssoul.com

Get Social: Instagram, Facebook
---
CAGEMATES
Hometown: Thornton, CO 

Formed: 2018

Pronouns: bunch of guys being dudes. 

Latest Release: "Whatever I gotta do ¯\_(ツ)_/¯ " (Single) November 16, 2021 

About: we band.

Musicians that inspire: Wyatt Shears' Enjoy, Current Joys, Death Grips

Do you feel like the lockdown has shaped you as a band. If so, what's next? As Deputy Chief Hawk once said: "A path is formed by laying one stone at a time." In the last year and a half during the COVID era I would say there were about forty plus songs composed for CAGEMATES that are now on deck. A good half of those are going to be released. Early June I was at kind of a low point mentally and my mom pointed that out to me as something I should be grateful for. And I am. I love you, Mom! This year made everyone sit with themselves so if you felt like Julius Caesar surrounded by enemies when it comes to dealing with your own demons, this year was an uphill battle for sure. CAGEMATES was a therapeutic avenue for me to explore and journal the chaos. 

What's next? The sophomore album will be released before the end of the year. I want to take a more backseat role as a producer and musician after that. I've been collaborating and reaching out to more people than usual for making new music. I feel there's no rush though, a little breath in between projects is always nice. Let things take time to form themselves. 

Get Social: Instagram, TikTok
---
Cody
Hometown: Fort Collins, CO

Formed: 2019

Latest Release: "Lean Forward" on Dream Cult Press (August 27, 2021)

Pronouns: He/Him

About: I started writing for this project randomly one night after a long spring tour with my band, Slow Caves. I was at my parents' house and picked up my new guitar, a Squier Bass VI and was feeling particularly angsty. Over the course of an hour or so I wrote 7 or 8 songs that came from a stream of consciousness. None of the songs had proper structures or lyrics, but came directly from the heart.

The DIY scene in Fort Collins was absolutely wild in the summer of 2019. There were so many cool venues and bands trying new things. I was so inspired and wanted to get involved, so I decided to start Cody with this batch of songs and start playing solo sets on an acoustic and bass VI. The project never became much more than songs that existed in my voice memos and in house venues. Until now…

Musicians That Inspire: Brian Eno/Porches/Elliott Smith/Twin Peaks (TV Show)

Do you feel like lockdown has shaped you as a musician/band? If so, how? What's next?: Actually, I have lockdown to thank for finishing this project! I live with my brother/bandmate, Oliver who happens to be a great producer. During quarantine I developed the demos into proper-ish recordings by adding vocal and synth layers with my Yamaha DX7 and a Roland Juno-60 that Shane Zweygardt from Wirefaces lent me. At the time, I thought this project would be an ambient record, but there were several occasions where I would leave the condo for a walk and come back and Oliver would add beats and do other amazing production on the tracks. He transformed Lean Forward from a collection of sad songs into something that's postitive and somewhat danceable.

Lockdown has made it difficult for me to be an artist. I have pretty high expectations for what I should be able to get done in a time where I don't have lots of shows or other commitments, but I have now learned that those expectations are unrealistic and unhealthy. Nowadays I try to be easier on myself when it comes to creative work. I am very proud of the work I did over lockdown, but I certainly could have been a little easier on myself during the process.

What's next? As for what's next, I have lots more music that I wrote over the last two years that I'd like to finish soon. I'm very much looking forward to a slower winter with lots of time spent collaborating with new and old friends.

Website: https://codyisrisen.com/

Get Social: Instagram, Spotify
---
Lillian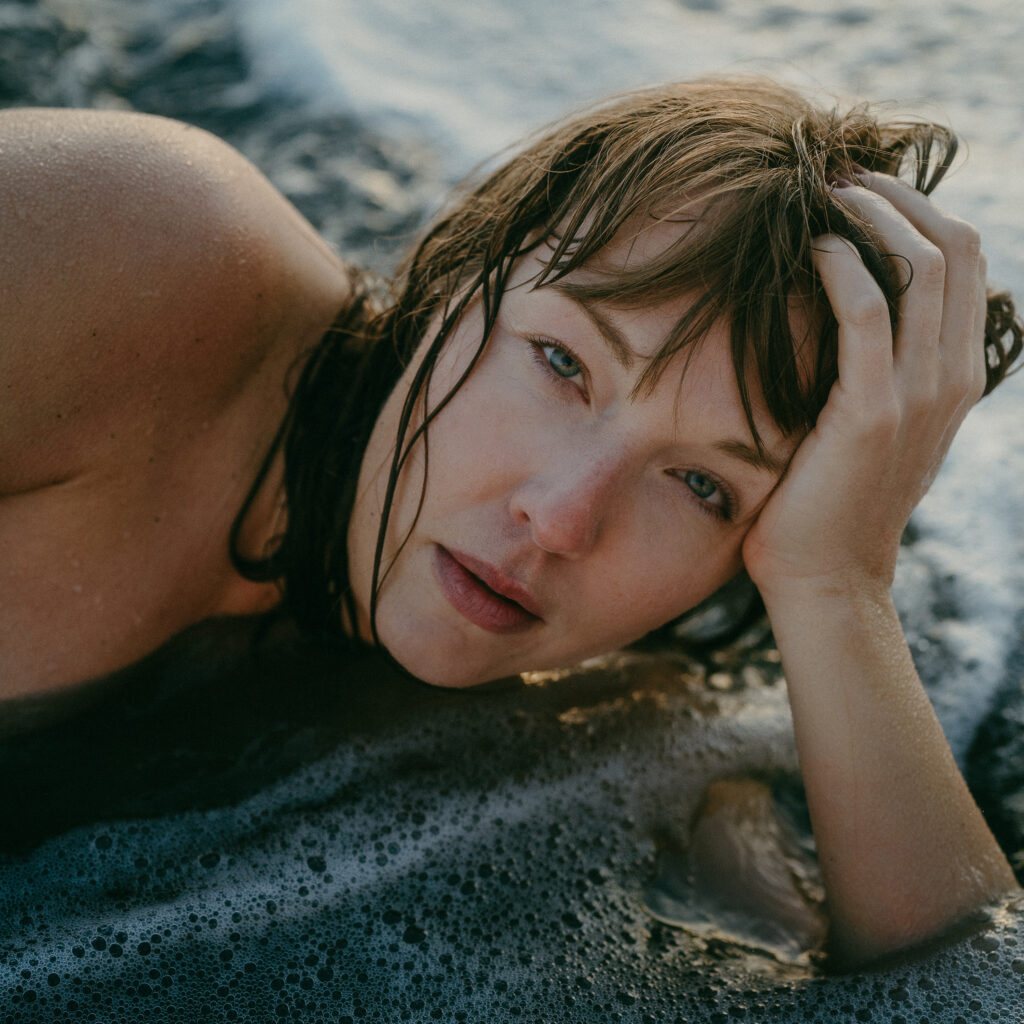 Hometown: Phoenix, AZ but born in Dallas, TX and based in Denver, CO

Formed: Portland, OR

Latest Release: Chasing Shadows, out in January 2022. Recorded most of the material here in Denver, and it was engineered and produced by Mark Anderson, featuring Sarah Anderson on vocals, and huge writing and guitar contribution by Paul DeHaven.

Pronouns: She/her

About: From Dallas to Phoenix to Portland to Los Angeles to Denver, music is the thread that weaves and draws the web of Lillian's life, down whichever open road she travels. She's had the pleasure of sharing the stage with Mirah, Tennis, Griffith James, Heavy Diamond Ring and many other incredible musicians. 

Musicians That Inspire: Radiohead, Mazzy Star

Do you feel like lockdown has shaped you as a musician/band? If so, how? This has been a very internal and introspective time that allowed me to reassess the direction of my life based on a long looking back at where I've been to get where I am today. This album is a whole story from 2011 until present day - representing the journey from darkness into light.

What's Next? Record release party in February (date and location TBD), and hopefully playing the album out as much as I can with COVID-19 limitations. Touring Europe this Spring and Summer if the pandemic holds.

Website: Lilliansoderman.com

Get Social: Instagram, Facebook, Linktree
---
Maddy and Kev
Hometown: Mancos, Colorado

Formed: 2019

Latest Release: A five song debut EP titled, Take a Ride. Released October 12, 2021

Pronouns: Maddy St. Hilaire (She/Her), Kevin Frazier (He/Him)

About: Maddy and Kev is a singer/songwriter duo from Mancos, Colorado. As individuals, they have always had a love for music and together they collaborate to offer harmony with their voices and instruments alike. Their stories merged with some hardship, a friendship, and a lot of music. When Kevin's blues-soaked background in local live music scenes and childhood of listening to the classic sounds of Willie and Waylon meets Maddy's love for soulful sounds of jazz, country, and folk, their music delivers a sweet and savory cuisine you must taste for yourself. The group recently recorded their debut album in Woodstock, New York. Their music is available now on all streaming platforms.

Musicians That Inspire: Norah Jones, Etta James, Miranda Lambert, Carol King, Chris Stapleton, Waylon Jennings, Taj Mahal, and Jimi Hendrix. Maddy is inspired by vocal powerhouses and story tellers. Similarly, Kevin finds his inspiration in strong and honest lyrics moved by the iconic sound of the blues. 

Do you feel like lockdown has shaped you as a musician/band? If so, how? During lockdown we had to find new, creative ways to share our music and reach people without live performances. For example, in December of 2020 we wanted to find a way to bring Christmas cheer to our community, so we began a "12 Songs of Christmas" series. For 12 days leading up to Christmas we went to 12 different brick and mortar businesses in Mancos, CO and recorded a Christmas song outside of their building to bring awareness to their shop. Each song was then posted on social media where people could donate to raise money to bring Christmas to 5 local families in need. 

We also found more time to write music, cultivating songs such as "Going Home" that encompass the importance of relationships in a time when people felt so far apart.

What's next?: We are currently in production of our full length album and we are excited to share our best work yet. We are also planning a national tour from coast to coast in the spring of 2022.

Website: https://maddyandkev.com

Get Social: Instagram, Facebook 
---
N3ptune
Hometown: Denver, CO

Formed: 2016

Latest Release: "Black Horse" by N3ptune & Rusty Steve

Pronouns: He/Him/His

About: Named a "Denver Musician to Watch in 2021" by 303 Magazine, N3ptune is an explosive multi-hyphenate hailing from Denver, CO. A proudly queer singer/songwriter, producer, dancer, model, actor, and director, N3ptune is carving out a lane in Denver's music scene, unlike anything that has come before. Influenced by his upbringing in the Baptist Church, N3ptune is a genre-bender who merges the essence of gospel, blues, and soul into an amalgamation of pop music as only his mind can create. His songs are bold and brash, and his live performances are raw and captivating, to the point where Sleigh Bells' Alexis Krauss likened the experience to "seeing Prince live for the first time."

Musicians That Inspire: Beyoncé, Prince, Lady Gaga, Little Richard, Jay Z, Kanye West, The Clark Sisters, Big Momma Thornton, etc.

Do you feel like lockdown has shaped you as a musician/band? If so, how? It certainly has! I've become more meticulous and detailed with my work. I don't settle and I'll do what it takes to support the music's higher purpose. Being locked in forced me to strip back, and be even more raw & honest in my music. I'm not really singing poetry, so much as I am just singing my thoughts. It's become a priority to constantly hone in on my craft and continue perfecting what I do until the day I die.

What's next? My debut album (collaborative album), RENAISSANCE, with Rusty Steve comes out December 10, 2021, I'll be going on tour starting 2022 and I'll be taking my career to even bigger heights in 2022!

Website: https://artistecard.com/n3ptune

Get Social: Instagram, Twitter, Facebook, TikTok
---
Pandas & People
Hometown: Fort Collins, CO

Formed: 2013

Latest Release: "Don't Stop Movin" (Single), Aug. 6, 2021

Pronouns: They/Them

About: Pandas & People hit the Colorado music scene in late 2013, formed by singer Josh Scheer. The group's material is a unique sound, blending organic instruments with layers of upbeat pop sounds and hook laden songwriting. Every tune tells a real-life story of an experience or challenge that someone close to the band has experienced. Most recently, their single "Don't Stop Movin," was written about the loss of close friends to mental illness and addiction in the past few years. Coinciding with the release in the summer of 2021, the band put on a benefit concert to raise money for Denver Rescue Mission, providing music equipment as a healthy outlet for those in recovery.

Sharing the stage in the past with well-known acts like Twenty One Pilots, Kings of Leon, Judah & the Lion and The Doobie Brothers, the band is itching to get back to playing shows full time around the country soon.

Musicians That Inspire: Kings of Leon, CCR, Ben Howard, Kid Cudi

Do you feel like lockdown has shaped you as a musician/band? Not playing shows was difficult, but it let us spend more time on songwriting and recording, which is what we enjoy the most.

If so, how? What's next? The band plans on releasing new material in 2022.

Website: www.pandasandpeopleband.com

Get Social: Facebook, Instagram, TikTok, Twitter, YouTube, Soundcloud
---
Roseville
Hometown: Fort Collins, CO

Formed: 2018

Latest Release: something about a fig tree EP, Oct. 2021

Pronouns: They/them

Musicians That Inspire: Bedhead, Paramore, Alex G, Death Cab, Title Fight, DIIV, Pedro the Lion 

What's next? We will go where the wind takes us.

Get Social: Instagram, Twitter
---
Wellington Bullings
Hometown: Boulder, CO

Formed: 2017

Latest Release: "Flame" single + music video, 2021

Pronouns: She/Her/Hers 

About:  Wellington Bullings grew up to a Jamaican father and Caucasian mother in the secluded mountains of Boulder, Colorado where both Reggae and R&B were of equal importance.  Wellington quickly grew fond of Jazz, and later began her vocal study at Berklee College of Music in Boston, where she wrote music, performed in bands, and began acting in film and TV.  She's since been featured as a lead actor in several commercials for brands including Olay Skincare, Secret Deodorant, and Crocs Footwear. 

Wellington first started making a name for herself in the world of Jazz and Soul music in a stripped-down acoustic performance for Rocky Mountain PBS' KUVO Jazz performance series. Wellington currently teaches as a vocal instructor in Denver, in addition to writing new music, and performing and modeling professionally for high end brands. Her forthcoming debut album Because I Want To is a collection of her latest rich vocal performances and soulful compositions. It released in the summer of 2020.

Musicians That Inspire: Lianne La Havas, Billie Holiday, Esperanza Spalding, Norah Jones, Stevie Wonder, Erykah Badu

Do you feel like lockdown has shaped you as a musician/band? If so, how? The lockdown gave me ample time to focus on my craft. Suddenly I had more time to write, reflect, and focus more deeply on the kind of music I wanted to create. I don't think that it shaped me into the artist that I am today, but I do think it inspired me to take more risks in my career. The year 2020 taught me that you never know what is going to happen in life, so you might as well make things happen NOW. I had to think creatively about how to put myself out there amid so many obstacles.

What's next? I'm recording a new album that will be released in 2022. I'm so excited about this new project because it's very different from my last collection of music. There's still a common thread of my style in there but it's much more self assured. I'm also planning a 2022 "Because I want to" tour.

Website: https://www.wellingtonbullings.com/

Get Social: Instagram, Facebook
You made it!
You love learning about new music and the Denver music scene. We have a weekly newsletter for you -- Inside Track. Sign up here to stay in the know about the hottest Colorado concerts and how you can score tickets!